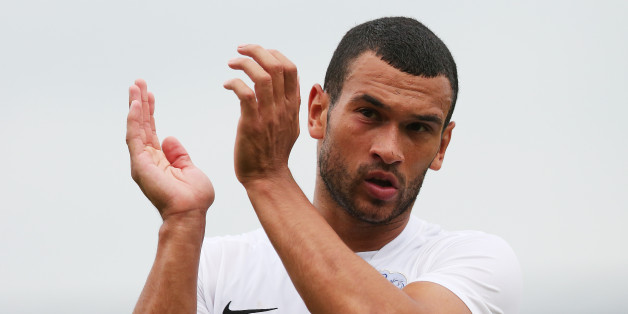 Brian Lawless/PA Archive
QPR defender Steven Caulker was rushed to hospital on Sunday with a head injury after slipping at a team Christmas lunch.
Police confirmed that the 22-year-old fell whilst getting out of a car, but sensational accusations by a pub patron suggest a huge punch-up.
An apparent onlooker sparked the allegations, telling The Sun: "Caulker split his head open and blood was pouring down his face. There was claret everywhere. The players piled out of the pub but the bouncers stopped us leaving.
"Joey Barton was the peacemaker. When it all kicked off, he was in the middle, trying to break it up. It was horrible."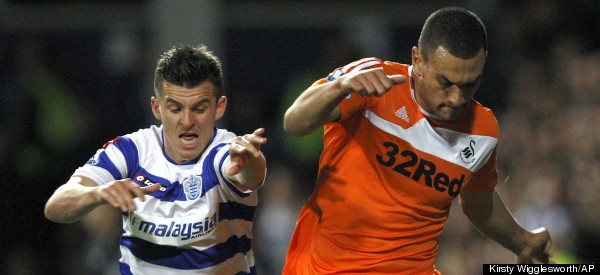 Peacemaker? Barton, left, and Caulker before he moved to QPR
The ruckus allegedly began when a woman spilled her drink on former England star Rio Ferdinand, who was sporting a reindeer Christmas jumper.
Ahead of the team's bash, manager Harry Redknapp said: "I'm not into Christmas parties, not for footballers. I think it's more aggravation than it's worth. It's a changing world out there and there's always someone out there with a camera on their phone.
"I haven't spoken to them about it. They haven't mentioned anything about a Christmas party. I think they understand the pitfalls of going out. You've only got to be closing your eyes and someone has got a picture of you making it look like you're drunk. It's not worth the hassle."
Just met her....#pout ! pic.twitter.com/ugQLw1ifM1

— Rio Ferdinand (@rioferdy5) December 7, 2014
The club refutes reports the players were involved in a "brawl" with Crystal Palace players who were dining at the same venue.
Police were apparently called to a "disturbance" at a London pub, but club owner Tony Fernandes denied allegations of a fight.
Team is very United and really playing for each other. Steven caulker slipped over and hurt his head and is fine. Nothing else to report.

— Tony Fernandes (@tonyfernandes) December 8, 2014
The Sun's report claims that the footballers were drinking at another pub, The Hurlingham, before moving to The Ship Inn where the supposed altercation occurred.
A source at The Hurlingham said: "They were really going for it - sinking pints of lager and shots of tequila and vodka. They looked a bit worse for wear."
SEE ALSO:
A QPR spokesperson told reporters: "Following Saturday's Premier League win versus Burnley, and with no further fixture for nine days, the club can confirm players were allowed to have a Sunday lunch together.
"Steven Caulker was not involved in an altercation. He did suffer a cut to his head, which he received treatment for at hospital before being discharged on the same evening."
A police statement said: "A 22-year-old man is understood to have slipped when getting into or out of a vehicle. There were no arrests and inquiries continue."