Twitter may well fall over backwards in confusion after polarising comedian Russell Brand tweeted the mobile number of a journalist from polarising newspaper The Daily Mail to his 8 million followers, setting off one of the most epic moral dilemmas of our time.
The mobile number, landline and email of senior Daily Mail reporter Neil Sears were revealed to millions after Brand tweeted a picture of his business card, reportedly dropped through the letterbox of Brand's mother.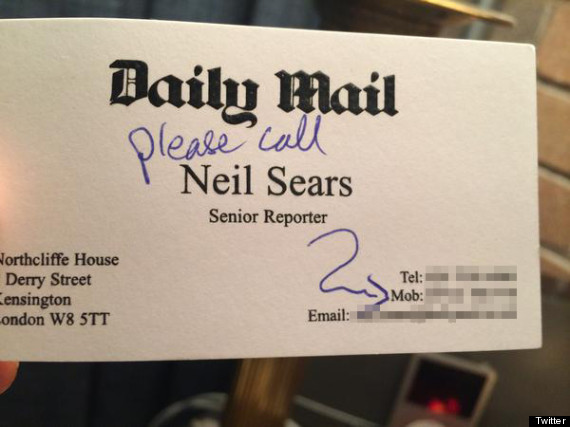 Brand tweeted the details to 8.7 million people
Brand could be banned from Twitter as the tweet violated the social network's policy which forbids users to reveal the confidential information about people without their permission.
"Twitter reserves the right to immediately terminate your account without further notice" if these rules are broken, the platform's guidelines state.
Twitter had not responded to requests for comment at the time of publication, but Brand has one of the highest followings in Britain on the social media site.
READ MORE:

Russell Brand Is Called A Bully In Most Hypocritcal Tweet Ever

The Sun's Attempt To Crush Russell Brand Is Looking A Little Desperate..
Brand, also recently attacked by The Sun, which commissioned a poll to 'prove' the nation agreed with it that Brand was "a hypocrite" and wasn't funny - has always been anarchic in his actions. But he may have gone too far in exposing a man to potential harassment by millions.
But the internet - and the media - are struggling to respond coherently after two of Britain's most divisive powerhouses came up against each other.
There were the pro-Daily Mail tweeters:
Brand post journalists tel numbers, address and email,on Twitter. Now that - that is just a whole new level of wrong. Russell Bully Brand

— Katie Hopkins (@KTHopkins) December 9, 2014
Russell Brand certainly has form when it comes to the misuse of phone numbers.

— Chris Ward (@christopherward) December 9, 2014
Hats off to Russell Brand for managing the seemingly impossible: making Twitter sympathise with a Daily Mail reporter.

— Sathnam Sanghera (@Sathnam) December 8, 2014
Four greatest words in the English language? 'Russell Brand Twitter Ban.' Merry Christmas.

— Big Rob (@RobSkilbeck) December 9, 2014
The pro-Brands:
If Russell Brand gets banned from twitter, I would be lost for words. He is just doing what everybody else is doing. Let him speak.

— zɐʎ|yaz (@tgiyaz) December 9, 2014
Allow the man a voice!@rustyrockets

"@HungerMagazine:Russell Brand to be banned from Twitter?http://t.co/6AaYk9JWv7 pic.twitter.com/ZF8qA6OGTM"

— KC (@KateCurry00) December 9, 2014
I am not exactly outraged by @rustyrockets dishing out some rough social media justice to a Daily Mail scumbag http://t.co/9qsDDK4Hfz

— Najeeb Khan (@najeebster) December 9, 2014
Those who appeared to support Brand but were actually having a go at him:
Harsh of Twitter to ban Russell Brand for that @Telegraph I know he has many followers, but are any capable of reading or of using a phone?

— Monsterdome (@Monster_Dome) December 9, 2014
Those who pointed out that one Daily Mail reporter is not the whole Daily Mail:
No, just one of its journalists MT @Independent: Russell Brand has achieved the unthinkable and made Twitter sympathise with the Daily Mail

— Dan (@slrrrrp) December 9, 2014
And others who were simply unable to cope with the dilemma facing them:
If we have to pick a side between Russell Brand and the Daily Mail we've lost.

Lost so much. http://t.co/LmvNQxuGho

— Andrew Fergusson (@andrewfergusson) December 9, 2014