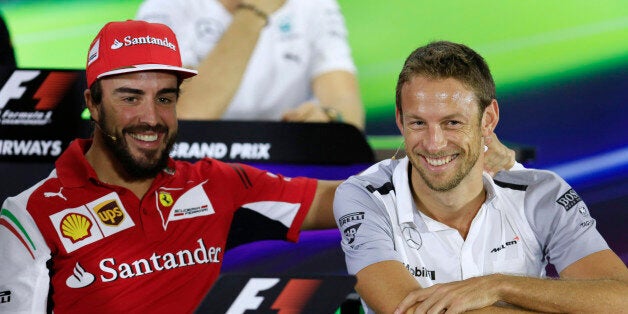 However, reports suggest the Spaniard may not be there for long, as he might be looking to poach Lewis Hamilton's seat next year.
Alonso allegedly insisted on a get-out clause that would allow him to leave Woking in 2016.
The 33-year-old had the choice to sign with McLaren this year, or take a gamble at waiting to see if he could be picked up by Mercedes in 2016.
Decision time: Alonso opted to join McLaren, but could still go to Mercedes if things don't work out for Hamilton
In a statement, the driver said: "I want to thank the persistence of those who have fought so hard for this to come true. I will do everything in my power to deliver for everyone and for our team, based on a formula that has always worked for me: effort, sacrifice, perseverance and faith."
Alonso may not get his chance to join Mercedes however, as Hamilton probably won a few brownie points when he was crowned World Champion in Doha earlier this week.