It hasn't exactly been the easiest year for 'EastEnders' character Ian Beale, though it looks as though things could be looking up.
Since his daughter Lucy was murdered earlier this year, the businessman's had a tough time and the case remains unsolved.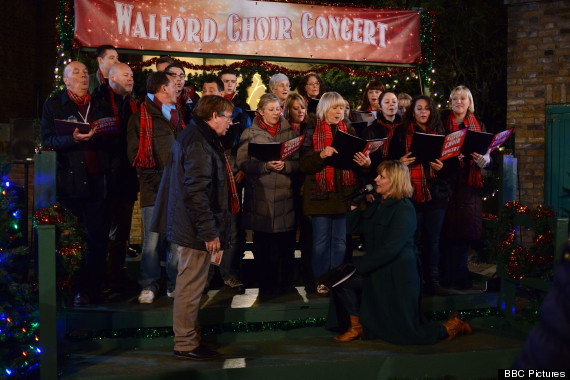 Amazing.
However, judging from this snap it seems as though Ian could finally be in for a treat when his former wife Jane surprises him.
Since Jane arrived back in the Square, they've rekindled their romance and on Christmas Eve she plans a surprise.
When Jane suddenly joins in with the Walford Community Choir's carol performance of 'All I Want For Christmas Is You', Ian has no idea that she's about to pop the question.
Surely he'll say yes?
Sadly, Ian will be brought crashing back to earth over the festive period, when he makes a shocking discovery in relation to Lucy's murder.
Next February, the killer's identity will be revealed in a live episode, which will also star one of the show's most iconic characters.
These scenes will air on Christmas Eve.
LIKE US ON FACEBOOK | FOLLOW US ON TWITTER