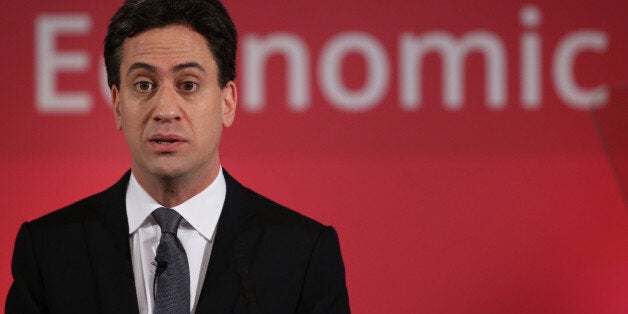 Ed Miliband has pledged to cut public spending by most Whitehall departments every year as part of a "tough and balanced" approach to fixing Britain's finances.
The announcement comes in a speech on the economy, in which Miliband restated Labour's pledge to eliminate the current deficit "as soon as possible" after the general election and by 2020 at the latest.
Casting next May's election as "a fight for the soul of our country", Miliband accused the Tories of planning to take public spending back to 1930s levels and argue that the programme set out by George Osborne in last week's Autumn Statement would "put at risk our NHS, undermine our economic future and threaten working families".
In his address in the City of London today, Miliband tried to lay to rest the criticism he has faced for forgetting to mention the deficit in September's keynote party conference speech, by insisting that he knows the deficit "matters".
He said: "There is no path to growth and prosperity for working people which does not tackle the deficit. What we need is a balanced approach which deals with the deficit - but does so sensibly."
The Labour leader sought to chip away at the strong polling lead on the economy enjoyed by Osborne and prime minister David Cameron by insisting that he is offering a "credible and sensible" approach, with fully-costed spending plans and tax hikes on the richest, while the Conservatives would subject public services to "slash and burn" cuts while promising unfunded tax reductions to the comfortably off.
The Conservatives' failure to explain how they would fund £7 billion in promised cuts to income tax was "not responsible and not right" and voters should be in no doubt that it would mean higher VAT or even deeper cuts in public services, he said
After the independent Office for Budget Responsibility found that Osborne's plans imply a cut in overall public spending to 35% of GDP - the lowest for 80 years - by 2019/20, Miliband said the Tories had been exposed as "extreme and ideological, committed to a dramatic shrinking of the state and public services, no matter what the consequences".
"We will deal with the deficit but we will never return to the 1930s. We won't take risks with our public finances. And we won't take risks either with our public services, our National Health Service," he said.
"Our tough and balanced approach will balance the books through an economy based on high wages and high skills, common sense spending reductions and fair choices on tax. Their unbalanced approach of 1930s public spending and unfunded tax cuts will put at risk our National Health Service, undermine our economic future, and threaten working families.
"This is now a fight for the soul of our country. It is a fight about who we want to be and how we want to live together. The Tory vision is clear: the wealthiest being looked after, everybody else on their own, public services not there when you need them.
"Our vision is different: a country that works for everyday people, with public services your family can rely on, a government that prioritises working people so that we can earn our way out of the cost of living crisis, a Britain built on strong economic foundations."
Ahead of the speech, shadow chancellor Ed Balls wrote to all shadow cabinet ministers to warn them of spending cuts to come every year until Labour balances the current budget.
Aside from the NHS and international development and a "limited" number of other areas to be set out in the 2015 manifesto, shadow ministers should be "planning on the basis that your departmental budgets will be cut not only in 2015/16 but each year until we have achieved our promise to balance the books", wrote Balls.
However, Conservative business minister Matthew Hancock said in response: "Labour's policy is to run deficits forever - more borrowing that would add to the national debt every single year.
"That would mean more debt than hard-working taxpayers or our children could ever hope to repay. This risk to the economic recovery is exactly why Ed Miliband simply isn't up to the job."