An online magazine exploring everything in London and beyond, About Time received 12,000 hits on its launch day and grew steadily, reaching 45,000 users in its first month. The site now receives around 70,000 visitors a month and has grown from being run by a team of four to needing 21 editorial staff.
Last month Angelica, along with her colleague Rebecca Reid, launched About Time's "naughty big sister", About Fcking Time, an online magazine for women about sex and sexuality. The site has had almost 52,000 users since launch day, when it was featured in Time Out in part of an A-Z of sex guide.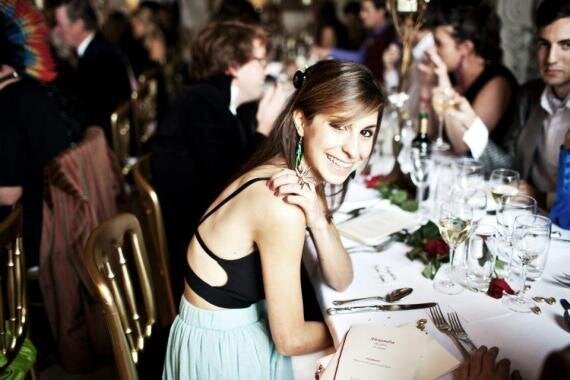 Angelica is the founder and editor of magazines About Time and About Fcking Time
HuffPostUK caught up with Angelica to find out more about life as a 23-year-old editor.
What inspired you to set up About Time Magazine?
About Time was actually inspired by a quote in Zadie Smith's beautiful novel On Beauty: 'Time is how you spend your love'.
I went to Malaysia last November and sitting on a beach with this incredible setting and nothing but the ocean and stretches of time in front of me, I remember thinking that it's funny how we're so precious with our things - our possessions, our cars, our relationships - but how precious are we with our time? I think we spend it too freely. Whether it's a beetroot cocktail, a crazy fusion menu or a new ice rink, you want to know what's going to be worth it before you spend your time on it. That's the idea: that time, not money, in fact, is the most precious currency we have.
I was also just tired of having to make decisions for myself. There's such an amazing array of things on offer in London - pop-ups, concepts restaurants, creative cocktails - but you need someone to sift through it all for you and say 'this. this one thing. try this'. That was the basic concept of About Time Magazine, that it's OK to be bossy - sometimes you want someone to tell you 'It's about time you did this'. In fact, bossy is exactly what the time-pressed Londoner needs.
What was the most difficult thing about setting up a magazine from scratch and what would you have done differently if you could do it all again?
I imagine launching a business is a bit like childbirth - hell at the time, and then after it's happened, you forget about the pain. Setting up from scratch relies heavily on personal relationships; I wouldn't have managed any of it without the generosity and kindness of PR agencies - they had to trust us greatly and it's challenging when you have nothing to show beyond a few screenshots of a website in development and some ideas. Good rule for life: be nice to the PR people, for one day you'll need their high-res images.
If I could do it all over again (shudder) then I would probably prepare myself better for how difficult it will be to actually run day-to-day! It's so easy when you're excited to forget that once something launches, you have to figure out a way of maintaining it. At About Time we publish three to four articles a day and have a network of over 150 writers in 20 countries - it's a lot more managerial that you might imagine, and I really wish I'd paid more attention in those school Study Skills classes.
What's the best thing about your job?
Freedom. The ability to travel, and to work remotely, is really the best thing about any freelance career. Whenever I'm pulling a late one in the office, I remember how lucky I am to be able to run the company from a beach in Grenada or in a coffee shop in Amsterdam if I want.
But to be honest, the best thing about my job is the pure joy it gives me. I don't mind the late nights, the stressful days, the endless copy, because I truly, truly love what I do. Some days running About Time doesn't feel like work at all because it's greatly fulfilling. My mum always said to me: 'do a job you love and you'll never do a day's work'. Thanks, Mum.
Do you have any advice for other young entrepreneurs?
Someone once said to me that the best way to become a writer is to write. Sounds silly, but I think the same applies to business. Anything you want to do - whether that's vlogging, candle-making or photography - you have to do as much of it as possible. If you want to be a business owner, you have to start a business. Simple as.
Also try to attend as many networking events as possible and meet other like-minded people. We host #SETSessions every few months where we invite aspiring journalists to come along and find out what it's like working in a magazine for one day. Things like that are a great way to meet other young people with shared passions.
And expect the unexpected. About Time is a 'socially-sourced' magazine - which means we get many of our contributors and ideas from Twitter - but this really happened because I started tweeting asking people if they would like to write on random, niche topics. It seemed like such a natural, easy way to find people that would be absolutely perfect for a feature - sometimes the best things happen in enterprise when you don't plan them!
So, your second magazine launched last month. Will we be seeing a third in the near future?
Now that would be telling. At the moment, we're focusing on building the AFT brand, although never say never. I would really like to test out the AFT concept across the pond; hopefully we might see some American versions in the next few years. Writing on the beach in Cali. The dream.
Is your age ever a barrier in getting people to take your brand seriously?
Naturally. Truth be told, I've found gender to be much greater a challenge than age; quite a few odd and uncomfortable situations I've found myself in this year, I think, have come from being a young woman doing something. If I was a 23-year-old bloke, I don't think it would be as much of a big deal. My mum actually actually works for me and has gone abroad for the magazine quite a few time this year - she always surprises people when she says her daughter is her Editor!
Whatever prejudices people hold, I think that in business they will always be overcome by cold hard facts. We may all be young (ish) but the About Time team is very creative, and, if I say so myself, super talented. I never really had a business plan - but hopefully 2015 will be filled with writers, travels and many, many more photos of cake.
Follow Angelica on Twitter @JellyMalin.