Adult film stars and freedom of expression campaigners descended on parliament on Friday to protest new laws which ban certain sexual acts from British made pornography.
The list of around 10 newly banned activities range from spanking to strangulation. The protesters decided to focus attention on face-sitting, by staging a mass demonstration. As the protest got underway, those gathered looked towards MPs in parliament and were encouraged to "give them a wave". A few protesters instead decided to, in the spirit of porn, make an explicit gesture instead.
Protesters chanted: "What do we want? Face-sitting! When do we want it? Now!" One young pornography campaigner said he was "waiting for an angry text from my mum" once she saw the photos in the press.
Critics argue the change not only damages the country's porn industry, with online viewers still able to access content banned in the UK by watching videos filmed abroad, but amounts to "arbitrary censorship".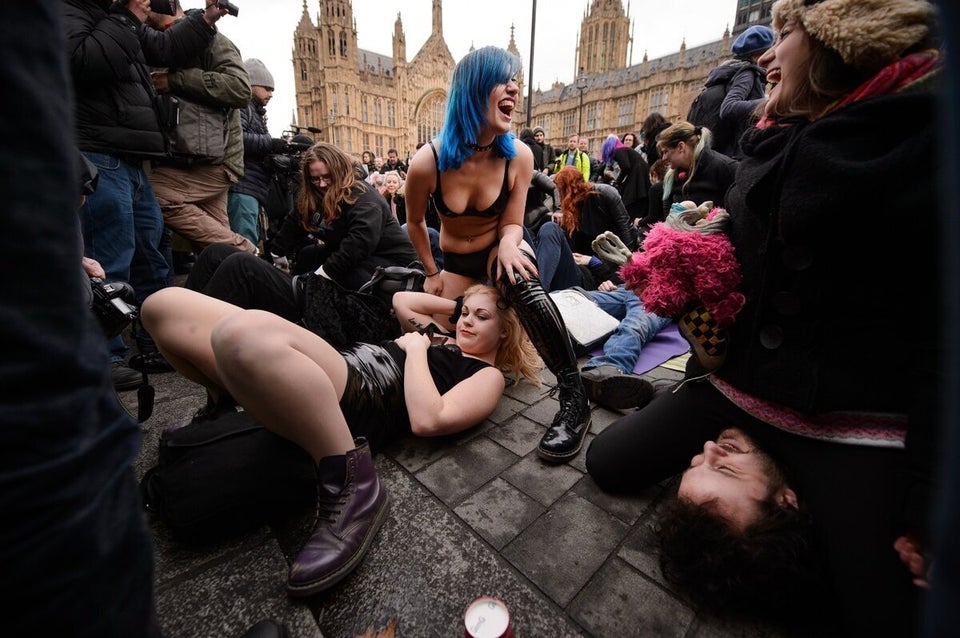 UK porn law protest
Mistress Absolute, 39, a professional dominatrix and fetish promoter, said the law was restrictive.
"I felt that this was the beginning of something to creep into my sexual freedom and sexual preferences.
"This is a gateway to other laws being snuck in."
Her friend Neil Rushton, 33, a mature student, said: "They're very sexist laws. These are very geared towards women's enjoyment as opposed to men's."
Mr Hancock also warned that the "state is trying to take control of the internet".
Obscenity lawyer Myles Jackman, Jerry Barnett from Sex and Censorship and Jane Fae from the Consenting Adult Action Network were among those making speeches at the protest.
Ms Fae called the changes "heteronormative", and said: "What is being clamped down on is any kind of online content made by adults who are consenting.
"This is entrenching big business."
Protesters chanted: "What do we want? Face-sitting! When do we want it? Now!"
Participants wearing gimp masks used mats and blankets to act out face-sitting.
Isabel Dean, 25, a fetishist from London, said the restrictions were affecting people's livelihoods.
"It's a farcical thing to breach people's basic rights to explore their sexual freedom, and it's just so limiting to UK producers and performers.
"Small independent dominatrixes, anything with any sort of kink in their work - if you're working for yourself, producing your own clips, your own website, it's really damaging. Some people have had to close down sites that they've been working on for years.
"It's starting out with it going to pornography but it's a slow introduction of internet censorship in general."
Around 22 couples took part in the demonstration.