There were mixed results for the three remaining Premier League sides after the last-16 Champions League draw.
Manchester City have drawn Barcelona for the second year in a row. Chelsea will face French giants PSG, who they also played last year, whilst Arsenal will face Monaco for the first time in the club's history.
Manchester City will be hoping to avoid a repeat of last year's 4-1 defeat to the Catalan giants after they were drawn out of the hat. Txiki Begiristain, director of football at Man City, lamented at the team draw in Switzerland: "It's unbelievable. I don't think we need to come because every tie is the same!"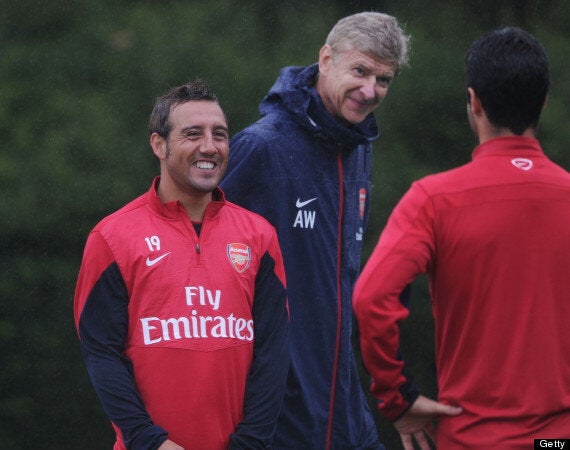 A happy Wenger alongside Santi Cazola in training
Chelsea face a similarly uphill task against PSG, who they narrowly defeated in a dramatic quarter-final last year. Yet Club secretary David Barnard seemed content with the Londoner's opponents, saying: "It's a good draw logistically, too, for our supporters."
There is added interest in the game as Chelsea recently sold defender David Luiz to the Parisian side for a recorded £40m.
Arsenal arguably has the easiest draw against Monaco, who have only scored four goals in the competition so far. When asked before the draw about this pairing, Arsene Wenger said: "I'm not against it at all". He managed Monaco from 1987 to 1994 and will be happy to have avoided more experienced clubs.
Popular in the Community