Five people escaped moments before a series of loud bangs at the siege site in the Lindt Chocolat Cafe in Martin Place, downtown Sydney, where they have been for 16 hours.
There is believed to be one gunman who has forced hostages to hold a black flag with white Arabic writing in the window of the cafe. Several demands have been broadcast on social media, but police have asked the media not to relay them.
The Iranian-born suspect Monis has been prominent in the media for a hate mail campaign he and his partner Amirah Droudis conducted against the families of dead Australian soldiers.
Facing prosecution in 2009 for sending the letters, he chained himself to the courtroom railings but escaped a jail sentence, and was instead ordered to do community service, according to local reports.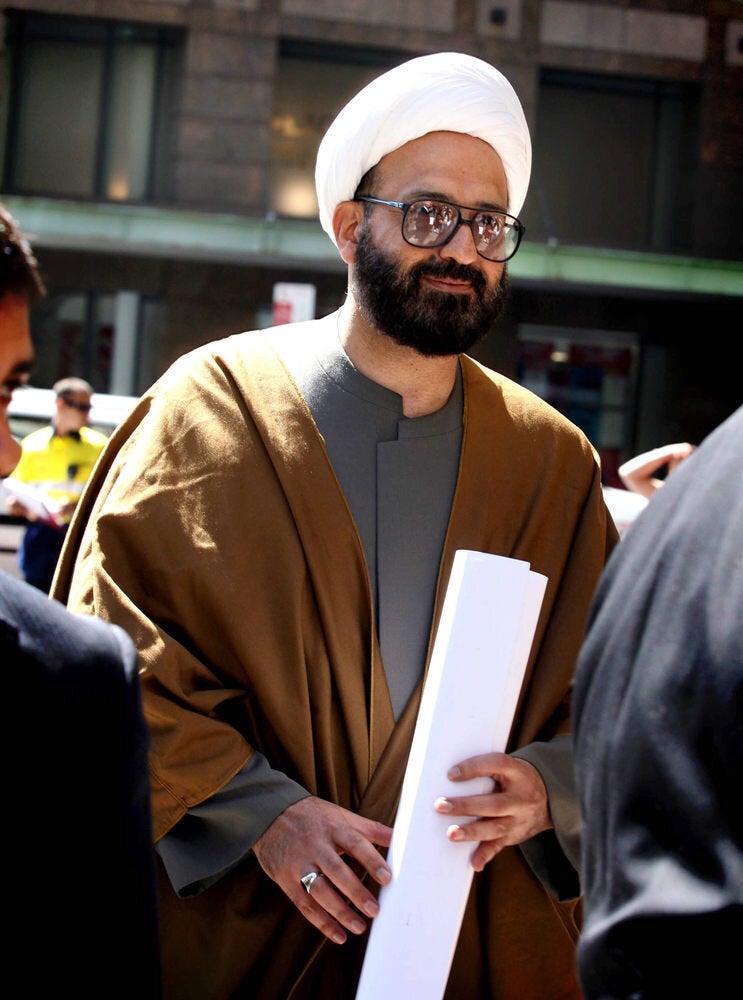 Man Haron Monis
Police also previously investigated him in connection with the violent death of his ex-wife Noleen Pal, who was stabbed and her body set on fire in an apartment building, purportedly by Droudis. During hearings, Monis paraded in front of the court with a sandwich board, claiming to have been tortured in custody.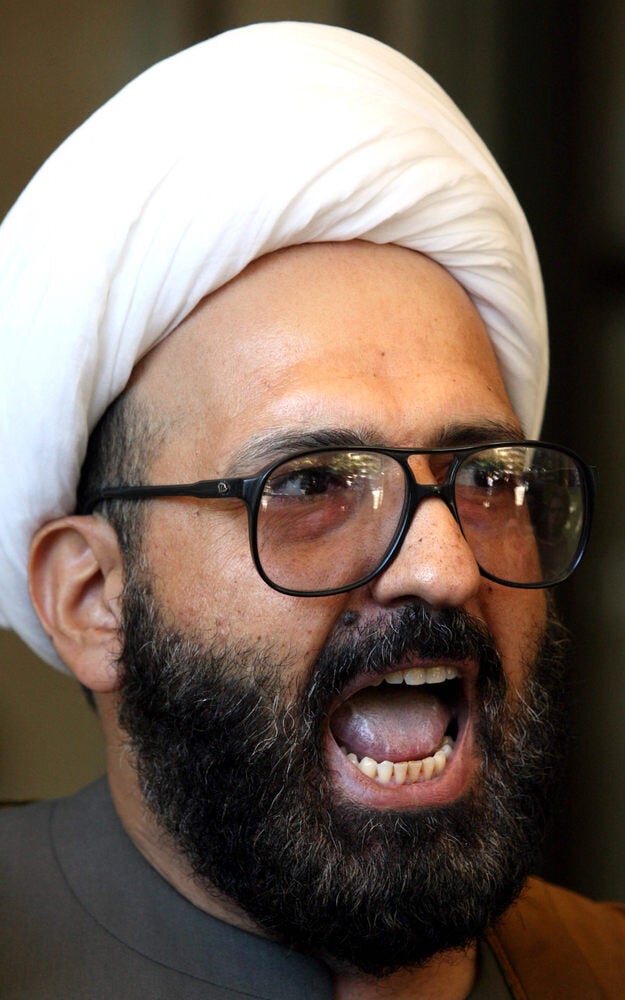 Man Haron Monis
Monis is believed to be currently on bail for other alleged crimes, sexually assaulting women who came to his apartment where he posed as a spiritual healer. As of October, he had been charged with more than 40 counts indecent and sexual assault, and was due to answer the charges in court in February next year.
One 27-year-old woman told police she had gone to see him after seeing an advert from Monis in a local paper. He apparently told her he was an expert in astrology and black magic, but when she visited his clinic he sexually assaulted her twice on different occasions, under the guise of healing, police have alleged.
On his website, Monis renounced his Shia version of Islam earlier this month, and says he has become "Muslim", his way of intimating that Shia Islam is not a valid interpretation. Islamic State follow an extreme interpretation of Sunni Islam, and it would have been highly unorthodox for Monis, in his previous incarnation as an Iranian Shia, to have endorsed them.
"I used to be a Rafidi [a pejorative term for a Shia], but not anymore. Now I am a Muslim, Alhamdu Lillah," he wrote on his personal website, dating the post December 2014.
A post dated on 14th December, the day before the attack, said: "Islam is the religion of peace, that's why Muslims fight against the oppression and terrorism of USA and its allies including UK and Australia. If we stay silent towards the criminals we cannot have a peaceful society.
"The more you fight with crime, the more peaceful you are. Islam wants peace on the Earth, that's why Muslims want to stop terrorism of America and its allies. When you speak out against crime you have taken one step towards peace."
The website has since been taken down.
Monis, who was previously known as Manteghi Bourjerdi, arrived in Australia from Iran in 1996. He was interviewed on ABC Australia about fleeing the country, because of what he says was his "liberal" interpretation of the religion. He spent some time in a tent at the steps of the Parliament building, ostensibly to try to get the Australian government to allow his wife and daughters to come to Australia from Iran.
"Whenever I walk in the street, whenever I go out in Australia, I feel I am in a real religious society," he tells the broadcaster. "I don't want to say it is perfect, we don't have a perfect society on the earth, but when we compare, if we compare Australia with Iran and other countries in the Middle East, we can say it is heaven."
BIOGRAPHY

Born Manteghi Boroujerdi in 1964 in Iran, he fled to Australia in 1996 and changed his name, assuming the title Sheikh Haron, which the press has described as "self-styled".
In 2001, he claimed his liberal interpretation of Islam as an ayatollah in Iran had led to his wife and children being detained in his home country.

Criminal record:

He was convicted of "using a postal or similar service to menace, harass or cause offence" for a campaign of letter-writing, in which he referred to Australian soldiers in Afghanistan as "murderers".
He was initially charged in 2009 and claimed it breached his free speech. He fought the case until 2013, when the country's High Court was deadlocked, thereby preserving his conviction.
In November 2013 he was charged with being an accessory to the murder of his ex-wife Noleen Hayson Pal. He claimed Australian intellegence and the Iranian Secret Police were trying to frame him. "This is not a criminal case. This is a political case," he said outside court in January.
In March 2014, he was charged with sexual assault and two counts of indecent assault. He was alleged to have sexually assaulted a woman in 2002, who had responded to a newspaper advertisement he placed saying he was a "spiritual healer".
He claimed to be an expert in "astrology, numerology, meditation and black magic" and allegedly assaulted the woman in the course of a spiritual healing technique. He was to appear in court again in February over the allegations.
LIVE UPDATES ON THE STORY CONTINUE BELOW