It turns out that Ben Haenow's 'X Factor' victory was less of a surprise than any of us realised, after the voting figures for each week of the competition have emerged.
For the first three weeks of the live shows, Andrea Faustini was the act to win the most votes from the public, before being overtaken by Ben in week four, who remained the most popular with viewers right until he snatched the crown in Sunday night's final.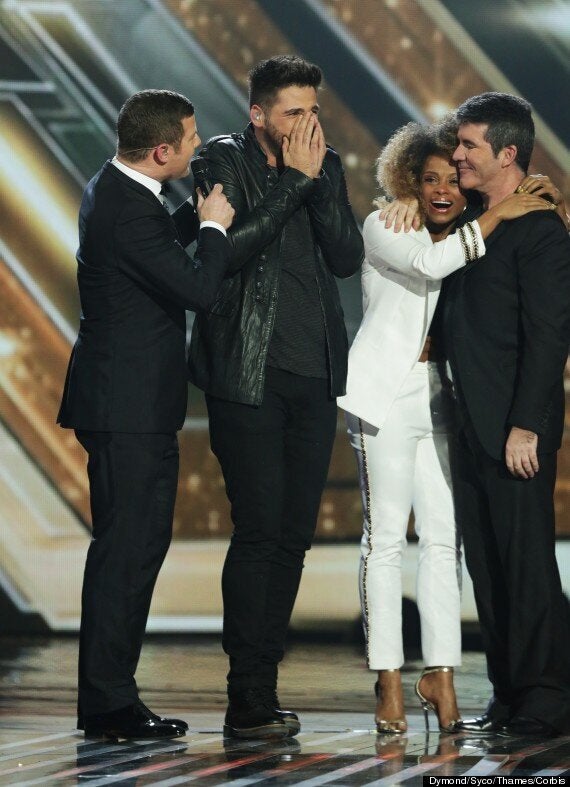 Ben Haenow finds out he's the winner of 'The X Factor'
Last year's winner was also from the over 25s category, with Sam Bailey bagging 53% of the votes, over finalists Luke Friend and Nicholas McDonald.
The full voting figures for 'The X Factor' 2014 are as follows...
WEEK 1 (Number Ones)

Andrea Faustini – 19.2%

Lauren Platt – 10.4%

Paul Akister – 10.0%

Ben Haenow – 8.7%

Fleur East – 6.0%

Lola Saunders – 5.7%

Jay James – 5.5%

Jake Quickenden – 5.1%

Jack Walton – 5.0%

Stevi Ritchie – 4.9%

Stereo Kicks – 4.6%

Chloe Jasmine – 4.3%

Only the Young – 4.0%

Stephanie Nala – 2.9%

Overload Generation – 2.7% [Eliminated]

Blonde Electra – 1.0% [Eliminated]

WEEK 2 (I Love The 80s)

Andrea Faustini – 14.5%

Lauren Platt – 12.7%

Paul Akister – 9.9%

Ben Haenow – 9.1%

Jay James – 7.6%

Lola Saunders – 7.6%

Fleur East – 6.0%

Stevi Ritchie – 5.9%

Only the Young – 5.6%

Jack Walton – 5.3%

Jake Quickenden – 4.8%

Stereo Kicks – 4.4%

Chloe Jasmine – 4.0% [Eliminated]

Stephanie Nala – 2.6% [Eliminated]

WEEK 3 (Songs From Films)

Andrea Faustini – 14.4%

Lauren Platt – 11.8%

Ben Haenow – 10.1%

Paul Akister – 9.4%

Fleur East – 9.3%

Stereo Kicks – 8.9%

Stevi Ritchie – 7.4%

Jay James – 7.1%

Lola Saunders – 6.9%

Jack Walton – 5.3%

Only the Young – 5.2%

Jake Quickenden – 4.2% [Eliminated]

WEEK 4 (Halloween)

Ben Haenow – 12.2%

Andrea Faustini – 11.9%

Stevi Ritchie – 11.5%

Lauren Platt – 11.0%

Paul Akister – 9.5%

Fleur East – 9.4%

Only the Young – 9.0%

Jay James – 8.3%

Stereo Kicks – 8.3%

Lola Saunders – 6.3% [Eliminated]

Jack Walton – 2.6% [Eliminated]

WEEK 5 (Queen vs Michael Jackson)

Ben Haenow – 14.8%

Andrea Faustini – 14.0%

Lauren Platt – 13.1%

Stereo Kicks – 12.4%

Fleur East – 10.8%

Stevi Ritchie – 10.3%

Only the Young – 8.4%

Jay James – 8.1%

Paul Akister – 8.1% [Eliminated]

WEEK 6 (Big Band)

Ben Haenow – 16.4%

Fleur East – 14.0%

Lauren Platt – 13.2%

Andrea Faustini – 12.7%

Stereo Kicks – 12.2%

Only the Young – 12.2%

Stevi Ritchie – 10.8%

Jay James – 8.5% [Eliminated]

WEEK 7 (Whitney vs Elton)

Ben Haenow – 19.4%

Fleur East – 16.1%

Lauren Platt – 16.0%

Stereo Kicks – 15.3%

Stevi Ritchie – 14.7% [Eliminated]

Andrea Faustini – 13.2%

Only the Young – 5.3% [Eliminated]

WEEK 8 (Jukebox)

Ben Haenow – 26.4%

Andrea Faustini – 21.0%

Fleur East – 17.9%

Lauren Platt – 17.8%

Stereo Kicks – 16.9%

WEEK 9 (Semi-Finals)

Ben Haenow – 36.5%

Fleur East – 24.3%

Lauren Platt – 20.1%

Andrea Faustini – 19.1%

WEEK 10 (at freeze)

Ben Haenow – 45.1%

Fleur East – 32.7%

Andrea Faustini – 22.2%

WEEK 10 (Final)

Ben Haenow – 57.2%

Fleur East – 34.3%

Andrea Faustini – 8.5%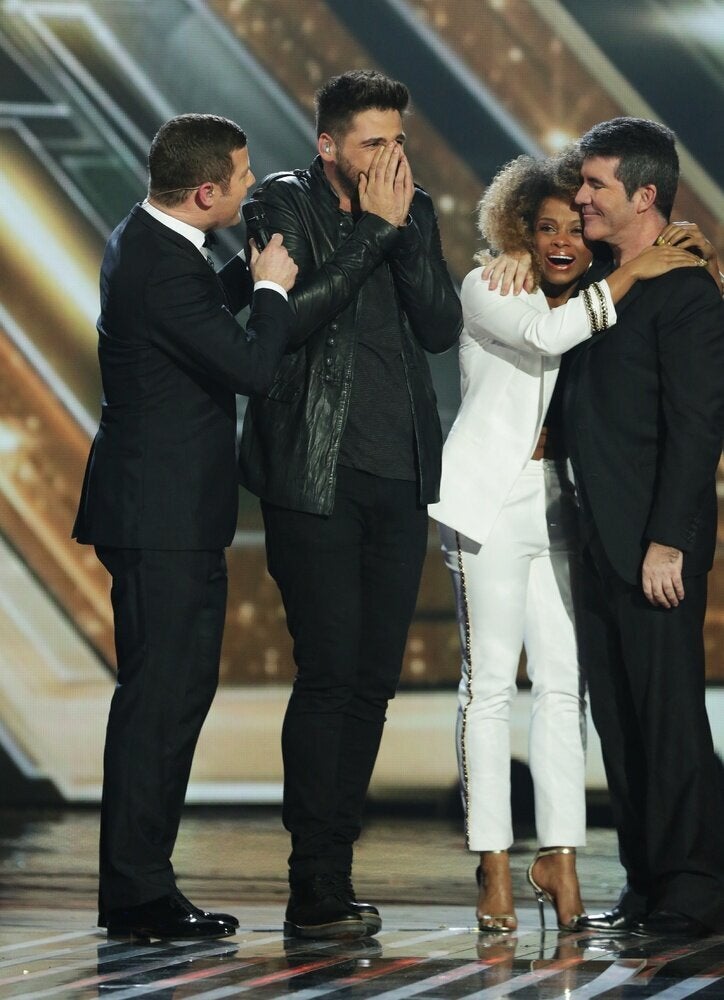 'X Factor' Final - Sunday
Popular in the Community