A police union boss has blamed those protesting the deaths of two black people at police hands for the murder of two NYPD officers, saying: "There is blood on many hands."
Officers Wenjian Liu and Rafael Ramos, were shot dead "execution style" in Brooklyn just before 3pm local time on Saturday, police said, by an alleged gang member who posted on social media that he wanted revenge for the deaths of Michael Brown and Eric Garner, whose killings by police sparked nationwide protests.
"Quite simply, they were assassinated," NYPD Commissioner Bill Bratton said at a press conference held Saturday evening at the hospital where the grieving families gathered. "Both officers paid the ultimate sacrifice today while protecting the communities they serve."
As well as protestors, Patrolmen's Benevolent Association President Patrick Lynch also blamed New York mayor Bill de Blasio, who has been accused of anti-police rhetoric amid protests about the shooting of Michael Brown, which sparked carnage in Ferguson, the Missouri town where he was shot and the death of Eric Garner, the man who was held in a chokehold by NYPD officers shortly before his death.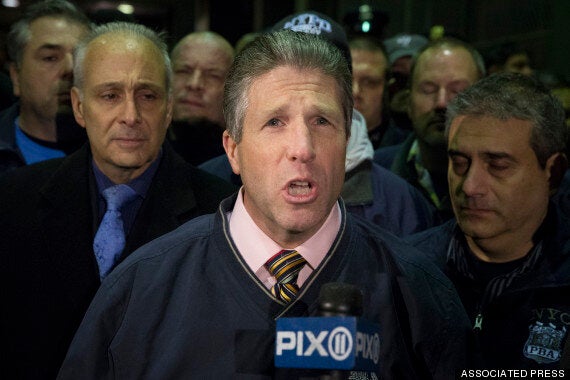 Patrick Lynch speaks to reporters
Speaking to reporters after the shooting, he said: "There's blood on many hands tonight. Those that incited violence on the streets under the guise of protest that tried to tear down what NYPD officers did every day.
"We tried to warn it must not go on, it cannot be tolerated. That blood on the hands starts at City Hall in the office of the mayor."
The Sergeants' Benevolent Association also blamed the mayor on Twitter.
In response to Mr Lynch's comments, Mr de Blasio's office called it "irresponsible, overheated rhetoric".
"It's unfortunate that in a time of great tragedy, some would resort to irresponsible, overheated rhetoric that angers and divides people," it said in a statement.
"Mayor de Blasio understands this is the time when we must come together to support the families and friends of those brave officers New York City lost tonight – and the entire NYPD community."
Mr Lynch's comments were quickly condemned on Twitter.
The gunman, identified by police as Ismaaiyl Brinsley, 28, opened fire on Liu and Ramos while they were sitting inside a marked, parked squad car outside of the Tompkins Houses, a public housing project in Brooklyn.
Other officers chased Brinsley, but he ran into the Myrtle/Willoughby G train subway station and shot himself in the head. He was pronounced dead at The Brooklyn Hospital Center, Bratton said.
A screengrab surfaced that apparently showed Brinsley referencing the deaths of Garner and Brown hours before the killings of the officers.
The instagram posted contained a photo of a silver handgun and a threatening message: "I'm Putting Wings On Pigs Today. They Take 1 Of Ours...Let's Take 2 of Theirs."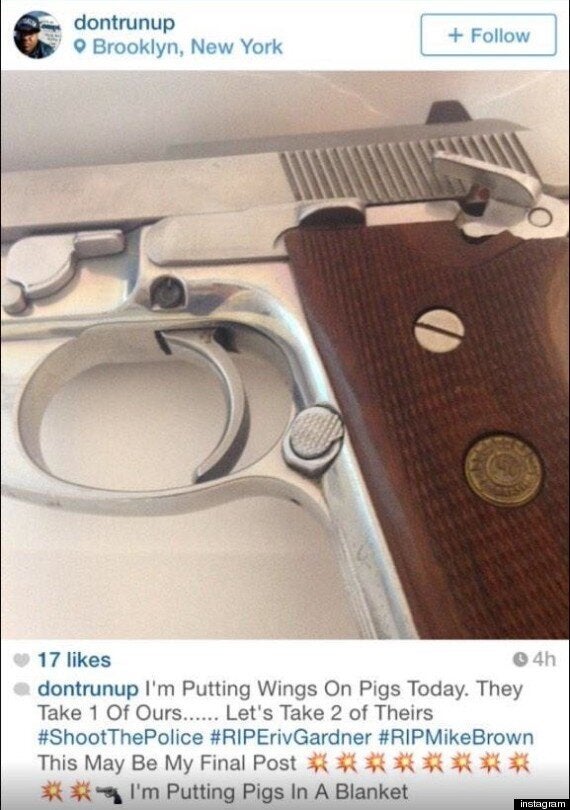 Michael Brown's family said in a statement: "We reject any kind of violence directed toward members of law enforcement. It cannot be tolerated. We must work together to bring peace to our communities. Our thoughts and prayers go out to the officers' families during this incredibly difficult time."
"When a police officer is murdered, it tears at the foundation of our society," de Blasio said. "It is an attack on all of us. It is an attack on everything we hold dear. We depend on our police to protect us against forces of criminality and evil."