Former reporters at The Sun and News of the World are among those expressing horror at a front page story about the wife of beheaded Islamic State captive Alan Henning.
Barbara Henning's "affair with her brother-in-law" was the splash in yesterday's Sun on Sunday, and included a double-page spread, with a quote from Mrs Henning.
The story was also followed up by the MailOnline, but the piece later appeared to have been removed. The Mail has been contacted for confirmation.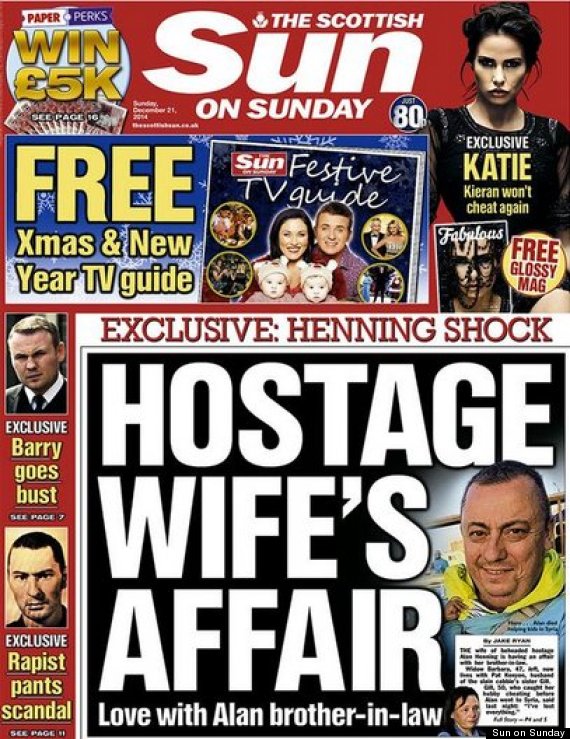 The Sun on Sunday splash
The paper interviewed Gill Kenyon, the sister of Alan Henning and the wife of Pat Kenyon, who Barbara Henning is now living with, according to the paper.
Former Sun journalists were among those who said the paper was in immeasurably bad taste.
Normally a great defender of tabloids but story in today's @TheSunNewspaper about Alan Henning's widow is unnecessarily mean-spirited.

— Claudia Connell (@Claudiacc) December 21, 2014
Like @andreabusfield I'm pretty appalled by the Sun's Alan Henning splash today

— CazzaW (@CazzaW) December 21, 2014
Shame on @TheSunOnSunday today. Disgracefully needless story about Alan Henning's wife just before Xmas http://t.co/kiS8ivUIE5

— John Staples (@Johnstapleshere) December 21, 2014
@Sunxrae @TheSunOnSunday I am not having a go at the tabloids of course - usually stand up for them - just thought that story wrong

— John Staples (@Johnstapleshere) December 21, 2014
As did a former News of the World reporter:
@CazzaW I hadn't seen The Sun before heading out. Only the Mail. Very bad call by both papers.

— Andrea Busfield (@andreabusfield) December 21, 2014
But Roy Greenslade, the Guardian's media commentator, said that the piece itself did not contravene the code of conduct set by the new Independent Press Standards Organisation.
"It's all a matter of taste and discretion," he said. "I loathed it, as did plenty of others. But I can't see that it broke the editors' code of practice (or the law, of course).
"See it instead as Busfield [the NOTW reporter] did: a very bad call by the Sun's editor and then another bad call by the magpie Mail Online. It could be said to be intrusive, except for the fact that Henning's wife is quoted liberally throughout and clearly posed for a picture [it is not clear that Barbara Henning did pose for any picture].
"One tweeter did ask about the privacy implications, but I cannot see how they are relevant. Similarly, although there is no public interest justification, not everything in a paper has to fulfill that criterion."
Many pointed out that the paper had given Henning's wife an extensive right-to-reply, and that Henning's sister Gill also had the right to tell her story - she had informed the paper of Barbara Henning's affair with her husband.
Overlooked in Twitter storm over Sun's splash on Alan Henning yesterday is right/willingness of his sister to tell her story.

— paul connew (@paulconnew1) December 22, 2014
Arrogant/pompous= those who champion censoring Alan Henning's sister from telling her story.Strictly a judgement call for her&Sun's editor

— paul connew (@paulconnew1) December 22, 2014
Alan and Barbara Henning were married for 24 years, with children children Lucy, 17, and Adam, 15, the paper said. Gill and Pat Kenyon were married for 23 years, running a business together. Gill Kenyon said she had found texts confirming the affair shortly after Alan Henning left for his convoy journey to Syria.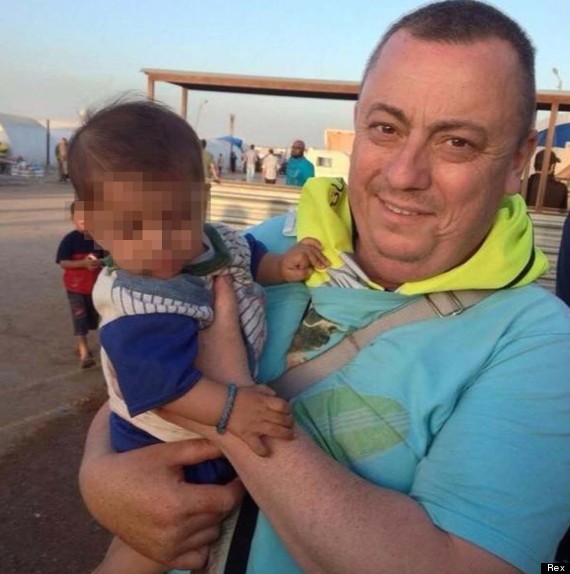 Alan Henning was murdered in Syria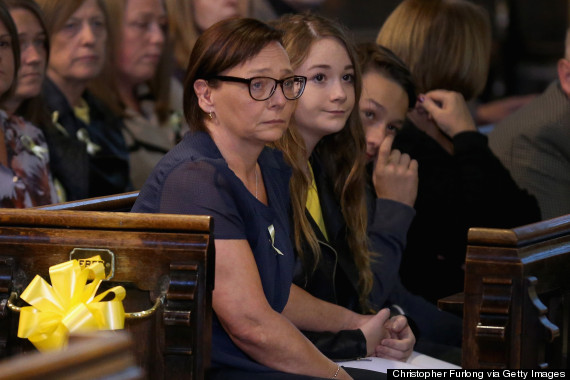 Barbara Henning (L), wife of murdered aid volunteer Alan Henning
"Everyone who needed to know knew about us. This started way before Alan went to Syria," Barbara Henning told the paper.
The Sun's head of PR Dylan Sharpe said the outrage on the Twittersphere was not representative.
THE TWITTERSPHERE IS DISPLEASED!

We must sacrifice an infant or something...right?

I'm not sure, best ask

@mediaguardian or @GreensladeR

— Dylan Sharpe (@dylsharpe) December 22, 2014
@Spythecamp @mediaguardian @GreensladeR Twitter is always angry about something. It's not representative of Sun readers or UK pop in general

— Dylan Sharpe (@dylsharpe) December 22, 2014
Sharpe told HuffPost UK no Sun readers had complained about the front page story, but would not confirm that Pat Kenyon had been paid for her story.
The 47-year-old taxi driver was kidnapped in December by Islamic State militants in Syria and held captive before a video showing his beheading was released last month. Henning's murder is thought to have been at the hands of "Jihadi John", an IS fighter who speaks with a London accent and who is apparently responsible for at least four other hostage killings.
In a statement before his memorial last month, Barbara Henning called her husband a "peaceful, selfless man who left his family in the UK at Christmas 2013 to drive in a convoy all the way to Syria with his Muslim colleagues and friends to help those most in need."
The Sun also paid tribute to Henning after his murder, saying they would not use images of him in his orange jumpsuit, as he was murdered. "Alan believed that if he could save just a few lives, his efforts would be worthwhile. Now he has paid the fullest price — murdered by the evil among the people he was trying to help.
"If his killers think they will benefit from this, they are wrong. We refuse to give his absurd killers the publicity they crave. Instead we choose to remember Alan Henning. Taxi driver from Eccles. A hero."