Rail passengers have been warned they could face further disruption at some stations because of over-running engineering works, amid calls for those caught up in yesterday's chaos to be refunded.
Rail bosses said there is unlikely to be the same problems that hit London on Monday as King's Cross station is back up and running.
But travellers have been warned trains will be busy and there are delays on lines in and out of the capital.
Thousands of passengers were hit with lengthy delays on Saturday and had to queue in the freezing cold for hours after the biggest rail maintenance programme in years over-ran.
Trains in and out of King's Cross were cancelled and passengers redirected to Finsbury Park. But the far smaller station soon became overwhelmed and had to temporarily close as queues stretched 300 metres down the street.
The Office of Rail Regulation (ORR) is launching an investigation while Transport Secretary Patrick McLoughlin demanded answers from rail bosses.
Manuel Cortes, general secretary of the rail union TSSA, said rail bosses should refund passengers hit by the mayhem.
He said: "This is not the time for private rail firms to hide behind the usual byzantine rules covering refunds.
"They will be paid millions for these delays by Network Rail and they must ensure that their frustrated passengers do not end up with just pennies after the horrendous delays of the past few days."
King's Cross station reopened just before 5am this morning after improvement works were completed, but it is still running a limited service. Trains operated by East Coast, First Hull Trains, Grand Central and Great Northern are affected.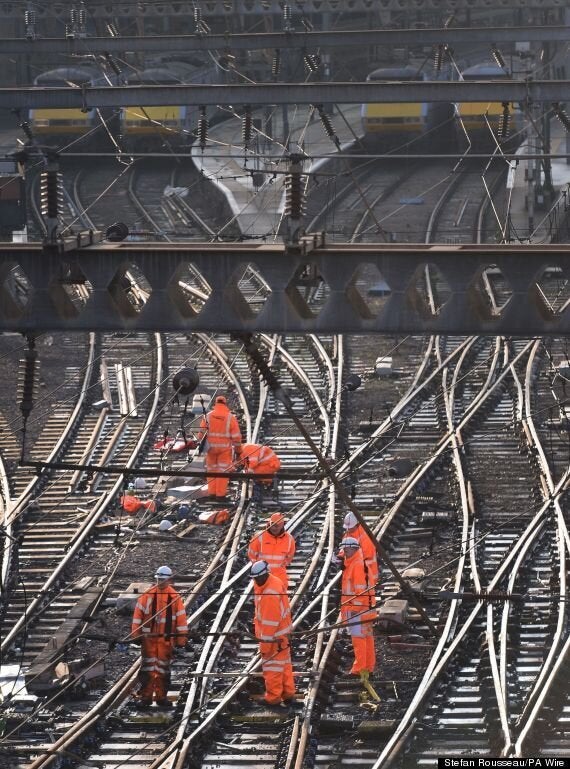 Over-running engineering works caused the huge delays
Robin Gisby, Network Rail's managing director of network operations, said: "King's Cross has reopened this morning following completion of yesterday's late running work.
"I would like to sincerely apologise for the upset and upheaval passengers suffered yesterday as our engineers struggled to complete an essential improvement project that had been months in planning.
"The advertised Sunday timetable for King's Cross will run today as train operators work to get people home who were unable to travel yesterday.
"We now move our focus to completing the handful of other projects still under way without further impact on passengers.
"We will also begin our investigation into what went wrong with the work at Holloway, north of King's Cross, and the planning that went into this project."
First Great Western warned passengers that "due to over-running engineering works" services between Paddington and Reading may be delayed by up to 15 minutes or revised.
Yesterday Paddington, one of west London's busiest stations, was closed for much of the day as trains were cancelled or delayed.