Search and rescue crews looking for passengers - including a Briton - on board missing AirAsia flight QZ8501 have suspended air operations due to poor weather.
The Airbus A320-200 lost contact with air traffic control at 7.24am local time (12.24am GMT), having taken off from Surabaya in Indonesia bound for Singapore almost two hours earlier.
The airline said 155 passengers, including 16 children and one infant, and seven crew, including two pilots, four flight attendants and one engineer, were on the flight.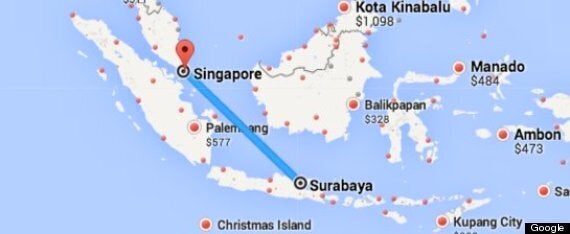 A map showing the intended flight path of the AirAsia plane
The pilot had asked to divert the flight due to safety fears amid stormy conditions, moments before it lost contact with air traffic control.
AirAsia's chief executive Tony Fernandes, who also owns Premier League football team Queens Park Rangers, has flown to Indonesia to help with the search.
He said: "This is my worse nightmare.
"My only thoughts are with the passengers and my crew.
"We put our hope in the SAR (search and rescue) operation and thank the Indonesia, Singapore and Malaysian governments."
He said he was "touched by the massive show of support" especially from fellow airlines.
He tweeted: "Thank you for all your thoughts and prays. we must stay strong."
It is the third incident involving Malaysia this year - in March, Flight 370 disappeared with 239 people and in July Flight 17 was shot down over Ukraine, killing all 298 people on it.
A British national was among the 162 people on board the missing AirAsia flight QZ8501, the Foreign and Commonwealth Office (FCO) confirmed.
The airline had originally released a statement listing the nationalities of passengers and crew as Indonesian, South Korean, Singaporean, Malaysian and French, but later issued an update.
An FCO spokesman said: "We are aware of an incident regarding AirAsia flight QZ8501.
"Our thoughts are with the passengers' families as they await further news.
"We have been informed by the local authorities that one British national was on board. Their next of kin has been informed, and we stand ready to provide consular assistance."
AirAsia said in a statement on its Facebook page: "At this time, search and rescue operations are being conducted under the guidance of The Indonesia of Civil Aviation Authority (CAA). AirAsia Indonesia is co-operating fully and assisting the investigation in every possible way.
"The aircraft was on the submitted flight plan route and was requesting deviation due to enroute weather before communication with the aircraft was lost while it was still under the control of the Indonesian Air Traffic Control (ATC)."
The airline said family or friends of those who may have been on the aircraft can phone their emergency call centre on 00 622129850801.
A spokesman for the British Embassy in Jakarta said it was working with local authorities to establish further details.
Aviation expert David Learmount said there was slim chance of finding survivors on board the short-haul flight.
He said: "We can speculate ad infinitum when the only thing we can go on is that it is missing.
"But I think the prognosis is not good."
The air search was halted at 5.30pm local time (10.30 GMT) due to poor visibility and is expected to resume in the morning. Some ships are continuing the search overnight.