The vast extent of proposed bonuses for Network Rail (NR) bosses have incited intense public anger in the days following travel chaos which left thousands stranded just after Christmas.
Over-running Christmas engineering caused major delays and forced King's Cross - London's main terminus for trains to Scotland and the north east - to close on Saturday, sparking chaotic scenes there and at nearby Finsbury Park station.
The travel chaos has thrown the spotlight on NR's bonuses for top executives, who are line for the company's annual performance-related bonus for the chiefs. Although this annual bonus is limited to 20% of salary, the scheme would still entitle NR chief executive Mark Carne, who is on a salary of £675,000, to a bonus of up to £135,000.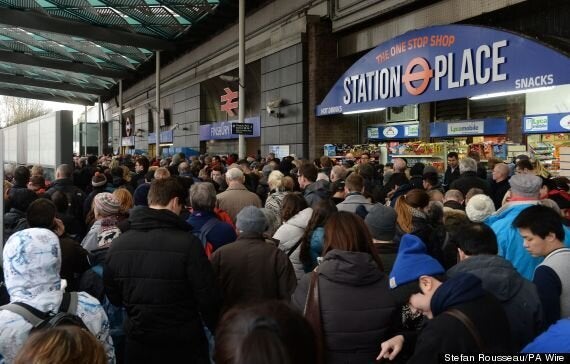 The closure of King's Cross forced travellers to move to the much smaller Finsbury Park
Carne is not entitled to the long-term incentive plan bonus for which 2014/15 is the last year. NR's network operations managing director Robin Gisby, the man masterminding the Christmas engineering work programme, is also not getting the long-term bonus, which could have been as much as £371,000, as he is leaving the company at the end of February.
The Daily Telegraph reported NR initially said he would get the bonus but then said he wouldn't. The paper described this as a "major u-turn".
But an NR spokeswoman told The Huffington Post UK that Mr Gisby was never in line for the bonus and the company had been wrong to initially say he was. He is not eligible for it because he will leave the company before the end of the financial year, she added.
There have been pleas in the past by politicians and by the Office of Rail Regulation (ORR) for the NR's remuneration committee to take more heed of poor performance in its assessment of bonuses.
The ORR has launched an inquiry and could fine NR for over-running engineering work.
However, critics of the whole rail set-up are quick to point out that, with NR being a not-for-dividend company with no shareholders, any fine imposed on it is effectively paid by taxpayers.
The travel chaos at the weekend was merely the latest in a series of late-autumn, early-winter disruptions to services.
Some have been down to the train companies, with a number of trains breaking down. But most have been due to signal failures which are down to NR.
On Friday, passengers' mid-winter misery will be compounded by the annual fare rise which will see season tickets going up by up to 2.5%.