If there's one thing that Angela Hartnett is known for - besides her exquisite culinary skills, of course - it's her refreshingly down-to-earth attitude.
When she's not working tirelessly in one of her kitchens, she'll be in the dining room greeting guests (telling hilarious foul-mouthed anecdotes about her school days) or pitching in to help serve plates (as she did during a banquet she hosted at Wilderness Festival).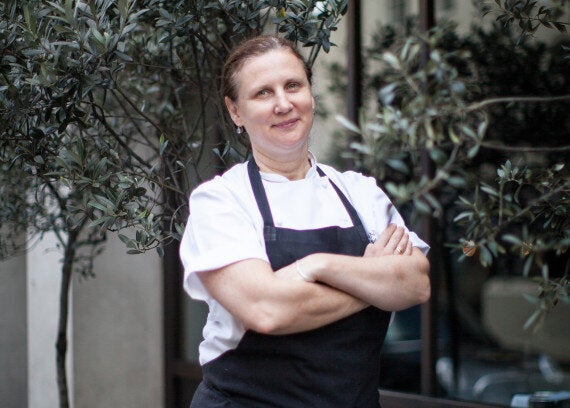 Her language and hard work ethic echo that of Gordon Ramsay, for whom she worked for 17 years and, she says, owes her success.
"I wouldn't be where I am without him," she tells HuffPost UK Lifestyle. "He was a great mentor."
The turning point in her career, she says, was buying Murano from Ramsay in 2010. She was working as head chef at the time and still owns the Michelin-starred restaurant today. "It was a great opportunity and I will always be grateful to him," she says.
Of course, being under Ramsay's wing isn't the only string to her bow, her modern Italian cooking style has won her fans across the world: "My cooking philosophy that is about treating the best seasonal ingredients simply, in ways that best brings out their flavours."
But despite her successful restaurants, a recipe book and countless television appearances under her belt, she tells HuffPost UK Lifestyle that her career hasn't always been plain sailing.
She describes opening her eponymous restaurant at The Connaught Hotel as the most difficult point in her career.
"Lots of guests were very worried about a woman with an Italian influence taking over an established restaurant," she says. "But I stuck to my style of cooking - I learnt to believe in my work while developing as a chef in Ramsay's kitchen - and the guests came to appreciate it."
Being labelled as a token female chef is clearly something Hartnett abhors. "I've never considered myself a 'female chef', just a chef – and I've been as dedicated as anyone else of either gender," she says.
And Hartnett certainly puts her money where her mouth is. The number of women in kitchens is increasing, she says especially in positions of authority. Hartnett proudly counts Sam Williams as head chef at Café Murano and Pip Lacey as head chef at Murano.
"If a female chef is committed and loves what they do then their merit as a chef will carry them far," she says. "I'll empower, support and be flexible for those who prove themselves."
And Hartnett's days of hard graft are far from behind her. While she notoriously pulled 16-hour days in the kitchen on her way up, she now divides her time between kitchens and managing the business.
When she's not working, Hartnett, who lives in London's Shoreditch with her partner Neil Borthwick, can be found in one of the independent Curzon cinemas, the Barbican or walking her Jack Russell terrier, Alfie - "A quick walk with the dog always manages to clear my head."
And for someone who is so passionate about food, her idea of work-life balance doesn't stray far from the kitchen. "Like anyone I need to find time to relax, which for me generally revolves around eating," she says. "When I'm home, I mostly cook easy and enjoyable food, nothing too complicated – so things like pastas and risottos. My favourite comfort food would be a roast chicken accompanied by a large glass of Italian red wine."
It's clear that the idea of traditional work-life balance need not apply for Hartnett. She is as at home and relaxed in her Michelin-starred restaurant as she is entertaining friends in her own place. There's a blurred line between the two, where clients and staff are treated as friends and friends get treated to her top notch cooking.
Angela Hartnett hosted the White Truffle Supper Club at Fortnum & Mason . The next Supper Club will be on Burn's Night. For more information see here