We'll be honest here - our main experience of Belgium comes via literature and the silver screen - Poirot and In Bruges. And while Agatha Christie's little detective was very fond of his tisanes, she made little to no mention of his native food.
A pity, really, as the country has more three-star restaurants per capita than anywhere else in Europe. It's geographical location also means that cuisine is pretty varied with French and German influences blending together.
Showing you how to cook like a Belgian, the cookbook Taste Of Belgium, a handsome coffeebook number by Ruth Van Waerebeek has been re-released due to popular demand.
SEE MORE

Tired of Turkey? Try These Tasty Alternatives To Traditional Christmas Dinner

12 Christmas Cupcake Recipes You Need To Try This Holiday Season
Starter: Tomatoes Stuffed with Prawns, Crab & Lobster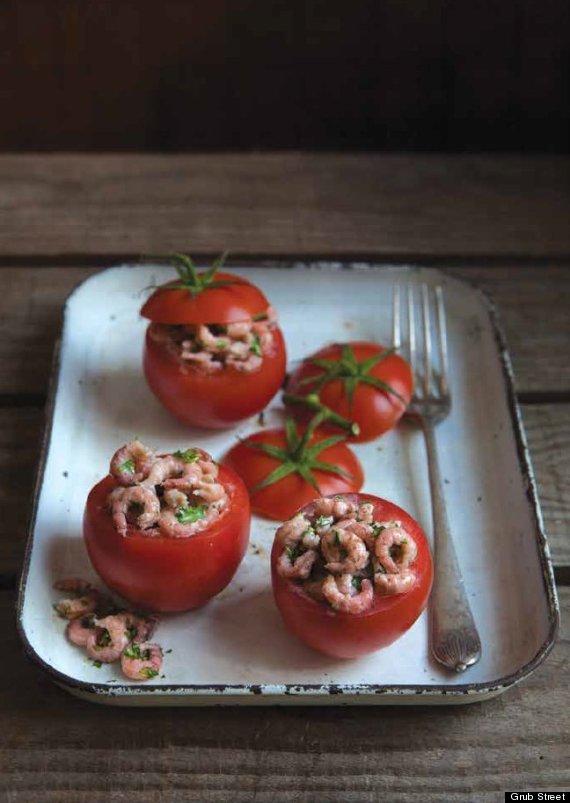 Ingredients
4 large, firm and ripe beefsteak tomatoes
Salt
400g/2 cups cooked, shelled and diced prawns, crabmeat and/or lobster meat
180ml/¾ cup mayonnaise, preferably homemade
Freshly ground black pepper
8-12 rinsed and dried Boston lettuce leaves
4 tablespoons/¼ cup chopped fresh parsley
What now?
1) Cut a thin slice off the top of each tomato and reserve. Carefully scoop out the seeds and pulp of each tomato with a teaspoon (save the pulp for a tomato sauce).
2) Sprinkle the insides of each hollowed-out tomato with a pinch of salt and turn upside down on paper towels to drain.
3) Mix the shellfish with the mayonnaise and season with salt and pepper.
4) Arrange 2 or 3 Boston lettuce leaves on each plate. Place a scooped-out tomato in the centre.
5) Sprinkle the inside of each tomato with freshly ground black pepper and fill each tomato with the seafood mixture. Cover with the reserved tomato tops and sprinkle each plate with chopped parsley.
Main Course: Roast Pheasant with Caramelised Belgian Endives and Apple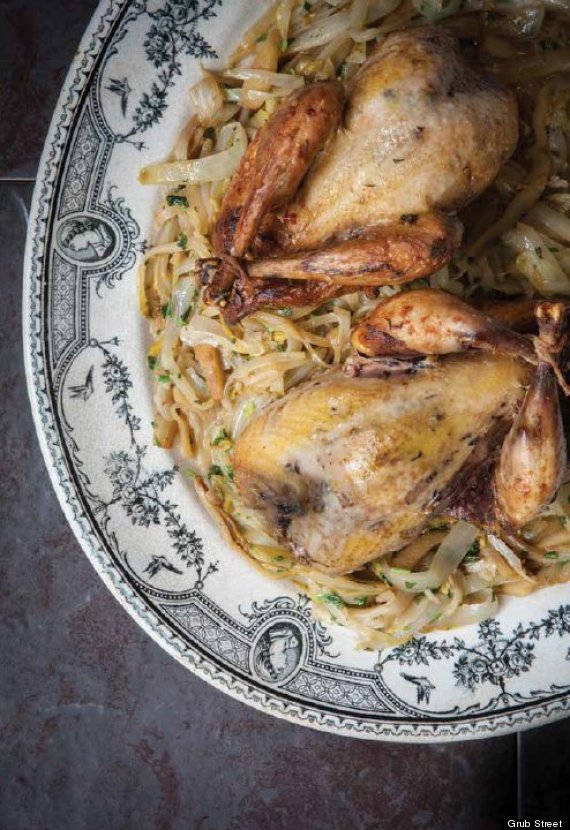 Ingredients
2 pheasants (1kg/2½ pounds each), rinsed and patted dry
Salt and freshly ground black pepper
2 grape leaves, fresh or brined, or 6 thin slices of bacon
40g/3 tablespoons unsalted butter
1 peeled and chopped medium onion
1 peeled and diced carrot
1 diced celery stick
4 tablespoons/¼ cup port
180ml/¾ cup homemade chicken broth, reduced to 60ml/¼ cup
4 tablespoons/¼ cup whipping (or heavy) cream
For the caramelised endives and apple
6 or 7 cored and julienned Belgian endives
1 peeled, cored, and julienned medium tart apple
1 tablespoon icing/confectioners' sugar
1 tablespoon fresh lemon juice
Salt and freshly ground black pepper
40g/3 tablespoons unsalted butter
2 tablespoons finely chopped fresh Parsley
What now?
1) Preheat the oven to 180°C/350°F/gas 4. Season the cavities of the birds with salt and pepper. Wrap a grape leaf or 3 slices bacon around the mid-section of each bird and truss with kitchen string.
2) Melt the butter in a large enameled casserole (Dutch oven) over medium heat. Add the birds and brown for 4 minutes on each side.
3) Sprinkle the onion, carrot, and celery around the birds and season with salt and pepper. Roast in the oven until the breast is still pink and the temperature registers 65°C/150°F on an instant-read thermometer, which should take 25 to 30 minutes. Baste with pan juices every 10 minutes to keep the birds from drying out.
4) Meanwhile, prepare the caramelised vegetables. Place the julienned endives and apple in a large mixing bowl. Add the sugar, lemon juice, salt, and pepper; mix well. Use two sauté pans or cook the endive mixture in two batches. Melt 1½ tablespoons butter in each sauté pan over high heat.
5) Add the endive mixture and cook, stirring frequently, until the endives are slightly caramelised and soft, which should take 4 to 5 minutes. Transfer the endives into a warmed serving dish while you finish the sauce.
6) Remove the pheasants from the pan and place on a cutting board. Keep the oven on. Place the large enameled casserole (Dutch oven) on top of the stove. Add the port and reduced chicken broth; bring to a boil, scraping the bottom of the pan with a wooden spoon to get all the little brown bits into the sauce.
7) Strain the sauce and endive mixture through a fine sieve into a small saucepan. Press down on the solids with your wooden spoon to extract as much of the liquid as possible. Bring to a boil, stir in the cream, and season with salt and pepper. Boil for 1 minute and remove from the heat.
8) Carve the breasts of the birds and arrange on caramelised endives. Spoon some of the sauce over the meat and serve. If the breast meat is still slightly pink as it should be, the legs will be slightly underdone. If they are, place them on a rack in a roasting tin and return to the oven for 5 to 10 minutes until cooked through. Serve the legs as a second course.
Pudding: My Mother's Waffles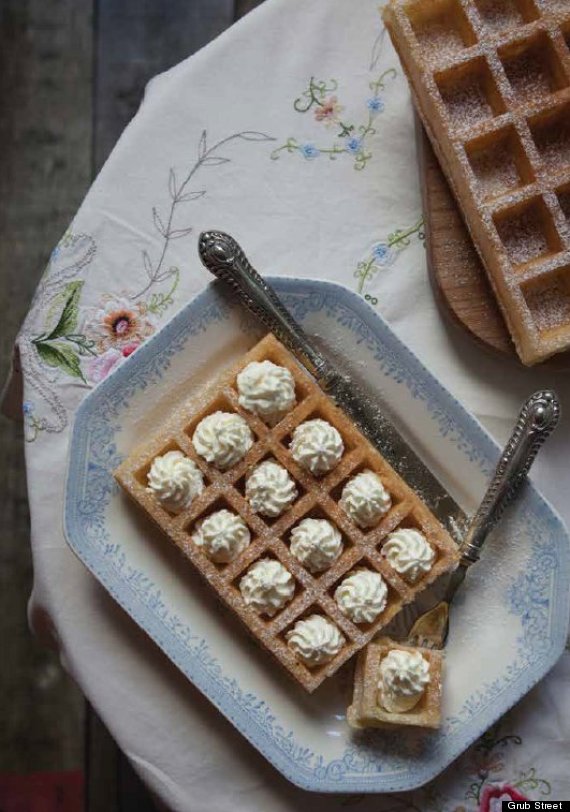 Ingredients
50g/2 ounces fresh cake yeast or 4 packages active dry yeast
1.5 litres/6 cups milk, warmed to 38°C/100°F
6 large egg yolks
175g/12 tablespoons (1½ sticks) unsalted butter, melted and cooled to lukewarm
175g/12 tablespoons (1½ sticks) margarine, melted and cooled to lukewarm
225g/1 cup vanilla Sugar, or 225g/1 cup sugar and 1 tablespoon vanilla extract
Pinch of salt
900g/8 cups plain (all-purpose) flour
6 large egg whites, beaten to soft peaks
For serving
Icing/confectioners' sugar
Unsalted butter, at room temperature, or whipped cream
Sliced fresh fruit, such as pineapple, peaches, or strawberries
Makes about 40 waffles
What now?
1) In a small bowl, dissolve the yeast in 240ml/1 cup of the lukewarm milk. In a large, deep mixing bowl (the dough will double or triple in volume), whisk the egg yolks with 120ml/½ cup of the remaining milk and the melted butter and margarine. Add the yeast mixture, sugar, and salt.
2) Gradually add the flour to the batter by sifting it in. Alternate additions of flour with the remaining milk. Stir with a wooden spoon after each addition.
3) Fold in the beaten egg whites. Cover with a clean towel and put in a warm place (see note). Allow to rise for 1 hour. The batter should double or even triple in volume (while you wait, you have time to brew the coffee, set the table, and heat up your waffle iron). Check the batter from time to time to make sure it isn't about to erupt like an impatient volcano. Stir it down once or twice.
4) Bake the waffles in a hot waffle iron. The easiest way to get the batter onto the waffle iron is to transfer the batter (by batches) into a water pitcher and pour the batter from the pitcher. Serve the baked waffles with icing/confectioners' sugar and butter, or whipped cream and fresh fruit. Allow any leftover waffles to cool on a rack before storing.
Variation: Add approximately 1 teaspoon cinnamon to the batter.
Note: Traditionally, waffle batter is left next to the big warm stove, which guarantees a slow, even rising. Duplicate these conditions in the following way: preheat your oven to 110°C/225°F/gas ¼ for 10 minutes and turn it off. Let the batter rise in the oven with the door closed.