Four people have been injured and two taken to hospital after a plane veered off the runway, reportedly due to high winds.
The outbound Saab 340 aircraft, operated by Loganair, was due to fly to Glasgow from Stornoway Airport on Lewis at 8.33am on Friday when the incident happened.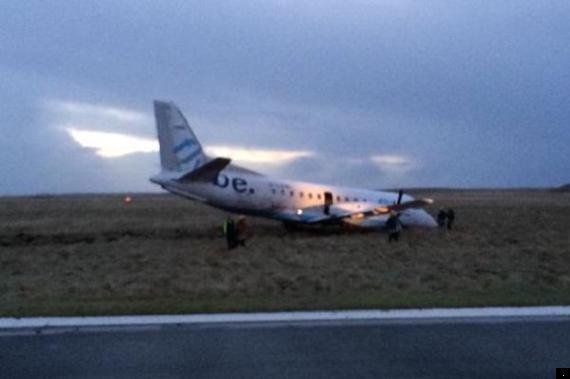 The plane after the incident
The Scottish Ambulance Service said two people were taken to Western Isles Hospital with minor injuries.
Police said that these two were male.
Two female passengers sustained minor injuries but declined medical assistance.
In a statement, Stornoway Airport said: "Efforts to remove the aircraft from the runway are ongoing and investigations into the cause of the incident are under way.
"It is our intention to resume normal operations as soon as the aircraft is safely removed from the runway. There are no scheduled arrivals or departures at Stornoway until later this afternoon."
Saab 340B, BE6820 from Glasgow (GLA) suffered a runway excursion upon landing at Stornoway Airport. @ComunidadAvion pic.twitter.com/NA8Pfcb37J

— AdriánJM (@AlfaMay2) January 2, 2015
The plane had been due to fly to Glasgow at 8.35am.
There were 28 people on board who were taken off the aircraft.
The Scottish Fire and Rescue Service sent three fire engines to the scene.
After leaving the runway the plane came to rest on the grass next to it.
A Police Scotland spokesman said: "A full air accident investigation has now been launched and will be carried out by the Air Accidents Investigation Branch in conjunction with Police Scotland."
One passenger told the BBC it felt as if the tail was caught by a crosswind.
Winds at the scene were measured at 20 knots, gusting to 33 knots 13 minutes before the accident, according to the website Aviation Safety.