Charlie Cotton is set for more emotional trauma in tonight's 'EastEnders' (Thursday 7 January), as he struggles to cope after receiving some worrying news about Ronnie.
MORE 'EASTENDERS':
Charlie and Ronnie should be celebrating their wedding at the moment, however a New Year's Day car crash - which killed Emma Summerhayes - has left her in a critical condition.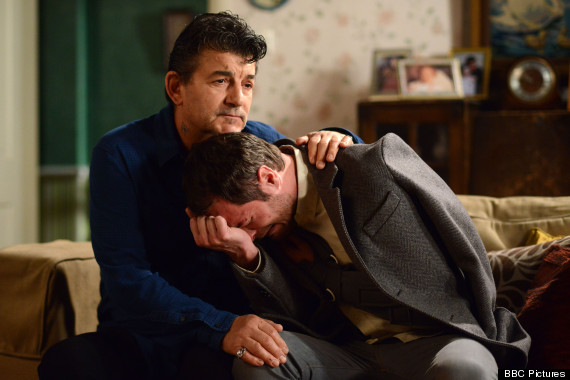 Nick comforts Charlie
Ronnie's baby has already been delivered by C-section, and Charlie has struggled to accept his new son.
At present, Charlie has no idea how the crash was caused, but viewers know his dad Nick was behind it.
Since the incident, Nick has been helping Charlie to cope - though it seems his time may finally be up.
Will Charlie find out the truth about Nasty Nick?
Elsewhere in Walford, there's no shortage of drama and the Beales are currently getting ready for Ian and Jane's wedding, which is due to take place on 19 February.
Little do they know, Lucy Beale's killer will also be unveiled on the same day…
'EastEnders' airs at 7.30pm tonight, followed by another episode at 8.30pm.
LIKE US ON FACEBOOK | FOLLOW US ON TWITTER