WARNING: The recordings above are distressing.
The daughter of a decorated war hero has called for harrowing recordings of her father's agonising moans to be played in Parliament in advance of the Assisted Dying Bill.
Frank Foster, 93, was left deaf and blind by a brain tumour which caused him horrendous pain.
His daughter, Joanne Fowler, said he was left covered in dried faeces and his cries for help had been routinely ignored by nurses before he died in June last year.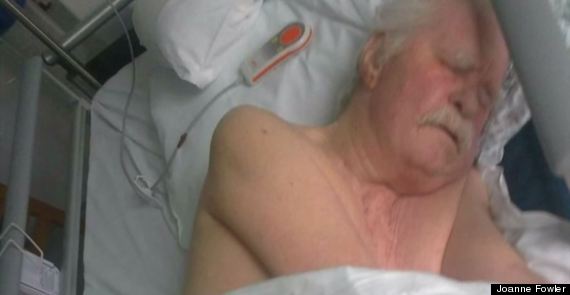 Frank Foster
A neglect inquiry was subsequently launched.
Fowler says the weeks before her father's passing were marred by a series of incidents at Tunbridge Wells Hospital in Kent, where he was supposedly left in agony, sometimes writhing in his own waste.
She claimed he was "constantly" ignored and the family were "treated with contempt" by hospital staff, but the independent review cleared them of the allegations and allegedly placed blame on his daughter.
Fowler told the Kent And Sussex Courier: "He was given some pain relief but this wasn't adequate. It was the most horrific thing. He was screaming in pain and the nurses wouldn't do anything. I insisted something was done but we were treated with contempt.
"At one point a nurse came in and angrily squirted some pain relief into his mouth with a syringe without saying anything to him. He's blind and deaf and this was very distressing to have no warning."
She told the Daily Mirror: "He was left lying in his own urine and groaning in pain because he was not given proper medication.
"He should have been put out of his misery.
"My dad died in my arms and I made a promise to him that his suffering would not be in vain."
Foster was a soldier with the King's Royal Rifle Corps and 2 Queen Victoria's Rifles (Territorial), and was left with shrapnel in his shoulder from a battle at El Alamein.
His daughter has released several recordings of his agonising moans in an attempt to influence the passage of legislation on assisted suicide that will allow the terminally ill to choose their own fate.
She claims to have recordings of the veteran begging: "Take away my life. Somebody help me please. Take away my life."
Lord Falconer's Assisted Dying Bill was has already passed the House of Lords, and would allow mentally competent adults to be provided with the means to end their own lives.