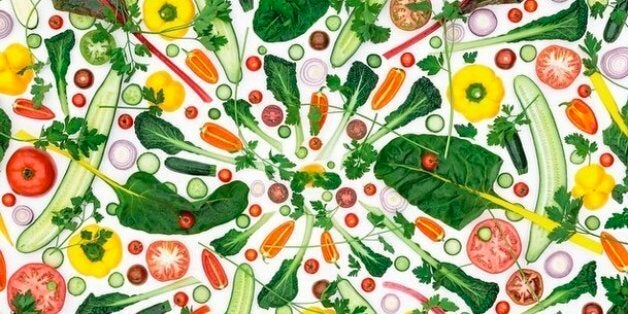 Need inspiration to kick start your healthy eating regime? Then look no further, for we may have the Instagram account for you.
Her delicious geometric designs, which she lays on paper and shoots from above, have earned her more than 74,000 followers (and counting).
"After I've made a design and photographed it I'll use the ingredients for a juice, a smoothie or a big salad – it all gets eaten!" she told HuffPost UK Lifestyle.
Locke first adopted the raw vegan lifestyle 18 months ago, and has been snapping away ever since.
"I love vegetables not only for their infinite varieties of taste, smell, texture and their nutritional superpowers but they also have a great aesthetic appeal to me, so it seemed natural to showcase their beauty as well as eat them!" she told HuffPost UK Lifestyle.
"I made my first design purely for fun and posted it on Instagram and it had such an amazing response I composed a few others and things just went from there."
Locke hopes that her creations will help inspire healthy eating habits in others.
"I aim to inspire others to include more fruit and vegetables in their diets, as we all should be taking responsibility for our own health and a diet rich in fresh fruit and vegetables is a great way to make that start," she says.
"There are so many ailments and illnesses that could be easily prevented and rectified by simple dietary changes but there's a lot of ignorance and misinformation out there so people do get confused and some are just unwilling to make a change to their lifestyle."
And it's not just the Instagram community who are falling head-over-heels for her designs, she's also working with big brands such as Harrods, designing cook book covers and selling her prints through her blog.
What do you think of her designs?