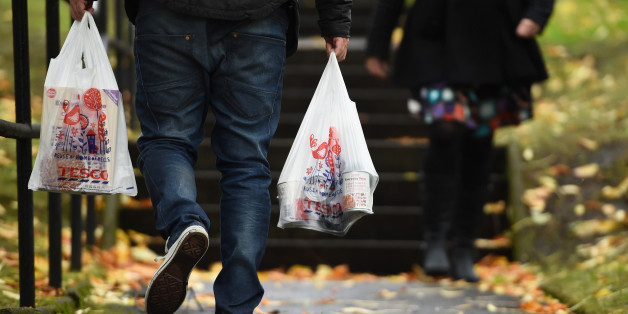 Jeff J Mitchell via Getty Images
Tesco is shutting its head office along with 43 unprofitable stores as part of a raft of drastic new measures as new boss Dave Lewis fights to turn around the ailing supermarket's fortunes.
Britain's biggest retailer made the dramatic announcement as it revealed like-for-like sales for the 19 weeks to January 3, including the Christmas period, fell by 2.9%. The grocer is also closing its final salary pension scheme and shutting its historic HQ in Cheshunt, the Hertfordshire town that has been its home since 1973, to move to Welwyn Garden City in 2016.
Tesco's restructuring of central overheads is expected to save £250 million a year, however it is expected to see job losses as the supermarket fights to control its costs. Alongside a "significant revision" to its store-building programme, Tesco also said it would sell its broadband division and its UK download business Blinkbox to TalkTalk and was exploring options for the disposal of its Dunnhumby data business, as well as cancelling a final-year dividend for 2014/15.
The supermarket also tried to regain momentum by launching a new price war, slashing the cost of some of its best-known products. Shares have risen by 5% in early trading in response to the announcement.
Chief executive Dave Lewis said: "We have some very difficult changes to make. I am very conscious that the consequences of these changes are significant for all stakeholders in our business but we are facing the reality of the situation.
"Our recent performance gives us confidence that when we pull together and put the customer first we can deliver the right results."
Story continues below...
Employees will start to learn over coming months which stores will be shut and how many jobs will be lost as Tesco begins consultations with those affected with full details set to be known by April.
Lewis said he understood how the announcement would hit "hard-working people", adding: "I am not immune to the impact of the decisions we have had to take on our colleagues."
The Tesco chief also revealed that he was writing to 49 communities to reveal that "with a heavy heart" it was pulling out of new store-building projects.
Lewis was upbeat on Tesco's trading performance over the festive performance as sales declines eased.
The trading update included a performance for the third quarter to November 22 when like-for-like sales fell 4.2%, plus the subsequent six weeks including Christmas, when they fell 0.3%.
The figures represented an improvement on a fall of 5.4% in the second quarter. Sales fell by 3.7% in the first quarter.
Other supermarket giants have suffered, with Sainsbury's posting its first sales decline over the Christmas period for a decade.
The retailer's like-for-like sales for the 14 weeks to January 3 fell by 1.7%, but it was an improvement on the 2.8% dip seen in the second quarter and a better performance than analysts expected.
It was the fourth successive quarter of decline and the first time Sainsbury's has reported a fall over its third quarter, which includes the festive period, since 2005, leading chief executive Mike Coup to warn that trading will remain "challenging" in the near future.
Meanwhile, Marks & Spencer's trading continued to be dire, feeding speculation about whether chief executive Marc Bolland can stay in his job.
Marc Bolland not doing enough to convince investors that his plan is working? That's because it isn't working. A radical overhaul is needed.

— Jonathan De Mello (@DeMelloRetail) January 8, 2015
Analysts not being too tough with Bolland at MKS.

Are they too used to disappointment?

— Louise Cooper (@Louiseaileen70) January 8, 2015
M&S shares opened 3% lower after the worse-than-expected performance dashed hopes in November of an improved trend in clothing sales.
The premium retailer revealed that its clothing division has continued to suffer after it was beset by online delivery problems and unseasonal weather conditions.
The general merchandise division, which includes fashion, posted another quarter of declining sales over the Christmas period, with like-for-like sales down by a bigger-than-expected 5.8% in the 13 weeks to December 27.
Bolland admitted there had been an "unsatisfactory performance" in M&S's e-commerce distribution centre but said its food halls were busy over the festive period after like-for-like sales rose 0.1% in the period.
M&S said its new website performed well operationally but this was offset by disruption at its new distribution centre in Castle Donington, Leicestershire.