NASA is actually pretty good at building cars for use on other planets.
Take the Opportunity rover currently trundling about on Mars: it was supposed to last about 90 Martian days. So far it's outperformed that by 10 Earth years - or 40 times its estimated lifespan. Then there's the Curiosity rover, which is able to not only land on Mars via a sky crane and proceed to climb a mountain, but can also operate a humorous Twitter account at the same time.*
But NASA is never ready to rest on its laurels. Its current rover setup involves tortuous manual control by engineers here on Earth, communicating with Mars via long delays. If a car on Mars could drive itself, however - or at least avoid rocks and craters on its own - things might be much, much simpler.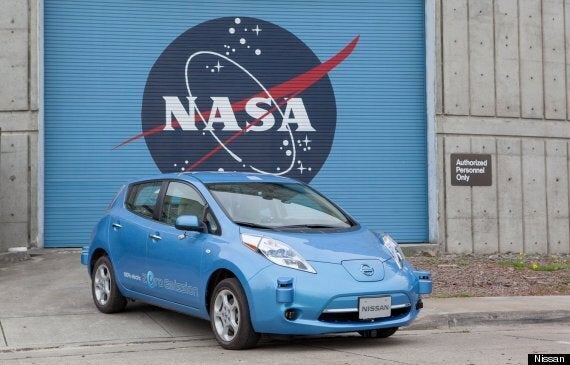 The two organisations said they will work together on autonomous (self-driving) vehicles that might be used on Earth as well as in space. The teams will work from NASA's Ames Research Center - which Engadget notes is close to where Google is also working on its own fleet of robotic cars. The first NASA-Nissan electric robot car will be driven before the end of the year, the two said.
NASA hopes that Nissan can teach it more about the software and hardware needed to operate self-driving cars so reliably it could send one to Mars.
"All of our potential topics of research collaboration with Nissan are areas in which Ames has strongly contributed to major NASA programs," said director of Ames Research Center, S. Pete Worden. "Ames developed Mars rover planning software, robots onboard the International Space Station and Next Generation air traffic management systems to name a few. We look forward to applying knowledge developed during this partnership toward future space and aeronautics endeavours."
Meanwhile Nissan wants to learn about making more durable systems when it comes to humans interfacing with machines.
"The work of NASA and Nissan – with one directed to space and the other directed to earth, is connected by similar challenges," said Carlos Ghosn, president and CEO of Nissan Motor Co. "The partnership will accelerate Nissan's development of safe, secure and reliable autonomous drive technology that we will progressively introduce to consumers beginning in 2016 up to 2020."
And it's not just Mars, either. NASA is considering sending robots of different types to distant worlds like Europa, as well as asteroids and comets.
Popular in the Community