When most 20-somethings have a breakout or bad skin reaction they cancel all social engagements and plunge under the duvet feeling miserable.
But 10 years ago, when Sarah Brown woke up covered head-to-toe smothered in angry hives, her life changed forever - and for the better.
Fast-forward to the present day and not only is she heading up her very own organic skincare brand, Pai, but her skin is flawless.
We spoke to her about brewing her first products from a lab in her garage, her commitment to helping women understand their skin and how many organic beauty products aren't really organic at all.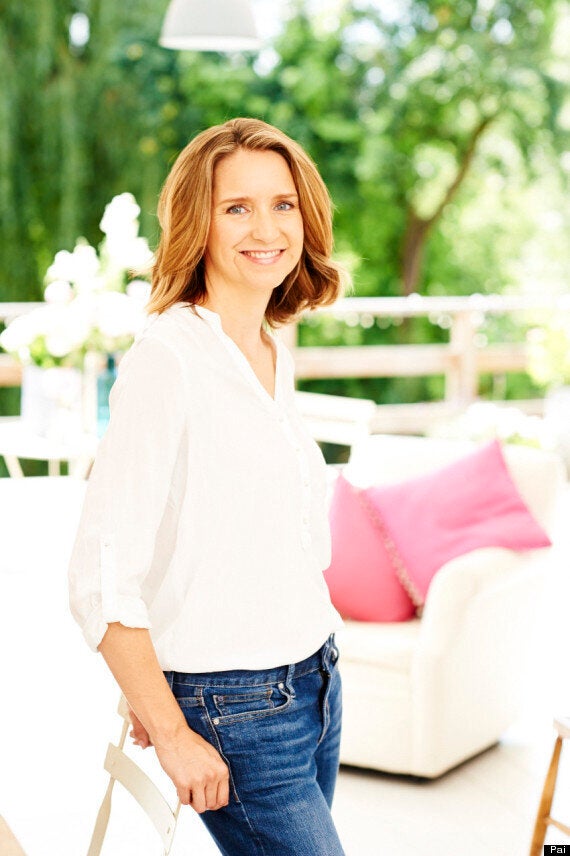 In my mid-20s, I developed a condition called chronic urticaria, also known as hives. It came out of nowhere, literally overnight. I had quite an extreme reaction and the rash was over most of my body. It was a shock and made me pretty miserable. I went to see various dermatologists only to find that, like a lot of skin conditions, mine was idiopathic - which means there isn't a known cause. So unfortunately I was sent away with no real options.
The experience turned me to natural skincare for the very first time. I had to throw away everything I owned from perfume to make-up and skincare products.
Then I had to replace the products I'd thrown away, but it was more difficult than I thought: the products that I thought would help me, such as 'hypoallergenic' ones, didn't help at all. Why? Because that term 'hypoallergenic' means nothing - it's a made up marketing term. Manufacturers do not need to do anymore testing to call a product 'hypoallergenic' - and I don't think that's right.
I got disillusioned. I actually had more issues using natural skincare products that regular ones, which was quite bewildering because you'd think botanicals would be kinder to the skin. But there were lots of reason why that wasn't the case, the main being that there is so much green washing in the industry. And it was only when I started doing in-depth research and building an ingredients list that I became away of it.
So starting my own skincare brand wasn't something I wanted to do, it was something I felt absolutely compelled to do.
So what sets Pai apart from other brands?
When I set up the business, I wanted to create products that people could depend on to be good to their skin. People often talk about bad hair days, but I wanted to help people with bad skin days.
A crucial element of the Pai brand is trust. I started the business as very, very frustrated consumer. I felt that many brands were lacking integrity. So many brands claim to be organic, when they aren't, they aren't even certified. And if you are not certified, you are not organic. It's simple.
I also wanted products that people could love to use. When you have difficult skin your options are dwindled. I kept being suggested products that were cheap, synthetic and medical - all they did was remind me that I had rubbish skin. So I set out to create beautiful, quality products that make women feel good about themselves and rebuild their confidence.
How did you go about setting up the business from the initial idea to developing the products and taking them to market?
I converted my garage to made my own products. I had to go right back to basics, starting with basic formulas and taking a few crafty course on how to make lip balms and creams. I used very simple but very high-quality, organic oils and they completely transformed my skin. I loved it - it was a very defining moment for me, I thought: 'wow I've made a cream'.
I spent two years researching ingredients and testing on my own skin and asking friends with difficult skin to test them. It was quite a simple process really. I took baby steps and launched with six products in 2007.
By the end of 2008 I'd hired a cosmetic chemist. She approached me, as she wanted a placement. She was French and wanted to work in London, she'd worked for L'Oreal but was keen to work with organic formulation. I took a punt, but I knew my products lacked finesse and we needed stability - and I'm pleased to say she's still with us today. We now have three cosmetic chemists out of a staff of 20. We actually have more chemists than sales people, which is funny.
The business grew very slowly at first but now we have started to build momentum. I started in a garage and we're moving to 25,000 sq ft factory next year.
I started with absolutely nothing, with no fall back. It was very risky, but I learnt so much.
I sometimes worry about brands that launch with half a million in the bank. On one hand I imagine what I could have done if I had that money - but nothing gets you out of bed quicker than worrying about how you're going to pay your only member of staff.
Why is it important to buy organic beauty products?
People love a quick fix, that they think they can put one moisturiser and it will solve all of their problems. People don't think about the bigger picture or realise that you can absorb things through you skin.
We have always tried to get people to consider their skin as a whole - we are not saying that this product will fix all of your problems but the ingredients are good for you. People need to learn that if they are drinking fizzy drinks or getting stressed, they will not resolve the skin condition.
The main thing that helped me was understanding my skin. I had dietary diaries, if you are disciplined you see very regular patterns. Once I understood my skin I felt and looked better, that's what I want to give other women.
Why is the shift to organic beauty so much slower than to the shift to organic food?
From a health perspective, I think there is a much more tangible connection between the food you put in your mouth and the effect it has on your body.
But from a legal perspective, you cannot legally use organic labelling on food packaging if it is not certified by the Soil Association. But the same doesn't go for beauty products.
And because you absorb things through the skin, I can't see why there isn't similar regulation in the beauty industry. The problem is a lack of legal definition of organic beauty products - over time the definition is going to be worked out by the International Organization for Standardization (ISO) and that should help.
What was your biggest challenge in setting up the business? And how did you overcome it?
Maintaining manufacturing in-house was a big challenge. I came up against almost fierce criticism about it, I found it quite patronising. And sticking with it ended up being the best decision I made.
I started off manufacturing because with little money it made sense and I knew I could be profitable immediately.
When you're small, it's important to produce small amounts so you can maintain profitability. If you try to produce too much too quickly and you have no distribution set up and nowhere to sell your products, what happens? You're stuck with inventory and you have to sell it off at discount because it will go off. And that starts to devalue your brand.
But I soon realised that my products were better because they were made in-house.
It saddens me that more British companies don't manufacture. Manufacturing is one of the most creative things you can do. Our products are great because of the ingredients we use. They're very high quality, but also very fragile and expensive. I simply couldn't trust someone else to handle them well.
Describe a typical working week
We are all on one site. People think that's crazy - because everything is in London and space is at a premium. But we have the best people working here because a lot of people like to work in London.
I tend to be at my desk by 8:30am and will be in the lab one to two times per week. At any one time we will be trialling three or four of the latest products, tweaking and perfecting them. Sometimes I go to ingredients shows, I try to make time for that so I know about new exciting products.
Marketing is my background. So I also do a lot to represent the brand, such as telling my story.
It's a very varied, busy role but I love it.
How do you manage work/life balance?
When I had my son, I was really worried about how I was going to manage my life and work, but I have found it so easy. I think I actually see my son more than most of my friends see their children.
My job allows me to be flexible: I get him up, I drop him off at the childminder in the morning and I don't feel guilty about looking after him if he is unwell. I live five minutes drive or ten minutes walk away, so I'm not spending hours commuting that I could be spending with my child or my business. I'm always home to put my son to bed and see my husband and then I can work in the evening.
Is it important for you to make time for yourself? If so, how do you do it?
Not a lot. I'll be honest. But I really don't mind that, I love what I do. And motherhood is so magical you don't care that you're tired.
I didn't take much time for maternity leave, but when I came back the business benefitted from me becoming a mum - it brings patience and perspective that I didn't have before. So I think motherhood has been brilliant for all aspects of my life.
When I do get some spare time I listen to music, I read, I cook. We have a free yoga class every Tuesday in the office, it's free for all staff. I find it as good for the meditative, as well as physical.
How do you give back to the community?
We've always done free talks for cancer patients, particularly going through chemotherapy. During treatment, the skin can change and become damaged and impaired and it needs soothing and support. We're launching some schemes next year to do outreach in a more concerted way next year.
We're also encouraging young people to start own businesses - to get young people manufacturing and set up businesses in that space, in this country. There's nothing like having an idea and creating it yourself.
As a woman in business, have you faced any obstacles relating to your gender?
None whatsoever, we live in a progressive country and I haven't faced any issues relating to my gender.
What advice do you have for other women starting their own business?
Do something that you feel passionately about, you have to feel strongly otherwise you won't keep going. But also make sure that there is a gap in the market for your business.
Be prepared for a slog. It's hard work, but success comes from hard work. Be prepared to play a very long game. You have to be tenacious, but don't try to do everything and don't be afraid to grow in a considered way.
Related