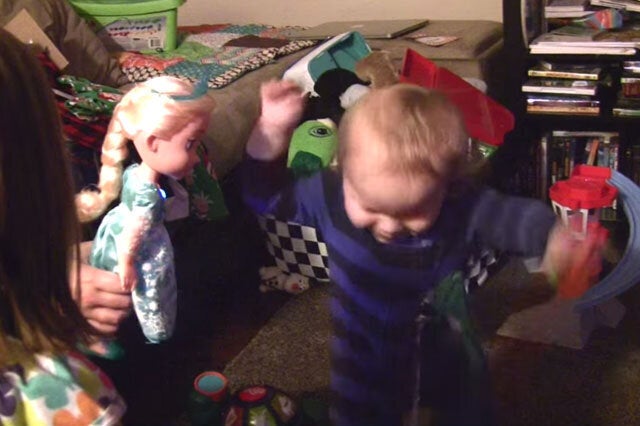 Just hearing a few notes from the film's iconic song Let It Go is enough to bring on a case of 'Frozen Frenzy', inciting an uncontrollable urge to dance.
A dad has captured evidence of his son in the throes of Frozen Frenzy in an adorable video, which shows the toddler playing with his big sister's Princess Elsa doll.
He presses the button on the doll's front and she says:
"I'm Princess Elsa of Arendelle. I can do snow magic. Wanna see?"
He sure does! As soon as the doll belts out the first line of Let It Go the boy's face lights up in an infectious smile and he raises his arms above his head with joy, before turning round and bouncing up and down to the beat.
The boy's love for Let It Go is insatiable and as soon as the song comes to an end he runs towards the doll, to set her off once more.
At one point in the clip he is distracted by a toy car set, but then the song starts up again and he can't help himself: the rhythm takes over and off he goes!
Story continues below the video
Within 10 days of being shared on YouTube by the boy's dad Joe Bereta, the clip had been viewed nearly a million times.
"He is fabulous and I love him," says proud dad and YouTube comedian Joe, and we couldn't agree more - although we can't help wondering how many times Joe will have to hear Elsa's refrain before it begins to grate?!
Frozen's director Jennifer Lee has had to issue an apology to parents who wish their children would just 'let it go'.
"A year ago, I'd meet people who, when they found out who I was, they'd say 'Oh, we love the songs! We sing them all the time,' she said.
"Now they're like, 'Yep, we're still listening to those songs'.
"I've gone from, 'Thank you' to 'Sorry!'"
But woe betide any parent who does not give the song its due respect. Another adorable YouTube video shows that hell hath no fury like an angry Frozen fan!