Despite his success in 'Whiplash' bringing him a Golden Globe and marking him as a favourite ahead of the Oscars, actor JK Simmons admits that his teenage daughter was more impressed to meet his young co-star Miles Teller.
Just before he collected his well-deserved gong, JK told HuffPostUK:
"Bad boys do really make a mark. My 13-year-old was thrilled to meet Miles, because of his bad guy character in the 'Divergent' movie.
"We all have a dark side, some negativity, that we would like to let out and explode on the world. And these characters are the ones who get to let that out, while the rest of us wisely and humanely do not impose that on other people."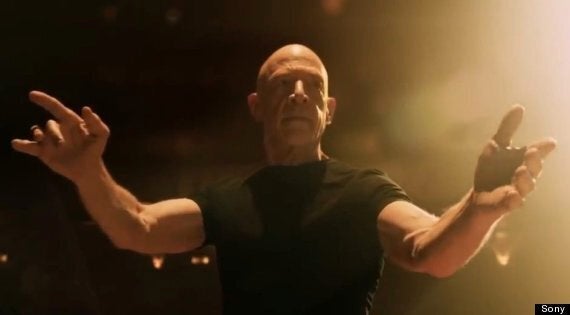 "He uses every tool at his disposal to intimidate" is how JK Simmons describes his character
JK Simmons knows of what he speaks. His tyrannical music mentor Terence Fletcher in 'Whiplash' is an exercise in crossing the line between discipline and abuse, and JK is enjoying comparisons of his role with that of Louis Gossett Jr's unpredictable Sgt Emil Foley in 'An Officer and a Gentleman'.
JK told HuffPostUK: "A couple of weeks ago, I found myself at a poker table sitting with Lou, talking about the comparison." He laughs. "We were agreeing that we're both pretty mild-mannered men in real life."
'Whiplash' sees JK's character Terence Fletcher run his elite jazz musical company with a baton of steel, mentally terrorising one student in particular, drummer Andrew, played exceptionally by 'Divergent' star Miles Teller. JK plays the piano himself in the film, and Miles rubs his hands sore on drumsticks. This film is full of blood, sweat and tears, and JK chuckles that "it's not for the faint-hearted".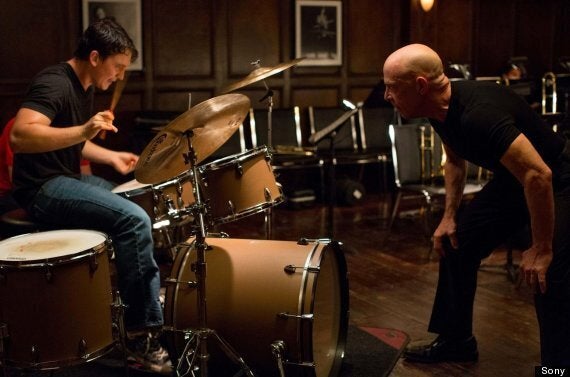 Drummer Andrew hangs on Fletcher's every word, both good and very, very bad
Fletcher, in JK's own words, "uses every tool at his disposal to intimidate" from the almost military neatness of his wardrobe, hence the Gossett comparison, to his own posture.
"My wife said, 'look, you're standing up straight, why don't you do that more often?'" chuckles JK. "The physicality was very important. He needed to be constantly, tirelessly, in control of himself and others."
Despite this, JK – in person a gentle man a million miles away from his onscreen tyrant - claims to understand him very well…
"He's a passionate artist, who's unflinching and uncompromising in his quest for greatness and even, in a bizarre way, unselfish in that quest, because it's not his own greatness he's after," he explains of his unappealing creation.
"It's very complex. And his relationship with Miles' character is multi-dimensional. It seems very simple in a way, but - I'm trying to use a reference that doesn't make me sound like Shrek – it's multi-layered."
At the core of the film is the irresolvable debate about whether creative perfection and its pursuit should ever be allowed to triumph human civility. JK claims to have scant experience of talented neurotics in all his years in the film and TV business – "I've come across some screamers" – but he's enthralled by the dilemma.
"There is a certainly a price to be paid for legendary greatness, in most cases," he ponders.
"The question is, how much is too much? Does greatness require that level of sacrifice? Does the end justify the means?
"(The director) Damien Chazelle doesn't dictate to the audience, he lets that debate unfold. I love that that decision is not made for the audience. And they can walk out feeling pretty beaten up, but also exhilarated."
'Whiplash' is in UK cinemas from this Friday 16 January. Watch the trailer below...