Benedict Cumberbatch is also recognised for his work playing a brilliant but challenged scientist, for his part the role of mathematician Alan Turing in 'The Imitation Game'.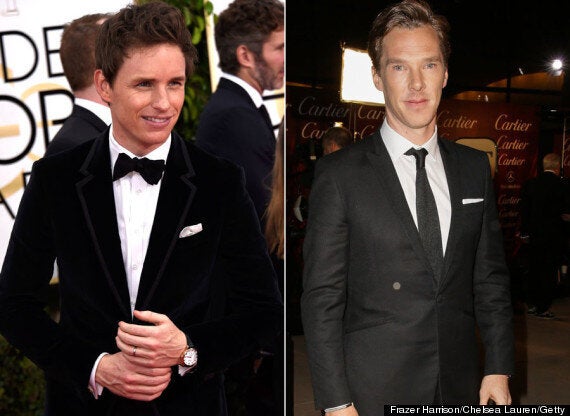 A big week for both Eddie Redmayne and Benedict Cumberbatch
Fellow Brit David Oyelowo missed out on a Best Actor nod for 'Selma', although the Martin Luther King biopic did score a nod in the Best Film category.
These actors will be up against Michael Keaton, celebrated for his sparky comeback turn in 'Birdman'. Michael also walked off with a Golden Globe for his role last week, and will surely be Eddie's biggest competition.
It's not all about the men, though. Former Bond girl Rosamund Pike has been nominated for her career-changing turn as the beautiful but unpredictable Amy Dunne in David Fincher's thriller 'Gone Girl', adapted from Gillian Flynn's bestseller.
Felicity Jones has also been tipped for her role of Stephen Hawking's wife Jane, opposite Eddie Redmayne.
These two will be up against firm favourite for her role in 'Still Alice', Julianne Moore, as well as Marion Cotillard and Reese Witherspoon.
'Birdman' and 'The Grand Budapest Hotel' share leading status for the honours, with nine nominations apiece.
FULL LIST OF NOMINATIONS IN LEADING CATEGORIES BELOW:
Richard Linklater, (Boyhood)
Alejandro Gonzalez Innirutu, (Birdman)
Wes Anderson, (The Grand Budapest Hotel)
Morten Tyldum, (The Imitation Game)
Bennett Miller, (Foxcatcher)
Steve Carell (Foxcatcher)
Bradley Cooper (American Sniper)
Benedict Cumberbatch (The Imitation Game)
Eddie Redmayne (The Theory of Everything'
Marion Cotillard (2 Days, 1 Night)
Felicity Jones (The Theory of Everything)
Julianne Moore (Still Alice)
Rosamund Pike (Gone Girl)
Robert Duvall (The Judge)
Mark Ruffalo (Foxcatcher)
Patricia Arquette (Boyhood)
Keira Knightley (The Imitation Game)
Meryl Streep (Into The Woods)
BEST ORIGINAL SCREENPLAY:
Dawn of the Planet of the Apes
X-Men: Days of Future Past
The Complete List to follow.
This year's nominations were announced at the crack of dawn in LA by actor Chris Pine, Academy president Cheryl Boone Isaacs and directors Alfonso Cuaron and JJ Abrams.
The Oscars will be handed out in Hollywood's Dolby Theatre on 22 February.