A six-year-old girl tugged on the heartstrings of rail bosses when she wrote a letter begging them to get her father home on time so he could tuck her in at bedtime.
Ella Porter wrote the heart-wrenching note to bosses at Southern, pleading with them to help her father Neil get back from work in time to see her before bed.
Porter, a graphic designer from Uckfield, East Sussex, takes the train to east London each day to get to his work in Shoreditch, paying £4,000 a year for his commute.
But disruptions, delays and cancellations between Uckfield and London Bridge mean he faces "major chaos" on his journeys, making him late home.
Young Ella also chastised Southern for "taking all of daddy's money", meaning she can't go on a holiday to Disneyland.
In the letter, which Porter posted on Facebook, Twitter and Instagram, she wrote: "Dear Mr Railway Man, my daddy is always late home and I miss him very much because he always used to tuck me into bed, this makes me upset.
"Please get him home on time. Daddy says you take all his money, that is why I can't go to Disney Land. I really want to go to Disney Land."
She signs off: "Ella aged six."
Tweeting his daughter's letter, Mr Porter wrote: "Please share my daughter's letter, I think Southern Rail UK should compensate my daughter for her time without her Dad.
"I pay £4,000pa, I accept the odd disruption. Major chaos surrounds every journey. It's stressful."
The letter gained support on social media, with one fellow commuter, @jimdesign, writing: "I feel your daughter's and your pain. Been late too many times."
Sophie Pizzey said: "Aww that's so sweet, heartbreaking too, bless her xx"
The letter appears to have melted the heart of at least one person at Southern. A tweet from the rail firm said: "Really sorry for the disruption caused to you. Genuinely has got me welling up. I'm sorry."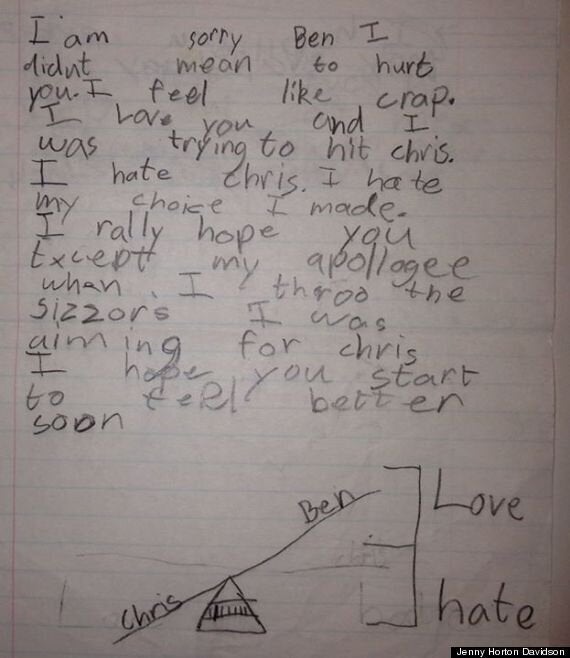 Cute Kid Notes
Popular in the Community