A Guantanamo Bay inmate's diary has made deeply disturbing allegations of his alleged 'torture', including inmates being forced to have sex with female interrogators.
Alleged al Qaeda associate Mohamedou Ould Slahi's 466-page memoir was published this week, after a six-year legal battle, because he is still an inmate at the Cuban facility.
He says interrogators told him they were "gonna teach you about great American sex".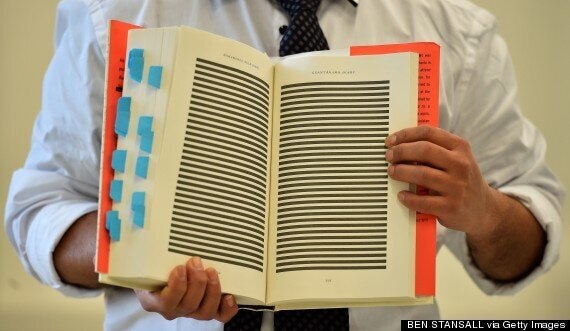 The younger brother of Mohamedou Ould Slahi, Yahdih Ould Slahi, poses with a copy of Mohamedou's prison memoir 'Guantanamo Diary' open to show pages that were redacted by the US government
Slahi goes on to describe how two women "took off their blouses, and started to talk all kind of dirty stuff you can imagine, which I minded less".
"What hurt me most was them forcing me to take part in a sexual threesome in the most degrading manner.
"What many [REDACTED] don't realize is that men get hurt the same as women if they're forced to have sex, maybe more due to the traditional position of the man. Both [REDACTED] stuck on me, literally one on the front and the other older [REDACTED] stuck on my back rubbing [REDACTED] whole body on mine."
"I had a mask over my mouth and my nose, plus the bag covering my head and my face, not to mention the tied belt around my stomach. So breathing was impossible. I kept [saying] 'Mr, Sir, I cannot breath... Mr, Sir... Please'. It seemed like my pleas for help got lost in a vast desert."
In extracts of the book which has been published this week, Slahi described how the constant pressure from guards caused him to hallucinate.
"I started to... hear voices as clear as crystal. I heard my family in a casual familial conversation. I heard Koran readings in a heavenly voice."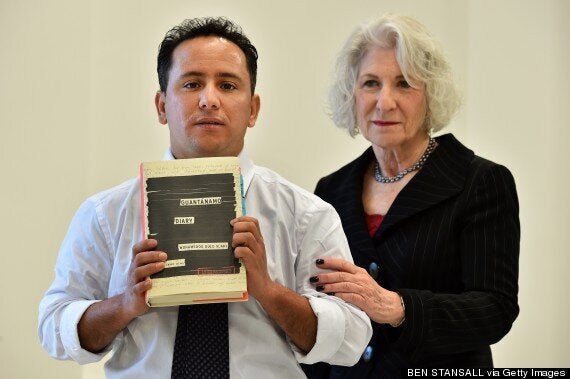 Yahdih Ould Slahi and US attorney Nancy Hollander pose with 'Guantanamo Diary'
Slahi, originally from Mauritania, West Africa, has been in custody for 13 years in prison because of his historic connections to al Qaeda. He admits travelling to Afghanistan in the 1990s but claims had no association with the terror group after 1992. He had close family connections to terror plotters, his cousin was bin Laden's advisor and he had known 9/11 conspirator Ramzi bin al-Shibh. But interrogators did not have any direct evidence of his involvement in a plot, other than his previous associations at the fact he studied in Germany, like the other 9/11 plotters.
Slahi also describes being taken to a black site in Jordan, prior to Guantanamo where an interrogator had showed him a list of the 15 most dangerous people in Guantanamo with his name at number one. Later, he is told he will be shown video proof of his guilt, and then an interrogator plays a video of Osama bin Laden discussing the 9/11 terror attacks.
"You realise I am not Osama bin Laden, don't you?" Slahi quips in the book
US district court judge James Robertson ordered that Slahi be released in 2010 due to lack of evidence that he was directly involved in al Qaeda terror plots, but he remains in detention after the Department of Justice appealed the decision.
Human rights activist Larry Siems, the book's editor, Slahi's lawyer Nancy Hollander and brother Yahdih launched the book during a press conference in London on Tuesday.