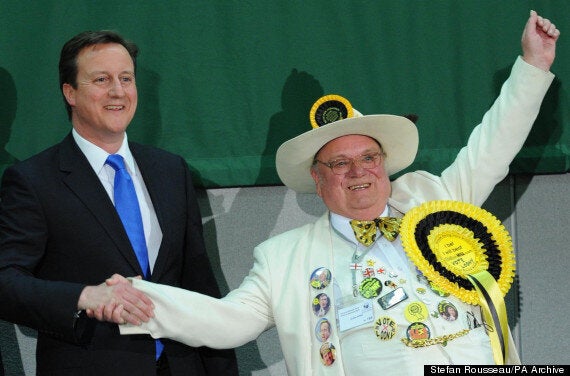 David Cameron celebrates winning his seat of Witney with Monster Raving Loony William Hill Party candidate Alan Hope
But the Liberal Democrats made clear they remained opposed to their exclusion from a third debate which would see David Cameron and Labour leader Ed Miliband go head to head, insisting they must be allowed to "defend our record" as a party of government.
And Northern Ireland's Democratic Unionist Party (DUP) - the fourth-largest party in the Commons with eight MPs - said it was "ludicrous" for it not to be invited when Scottish and Welsh nationalists would be able to make their pitch on-screen. The move also led to other minority parties - such as Cornwall's Mebyon Kernow and the Monster Raving Loony Party - calling for the right to make their case to viewers.
TV executives had suggested three debates: one head to head between Cameron and Miliband, another also involving Lib Dem leader Nick Clegg, and a third with Farage thrown into the mix. The new line-up - sent to parties following talks yesterday and due to be formally set out today - would see BBC and ITV each host a seven-way debate, with the leaders of the two main parties doing battle on another broadcast by Sky and Channel 4.
BBC director-general Tony Hall told Radio Times it made "absolute sense" to include the Greens, SNP and Plaid alongside Ukip and the established Westminster parties. Asked if the 7-7-2 format would secure the participation of Cameron - whom rivals accuse of seeking to avoid the debates happening - a Conservative source said: "Further discussions are planned and we will obviously look at any new proposals presented by broadcasters."
A Liberal Democrat spokesman confirmed that the party had received the new proposals and indicated it remained opposed to Cameron and Miliband being able to go head to head without Clegg. "We have always been clear that, as a party of government, we must be able to defend our record in all the TV debates," he said. "We will continue to make that case in our discussions with the broadcasters."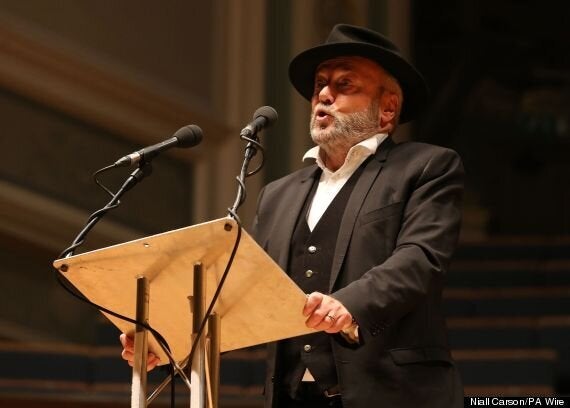 Respect MP George Galloway gives a speech at the Ulster Hall in Belfast as part of a book promotion tour
Bennett - whose party attracted more than 280,000 signatures to a petition in favour of its inclusion on the back of polls showing it regularly ahead of the Lib Dems - said it represented "a recognition that the politics of the future does not have to look like the politics of the past".
Unlike Ukip, which last year won the European elections, took two Commons seats from the Tories and became established as the third party in national opinion polls, the Greens have not been designated a "major party" for the general election by broadcast watchdog Ofcom.
SNP leader and Scottish First Minister Nicola Sturgeon said it would be "democratically unacceptable for the SNP to be excluded". The party's Westminster leader Angus Robertson said that with the SNP, Plaid and the Greens all led by women, he said, it would "rightly show that politics beyond Westminster isn't just an old boys' club".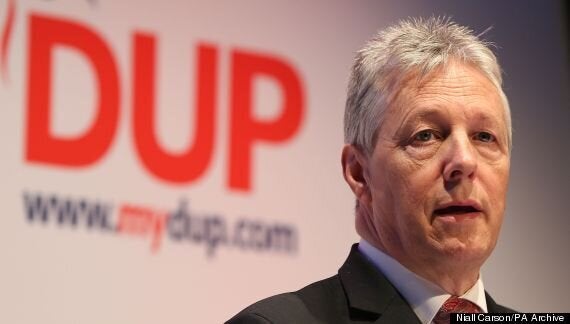 DUP Leader Peter Robinson speaking at the Launch of his Party's European and local council election manifesto in Belfast
Plaid leader Leanne Wood said it was "a significant victory for the vast number of people who have campaigned for the inclusion of the anti-austerity parties in these debates". But DUP leader and Northern Ireland First Minister Peter Robinson said he would write to the BBC and ITV demanding an explanation.
Mebyon Kernownd's Dick Cole welcomed the inclusion of nationalist parties but said he would be asking the broadcasters and Ofcom to "guarantee fair and equal access to the media for MK during the election" including a party election broadcast and "equal coverage on media that broadcasts in Cornwall".
George Galloway - the former Labour MP who now is the sole representative of the Respect Party in the Commons - posted on Twitter: "Oi - what about me?"
Related