January is nearly over and as a result, the darker, colder days are behind us.
But that's not to say that you should let your healthy eating regime slip and slide, which is where these healthy yet delicious recipes from Madeleine Shaw come in.
Shaw coaches nutrition, and we're addicted to her Instagram food feed. From her quinoa bircher porridge to the mouthwatering spinach and cashew roast, there's a whole lot of goodness going on below...
SEE ALSO:

Delicious And Easy Fish Recipes Including Sweet Chilli Prawn Pasta And Fish Stew

Five Delicious, Cheap And Healthy Superfood Lunches To Try This Week
Quinoa Bircher Porridge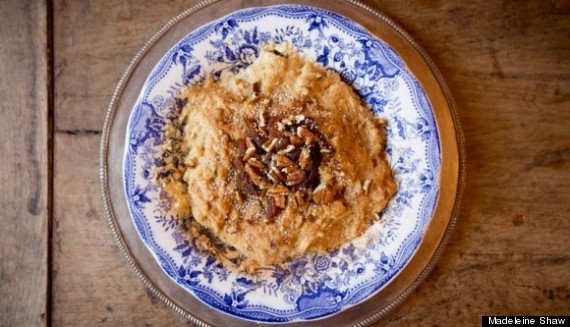 Ingredients:
100g of quinoa flakes
100ml of fresh apple juice (try not to use boxed apple juice as it is very sugary. It is also pasteurised which keeps the shelf life yet kills the nutrition.)
1 green apple
100 ml of almond milk (or rice milk or coconut milk)
50g of pecans (or other nut)
30g of dried apricots (chopped into little chunks)
1 tbsp of chia seeds
2 tsp of cinnamon (plus extra for dusting)
Method:
1) The night before soak your quinoa flakes in the nut milk and freshly juiced apple juice. Grate your apple or cut it up into fine strips. Add this into the bowl with the cinnamon, stir and cover with a tea towel. Place it in the fridge overnight.
2) Sprinkle on your chia seeds, dried apricots and pecans.
3) Eat cold, or you can warm this through.
Extra toppings: A tbsp of honey or coconut sugar, a dollop of coconut yogurt or natural yogurt, a scatter of goji berries or stewed fruit.
Lunchbox Stack: Quinoa, Avocado, Carrot and Chia Seeds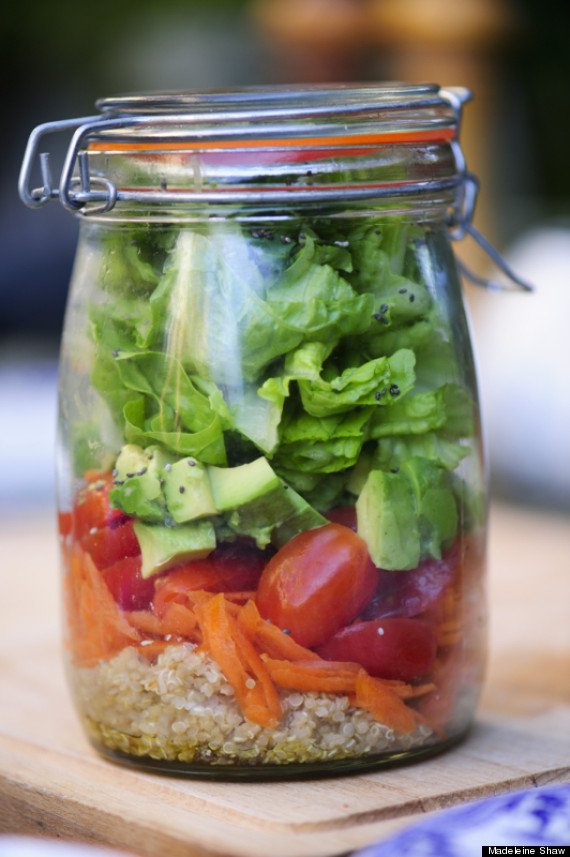 Ingredients:
75g of quinoa
1 tbsp of olive oil
1 tbsp of apple cider vinegar
1 tsp of mustard
sea salt
1 large carrot
30g of cherry tomatoes
1 small cos lettuce
1/2 avocado
2 Tbsp of chia seeds
1 lemon
Method:
1) First we need to cook the quinoa, do this step the night before. You can make a big batch and use it for the week.
2) Wash the quinoa in a sieve, then place 150ml of water on top of it in a pan, bring to the boil then let it simmer for 15 until the water is absorbed, add a pinch of sea salt in just towards the end and stir.
3) On the day that you want to make your salad, get your mason jar or equivalent ready.
4) Mix the oil, vinegar, mustard and a pinch of salt together then poor into the bottom of the jar, then add you cold quinoa.
5) Grate the carrot and pop it in, then cut up your avocado and tomato, squeeze some fresh lemon on them to prevent them from browning, then place on top of the carrot.
6) Roughly chop the lettuce, place this on, then scatter the chia seeds. Hey presto you have a salad!
7) Just before you eat, shake it up to immerse the dressing and flavours.
Spinach and Cashew Roast
Serves: 4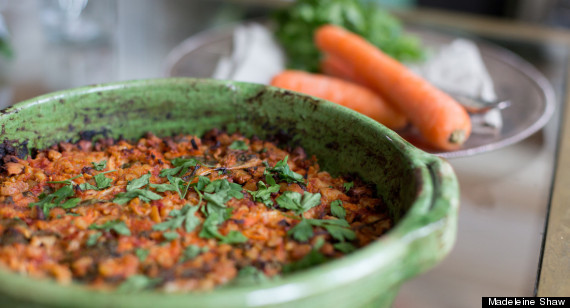 Ingredients:
200g fresh spinach leaves
275g roasted cashew nuts
1 white onion (finely chopped)
2 carrots (grated)
200g tinned tomatoes, drained and chopped
1 free-range egg, beaten
1 tsp of chilli flakes
25g of chopped parsley
1 garlic clove (crushed)
coconut oil
Method:
1) Preheat the oven to 180 degrees.
2) Chop up the spinach finely.
3) Place the spinach, cashews, garlic and chilli in the food processor and blitz for one minute.
4) Tip this into a bowl with the tomatoes, carrot, onion, egg, parsley, salt and pepper. mix well.
5) Grease a loaf with coconut oil or butter.
6) Pour the mixture in and cook for 50 minutes.
7) Take it out and serve with some fresh olive oil, salt and more chopped cashews.
Visit Madeleine Shaw's website for more amazing recipe ideas and healthy eating inspiration. Additionally, you can pre-order her new recipe book 'Get The Glow', here.