In 1981, long before the world got hooked on green juices and chia seeds, Romy Fraser opened a small natural health and beauty shop in London's Covent Garden.
Fast forward to the present day and Neal's Yard Remedies is stocked in 21 countries, across five continents, and everyone covets those iconic blue glass bottles.
In 2005 Fraser sold Neal's Yard Remedies to set up her own working, sustainable farm in Devon, where she lives with her dog. Her partner, who lives in London, visits on weekends.
We spoke to Fraser about how she made natural remedies fashionable and why she quit city life for rural paradise.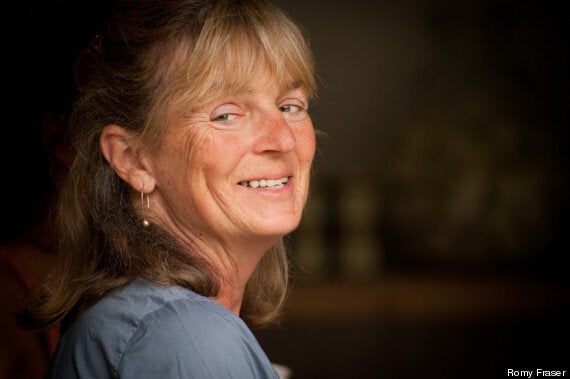 How did you first set up Neal's Yard Remedies and how did it grow?
I started off with no money. Nicholas Saunders, who set up Neal's Yard Wholefoods, asked me to take over the retail until and offered to guarantee me a loan to do so. So I got a bank loan for £18,000 to set up the shop in Covent Garden.
Our success was down to word-of-mouth, someone who'd been successfully treated for back pain would bring a friend who suffered from migraines. Eventually we had queues coming out of the door.
In just three years we'd paid off the loan. And the bank manager asked if I'd thought of opening another shop.
I hadn't. But I had thought about opening up a place to manufacture the products, because we were getting too busy to keep making products in the back of the shop.
So I borrowed more money and got a grant from Wandsworth council and took over a builder's yard in Balham, and that was our first manufacturing place. And in order to pay for that site, we needed to increase sales and so we opened another shop - and later a franchise agreement where some of our fantastic staff from the first shop opened their own branches.
That's the thing about working in an industry like this, you really do attract great, well-meaning and dedicated people.
Can you paint a picture of the pharmaceuticals market at that time and why you felt important to offer something different?
When I first set up Neal's Yard Remedies, there were two sides. The toiletries side and the natural medicine side.
There were really very few places to access natural remedies and there was nowhere that incorporated all of the different strands (homeopathic, herbal etc). I wanted to pull them together, for the person who didn't really understand natural remedies.
People didn't really have the confidence to use simple remedies that they could buy, make or grow themselves that could be effective to treat everyday ailments and illnesses. For me, setting up Neal's Yard was as much about providing a platform to show how remedies could work as well as providing the very good quality ones.
We weren't a registered pharmacy, so we had a policy of not telling people directly but we would give them information and literature, to go through those symptoms to help them work out what they needed. They could choose the remedy themselves, which was always less than the cost of a prescription, and try it out to see whether it would work.
It was really exciting to see how simple remedies could affect people's lives. People had more control over their own health and could see that they could take a role in looking after themselves.
Alongside that we developed a range of toiletries. The iconic blue glass was to protect the integrity of the high-quality organic ingredients.
What was your biggest challenge in setting up your business? And how did you overcome it?
In the beginning I don't think I was very taken very seriously. But I didn't let it bother me much. But if you're following what you think is right, then you can only do your best. My core philosophy is based around that. And I had great friends who supported me.
Have you noticed a change in attitude to wellness since setting up Neal's Yard Remedies 30 years ago?
When we first set up there there was a lot of excitement about natural remedies. But now it has become much more mainstream.
In the 90s, natural remedies had become so popular that people thought they could cure everything, whether it was a burn or cancer. But of course that isn't the case.
The chain of knowledge from generation to generation has been lost and people need to respect the efficacy - and possible danger - of herbs.
And that's why we've always tried to educate people, as giving people this power is fantastic but dangerous.
Now, of course there is a huge shift towards wellness. And I think that's great, why wouldn't anyone not want to celebrate being healthy?
People are seeing that healthy living impacts the quality of their lives. Nowadays we are so driven by the internet and social media, that we have so much less private space for ourselves. I think the move towards wellness is a way of getting that balance back.
You sold Neal's Yard Remedies in 2005, and bought Trill Farm two years later. Can you tell me a bit about your initial aims for the project and how you set about achieving them?
I've always been very interested in education and its potential to make the world a better place to live in. I really think we need to learn how to do things differently and more sympathetically - from the way we use energy to the way we eat and dress. That needs to be done more sympathetically and to live and work together better.
I trained to be a school teacher, but then was approached by a friend about setting up Neal's Yard Remedies. But it was always my plan to come back to teaching, by making enough money to set up my own school or educational project that could prepare people for living better.
I have always been interested in the power and energy of plants to support the body to keep well and be well.
My vision for Trill Farm was to establish a group of small enterprises, where each of the independent businesses would provide the educational resource for students that came onto the farm. It's a very diverse farm with a lot of opportunities to use land in different ways, there's woodlands and water, permanent pasture and very fertile ground for growing vegetables. The idea is that each small enterprise will develop the resources from each environment into products and small businesses, in a way that they all connect each other.
It's complicated - I hadn't realised at the time of setting up. But it's beginning to come together.
The vegetable growing is a successful, established business now. They part of the educational offering at Trill Farm. When groups of school children come down, they spend a few hours picking vegetables and use them to make pizzas in our clay oven, or pick herbs from the garden to make tea.
We make money in a number of small and different projects, whether its selling bags of timber or using herbs to make tea and soap. We also rent the land.
The complexity of the farm just reflects the need for diverse skills on the land.
Buying and moving to Trill Farm was a big lifestyle change, what inspired you to take the plunge?
I lived in London for so many years, but I became a bit of an urban dweller. I really miss London when I'm here, but when I'm in London I really miss the space. I really value the feel of distance and real air. I appreciate all the basic things. Amazing water, unpolluted air. We're in a long valley, where we don't have any light pollution - so it gets really dark here at night. That's what I love about being in the country - and, of course, my dog and going for walks. The changing seasons and living through those moments.
My partner comes down at weekends. I've got two daughters - one in London and other in Bristol. When you spend most of your life living in the cities, the context of what you're part of is very urban. It's been very interesting I've been here for seven years. There is a different speed in the countryside.
Describe a day in your life
I get up early in the morning, I'm best in the morning. I love to go for a walk and get some fresh air with the dog first thing. I don't take my mobile with me, so that I can make that connection with the outside and environment. This is a ritual I can't live without, even if in the city.
Another ritual is drinking hot water and a slice of lemon.
8.30am everyone arrives at the farm. Then throughout the day it's work work work. It changes all the time, whether it's fulfilling soap orders, our product hampers or developing the kitchen and teaching space.
In the evenings, people can come to the main house and eat. We use herbs and vegetables from the farm.
To relax, there's nothing better than curling up on the sofa and reading a book. I have a rule of sending no emails after 8pm. Occasionally I break it, but not often.