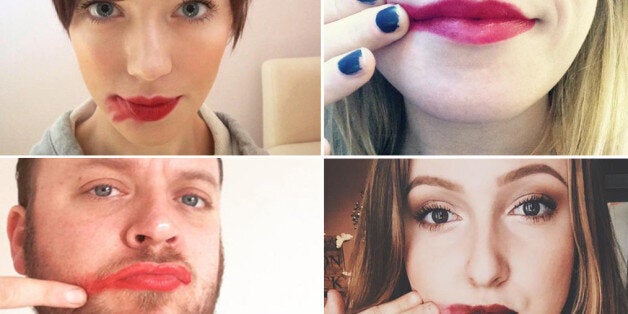 Women (and men) across social media are being urged to share selfies with lipstick smeared on their face as part of a cervical cancer awareness campaign.
Facebook, Twitter and Instagram users wanting to take part should smear lipstick across their cheek, take a photo and then nominate one or more friends to do the same.
The campaign for Cervical Cancer Prevention Week, which starts on Monday, follows figures showing that more than a million women failed to take up the offer of a smear test in 2013-14.
Robert Music, chief executive of the Trust, said: "Every day we see the devastating impact a cervical cancer diagnosis can have on both a woman and her loved ones.
"But to know that, for those that delayed their screening before diagnosis, this could have been prevented is tragic. It's now time that we see an upward shift in awareness of cervical cancer and an understanding of the importance of smear tests.
"We hope the public get fully behind this fun and simple campaign. The more women who take this life-saving five minute test, the fewer who will face infertility, early menopause, more extensive long-term effects and potentially even loss of life. It's time we all acted as it may just save a life."
All women aged between 25 and 64 are invited for cervical screening every three to five years. The procedure is used to detect abnormal cells which, if left untreated, could lead to cancer in the cervix.
Screening coverage - the percentage of eligible women recorded as having been properly tested at least once in the last five years - has been falling.
On March 31 2014, the figure stood at 77.8%, down from 78.3% a year earlier and 80.6% a decade ago. Data released last year also revealed that the uptake of smear tests is lowest among younger women.
Although screening coverage for women aged 25 to 29 had increased to 63.3% on March 31 last year from 62% in 2013, it was still "considerably lower" than in any other age group.
Professor Julietta Patnick, director of NHS Cancer Screening Programmes, said: "It is evident that women in this younger age group still need encouragement to be screened and Public Health England is working hard to address this with research underway to investigate new ways of improving cervical screening uptake among younger women.
"Regular attendance at screening remains the top preventative measure against cervical cancer and we would encourage all women to make the decision to attend when invited."