A giant polar bear has been spotted in London but don't panic.
Early morning commuters and joggers couldn't believe their eyes this morning as the animal, normally found within the Arctic Circle was seen casually strolling through the capital and with recent temperatures low enough to keep polar bears happy, this magnificent creature would feel right at home in London.
But luckily, the beast was an 8 ft long, fully animated 'adult male polar bear' that was unleashed to mark the launch of Sky Atlantic's hotly anticipated arctic crime drama 'Fortitude'.
The highly sophisticated prop uses internal monitors linked to hidden cameras, allowing the two performers inside to see. The puppeteers, who spent three years working together as 'Joey' in the award-winning West End production of War Horse, studied footage of real polar bears before spending five days rehearsing in order to get the gait and other movements right.
Zai Bennett, Director of Sky Atlantic, says: "In Fortitude, there are 3000 polar bears to 713 residents. Polar bears are the most dangerous animal on land and present an ever present threat to Fortitude's inhabitants. To launch our new Arctic-noir thriller we wanted to bring a realistic polar bear to the streets of London to give people an up close experience of what it must be like to come face to face with one of the biggest, but uncredited stars of our new show"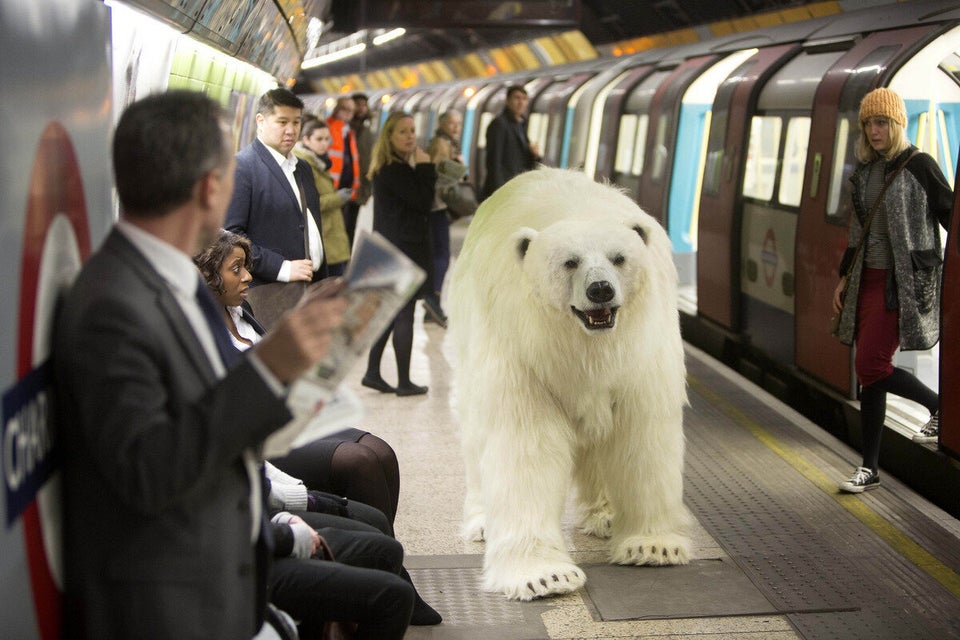 Giant polar bear spotted in London