A letter written by legendary children's author Roald Dahl, has been found after 35 years.
Jay Williams sent Dahl a letter back in 1980 asking for advice on his A Level English coursework, and got a pretty blunt reply. Dahl surprisingly did write back to the aspiring journalist but with some pretty harsh comments, telling him "you can't expect me to write your thesis for you" and that he "must stop using so many adjectives".
Dahl's literary advice was to "Study Hemingway, particularly his early work and learn how to write short sentences and how to eschew all those beastly adjectives."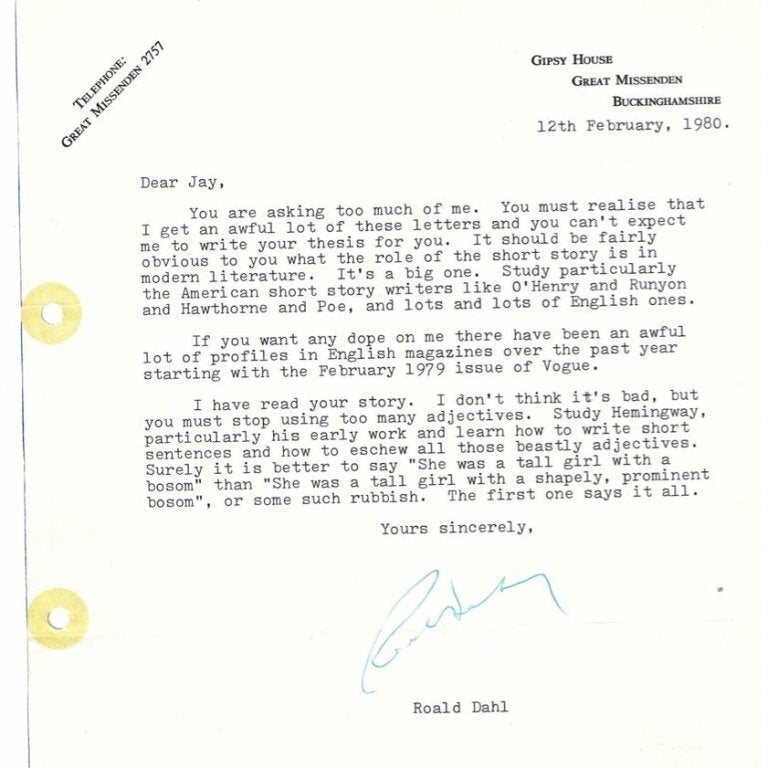 Williams, who now works for PR company 72 Point, posted a photo of the rediscovered letter on his Twitter which gained over 1,000 retweets.
Rachel White, collections manager and archivist at the Roald Dahl Museum & Story Centre, told The Independent that the letter is written in Dahl's "trademark acerbic tone".
"It's a very typical letter from him – he was to the point and could be very sharp".
Williams said that Dahl's message "obviously sank in because that thing of keeping it tight really rang true as a young journalist and it has been a worthwhile lesson that I obviously learnt early on."
Excitingly, his letter will be including in a book of Dahl's correspondence, to be published next year.
Popular in the Community