Spongy, squidgy, firm, bobbly. These are just a handful of words women are using to describe the way their breasts feel as part of a ground-breaking breast cancer awareness campaign.
Their frank, often hilarious, descriptions form part of Coppafeel!'s #WhatNormalFeelsLike campaign, where hundreds of women bared their breasts for the cause.
On Wednesday, adverts featuring 24 of these women who bared their breasts will be unveiled, accompanied by the word each chose to describe their breasts.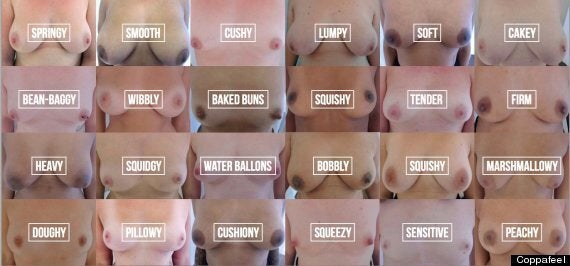 The campaign, which first launched in summer 2014, aims to desexualise and normalise women's breasts by reclaiming the language and imagery surrounding them.
The push follows research that showed women aged between 18-30 struggle to describe their boobs beyond big or small, because sexualisation means we only think of them in terms of size.
And in the wake of last week's Page 3 controversy, this couldn't come at a more welcome time.
"The response to the campaign so far has been overwhelmingly positive and I'm so proud that women have embraced it so wholeheartedly," said Kris Hallenga, founder of CoppaFeel!, who was diagnosed with stage 4 breast cancer at the age of 23.
"Society and the media think of breasts in a sexual way but this campaign gives boobs back to women and encourages them to think and talk about them in terms beyond size.
"We want to make it normal for girls to talk about their boobs and by sharing some of the words and images that women have contributed so far we want to keep the conversation going and save more lives."
Caitlin Ryan, executive creative director at Karmarama, the agency that produced the campaign, and spokesperson for in the House of Commons on the use of sexualised imagery in advertising, said that this is a "big step forward" for how women are portrayed in advertising.
"Making sure that women know what looks and feels normal for themselves is extremely important," she said. "And while the ads promote women to check their breasts regularly, they also show the sheer diversity of women's bodies in the process - something which is not shown in advertising. And something which should be promoted far more."