"My iPhone 5s battery is brilliant!" said no-one, ever. So we should all be extremely thankful for solarbox, the latest socio-environmental business set up by LSE Geography graduates, Harold Craston and Kirsty Kenney, both 22.
Solarbox rejuvenates the lives of London's disused red telephone boxes, bringing them up to date with the 21st century by replacing the old telephone with a range of different chargers for your smartphones. The solarbox is made "green", metaphorically and literally, as it is powered by solar panels on the roof.
If you're running low on battery, you can use the first, working solarbox for yourself outside Tottenham Court Road tube station, but the pair have big plans to roll out more across London in 2015.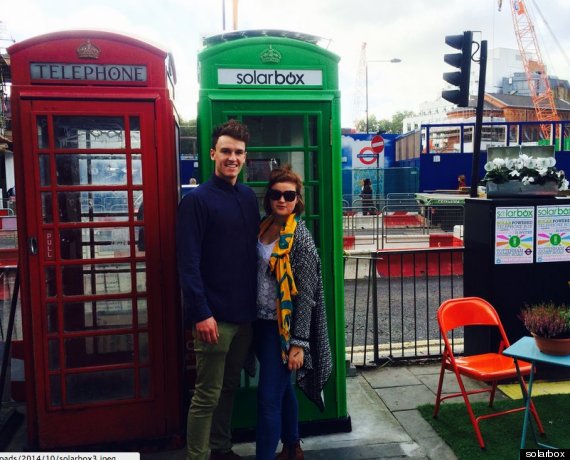 Harold Craston and Kirsty Kenney
Kirsty and Harold are now balancing the pressures of full time graduate jobs with this inspiring business that they have been working on throughout their university careers. HuffPost UK caught up with Kirsty, while Harold was at work, to find out how they manage to juggle their businesses.
Where did the idea for Solarbox come from?
We both had a real interest in public spaces and how we can improve them to make them useful and purposeful. Phoneboxes have sadly become associated with antisocial behaviour and vandalism. We wanted to revitalise this quintessentially British icon rather than let it fall into redundancy. The need for public charging points is undeniably a growing one, this is the age of the smartphone with 84% of us owning one and this figure rising 17% each year. We then went on a two week course at Impact Hub, Islington, where we tested out our ideas. Studying Geography at LSE we really wanted our project to have an environmentally friendly purpose and, as London is pushing it's green agenda, we felt solar panels would be a great way to power the charging devices.
How does the business model work?
Basically, the revenue model is based around advertising, solarbox is a free service but it needs to be sustainable and able to grow. We sell 75% of advertising space to our commercial partners, Uber and Time Out, and 25% is dedicated to community partners. We've put adverts in our boxes, via video, for local artists, musicians, and charities, such as Rabble, One Water, Yoni, and Belgrave. We love the fact we can try and help generate business for other young and local entrepreneurs.
Did you find your university was a source of of encouragement when setting up Solarbox?
Yes, definitely. We won over £6,000 worth of funding through various competitions run by LSE. The Careers Service has a designated LSE Entrepreneurship scheme and we came runner up in their annual competition. LSE also introduced us to UnLtd, and we won their "Do It and Try It" award through which we got a business mentor. The university also gave us free business legal advice through DAC Beachcroft. So, overall, LSE was vital in setting up our business!
What has been your biggest challenge to overcome?
Trying to get that first council on board. As students with no experience, it took a lot of perseverance and pestering!
And what has been your proudest moment so far?
For me, it was when solarbox was featured in the print edition of The New York Times. I remember my old Professor telling me, "You've done something that hardly any Geographers will be able to do, you got into The New York Times with something urban"! We've done over sixty international interviews, so that's something I'm pretty proud of!
What are your future plans for solarbox?
Well, our pilot launched on 1st October 2014 and since then we have been monitoring use, technology and how much advertising revenue we get. We've taken on board a new designer, Gabriel Vergera, who is redesigning the look of the next box, which is really exciting. He's a recent graduate too, it's really important to us to engage other young people in the project. We want to roll out another 10 solarboxes over the summer. They'll all be at tube stations along the Circle line as we think close proximity to tube stations are the best for high footfall.
Do you have any major competitors?
We thought portable charging devices might have been competition for us but they haven't captured the market in the way people thought they would. Starbucks are rolling out wireless charging in some stores but not all phones are compatible, namely no Apple devices will work on it. You also have to buy a drink to get the charging key, which takes away the public element of solarbox. Battery technology is evolving fast which will make charging times a lot quicker (under a minute to fully charge your phone) over the next 18 to 24 months. This is great news for us as it means people will be charging their phones a lot more often.
How difficult is it juggling two careers? Do you feel one has suffered at all?
Harold' marketing role at Tinder has quite flexible hours so he's been able to juggle the two quite easily so far. I've just started my job at Accenture and am hoping I can achieve the same balance
How do you think solarbox has prepared you for or helped with your other career?
It has definitely given me the confidence to present myself in the right way. I feel I'm more of a professional than some graduates fresh out of uni, as I have the experience of speaking to a host of different people in a business capacity. I handle the legal, business and funding aspects of solarbox have developed a real commercial awareness. Learning what to do in the face of challenge when you don't have a teacher or tutor to help you out is a real skill too.
Has your age proven a barrier in getting taken seriously?
Definitely. Only after we won the Mayor of London Low Carbon Entrepreneur Award, and had that kind of weight backing us up, were we taken more seriously. To be honest, the worst thing I have noticed is some people's attitude to women in business. I have been told to "go and get the coffees" in meetings and clients will address our engineer just because he is male and slightly older. It's really awful, but I've learnt how to deal with that now too.
Do you have any advice for other young entrepreneurs?
Don't give up, ever. And always talk to people about your idea, get feedback and listen to it. I asked everyone who used solarbox on the launch day what they thought of it, you can only grow a successful business if you adapt it according to demand.