Joaquin, who previously starred in Anderson's 'The Master', is reunited with the director in 'Inherent Vice' and tells HuffPostUK that his admiration for the director is such, he would do pretty much anything Anderson asked him.
Joaquin, Josh and fellow cast members discuss their roles in our Exclusive Video above
Joaquin gives one of his customarily committed performances as private investigator/dopehead Larry "Doc" Sportello in this big screen version of Thomas Pynchon's crime caper.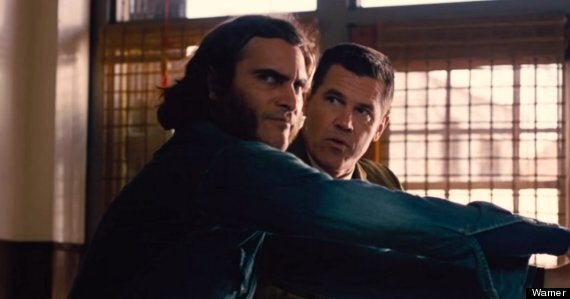 Joaquin Phoenix with Josh Brolin in 'Inherent Vice'
Joaquin stars alongside Josh Brolin and Katherine Waterston in this energetic caper which finds Doc increasingly embroiled in a crime circuit, not of his making, but one he must use all his slightly compromised wits to investigate the disappearance of his former girlfriend.
Because the story's set in 1970s, drug-fuelled Los Angeles, viewers can look forward to some serious flares and sideburns along with the dramatics, that have garnered admiration ahead of Awards Season. The film is nominated for two Oscars, including for Best Adapted Screenplay, also by Paul Thomas Anderson.
'Inherent Vice' is in UK cinemas from Friday. Watch the trailer below...