Anyone who's ever been to a yoga class will know to expect a room full of women - more specifically young, slim, white women in brightly-coloured yoga leggings.
But yoga hasn't always had such a female-centric identity, and one man is determined to smash the current stereotype and turn the yoga scene on its head.
Michael James Wong is the founder of BOYS OF YOGA, an exciting project to welcome men back into yoga and make the practice accessible for all.
Headed up by six talented male yogis, the London-based project launched at the beginning of February and is already attracting a sizeable social media following on Instagram, Facebook and Twitter.
We spoke to Wong about why he felt things needed to change and how yoga can help redefine what it means to be a man in 2015.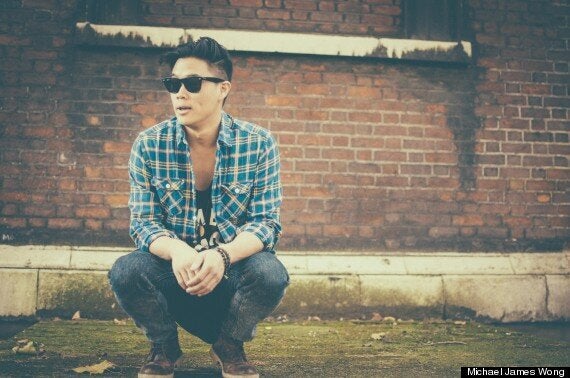 Why do you feel the current yoga scene needs to change?
The global yoga scene has changed massively over the past few years. For starters there never used to be 'a scene', yoga was just a community. But over the past few years it's become very mainstream, it's become cool and topical throughout the world and most recently in the London and UK.
There are so many benefits to this rise in popularity, as fundamentality it gets more people to experience and practice yoga, and that's an amazing thing.
But simultaneously, yoga has become synonymous with the female gender and portrays a one-dimensional point of view - the stretchy little bendy girl in pink lycra. For me, and for the BOYS OF YOGA project I felt there was a need to smash this stereotype and challenge western misconceptions of yoga, especially among guys.
How did the idea for BOYS OF YOGA develop?
Men and women are involved in yoga throughout the world, but in most cases, aside from a few top male teachers and a few key cities around the world like Los Angeles (the centre of the western yoga universe) and Sydney (with a massive influence from sun and surf culture), it's still seen as women-only thing, and the guys who are involved are few and far between.
Over the past few years the more I traveled the more and more guys I saw getting into the practice. What I didn't see was anyone with a big voice, an identity as an overall representation of guys, as commonplace in the yoga community coming across in an authentic way.
There is by no means an even split between men and women, but there is an ever growing, uncelebrated minority of guys that are authentically and positively involved in the yoga community.
I want to a brotherhood among the boys like skate crews and football teams that all guys were a part of when they were going up. The idea of having 'your boys' was something that I felt was missing in the yoga community.
Why do you think yoga is such a great practice for men?
Simply put, yoga is the practice of finding balance of the physical, mental and emotional state of the body, mind and spirit. It has the physical strength and challenge that guys want, but, more importantly, it has the mental and emotional balance that most guys need.
Some guys think that yoga makes you less of a man, the truth is it makes you a better one.
How do you aim to spread the yoga message to hard-to-reach men?
For most guys when they think of yoga for men, they think of the dreadlock hippy in the mountains with no shoes, or the oiled up guy in a calendar that used to be a ballerina or in the circus.
Right now, there are very few people or things out there that the everyday guy can connect too. There are few awesome teachers like Bryan Kest, Patrick Beach and Dylan Werner who are helping to shift the perspective and this project is aimed to take it even further.
At the end of the day all the boys currently involved in the project and those recruited in in the future are still guys, they just happen to dedicate a big part of who they are to authentically be a part of the yoga community. This isn't a project for well rounded athletes who just happen to yoga every now and then.
There is a lot of discussion at the moment around the issues facing modern men. How does your project hope to challenge current notions of masculinity?
This project is aimed to create awareness and accessibility for guys into the world of what yoga can do for them physically, mentally and holistically.
I believe that the BOYS OF YOGA crew will both challenge the notion of masculinity by for the first time representing authentic men in the yoga community in a more accessible way for the everyday guy (think surf, skate, snow sports and the lifestyle and culture around that) and also smash the stereotype that the general population (both men and women) think it's just a thing for the female sex.
BOYS OF YOGA isn't appealing to the 'tough guy', it's appealing to the everyday guy. It's a project that all guys can relate too.
How else can yoga benefit the modern man?
Yoga can give you strength and flexibility. It can give you the 'work out' that you want, but it's not just about that. Yoga gives you the whole package of physical strength, emotional balance and calmness of mind.
From a purely physical point of view, yoga is mindful movement. Some styles can be strong and make you sweat and push you to your edge, while other styles give you balance ease and restoration that your body needs post a traditional workout exercise session.
Yoga has it all, you just have to be man enough to give it go and bring it into your personal physical fitness routines. If you cross train a lot of physical disciplines, yoga should you be daily/weekly constant, it is an essential complement, not a supplement to any serious fitness person.
It's also a practice of awareness, it's as much about the mind and the emotions as it is about the physical practice. And in more cases even more important.
At the end of the day it's what on the inside that counts, and it doesn't really matter how strong and flexible you are if you're always anxious, depressed or angry. The best thing about yoga is that it allows you to stop caring about the things that really aren't that important. Through the practice of yoga you start to learn to let go of things that don't matter, to care more about the things that do and to really just pay attention to the world around you and things going on in the here and now.