The Reading and Leeds 2015 line-up announcement was met with mixed reactions on Monday evening, when organisers Festival Republic revealed that Mumford And Sons will be headlining this year.
The band have played at the festival a number of times in previous years, and headlined Glastonbury in 2013, however not all fans are happy.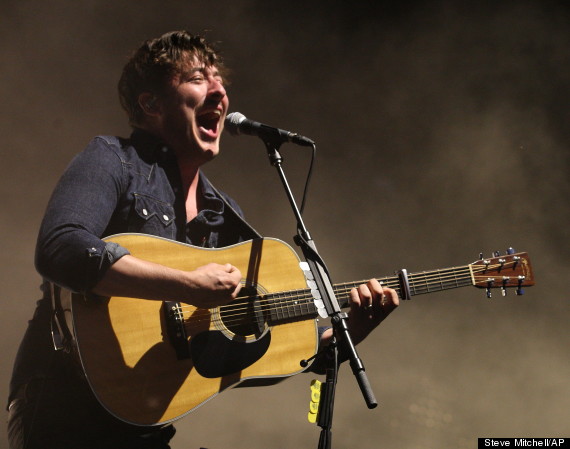 Marcus Mumford
While the 'I Will Wait' creators' success isn't being denied, a number of fans have stated that they are the wrong choice for the rock festival, whose previous headliners include Rage Against The Machine, Pearl Jam and Foo Fighters.
I can't live in a world where Mumford and Sons are headlining RandL

— Jake brown (@jaketbrown98) February 3, 2015
So Mumford & Sons are headlining Reading? It's the day the great rock festival died.

— Tim (@ChinaShopBull) February 3, 2015
still laughing at the fact mumford and sons are a headliner for leeds and reading

— libby wood (@Iibbywood) February 3, 2015
Hope Leeds pull a 180 given all the backlash over Mumford and Sons and have a decent rock band as the third headliner 👎

— Ellis (@EllisPaul97) February 3, 2015
A dark day for Rock n Roll with Mumford and Sons set to headline the Reading and Leeds festival!!

— Patrick Hafferty (@PatHaff) February 2, 2015
But not everyone was disappointed:
I think I'm the only person who is actually happy about Mumford and Sons headlining Leeds. But that means I have no one to go with :/

— Erin (@erin_gilbey) February 3, 2015
Mumford and sons at Leeds fest makes me extremely happy

— Luce (@LucyBentall) February 3, 2015
Metallica are also set to play at the August bank holiday weekend festival, and a third headliner is due to be announced.
Monday's announcement saw a number of acts added to the bill, including Royal Blood, who will also play on the mainstage.
Bastille and Years & Years will also perform, along with the previously announced acts Jamie T, Wilkinson and Manchester Orchestra.
See all the information on Reading & Leeds 2015 here.
LIKE US ON FACEBOOK | FOLLOW US ON TWITTER