Jak Trueman, a teenage cancer sufferer who raised over £50,000 for research into the disease, has passed away.
The 15-year-old was diagnosed with Gammadelta T-cell lymphoma, a rare and aggressive form of cancer, back in August 2014.
He leaves behind a legacy in the form of his JustGiving page, which has raised more than £50,000 for research into leukaemia and lymphoma.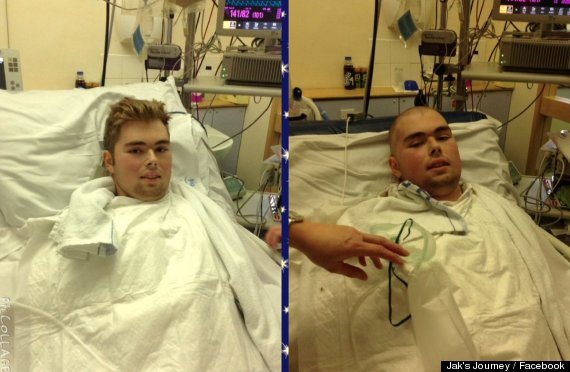 The teenager's mother broke the news of his death on the Facebook page Jak's Journey.
She wrote: "Devastated and heartbroken to say my beautiful boy's gone to Heaven, God bless. Jak I am the proudest Mummy ever xxxxx Simply the best xxx".
The Facebook page, which has over 37,000 likes, charted the teenager's battle with the disease.
At the weekend the 15-year-old went to his school prom at West Calder High School, West Lothian. Sadly, he had to leave after just ten minutes as he felt unwell.
SEE ALSO:

Cancer Sufferer Jak Trueman Granted Dying Wish To Take His Girlfriend To Prom

Fundraiser For Pensioner Alan Barnes Reaches £285,000 After Mugging Attack
On 1 February he wrote: "I would just like to make a massive apology for me only turning up and then having to go again :( I was gutted and really sad as I never spoke to anyone, but I took really unwell really quickly as I had been lying in bed for 3 days without hardly moving.
"Thank you to everyone who organised it and came along, even just knowing it was all happening for me makes me smile."
At the prom his family collected his Bronze Duke of Edinburgh Award and the Kerry MacGregor Memorial Trophy for overcoming adversity.
Story continues below...
Jak and his family were told on January 23 that the disease had spread into his bones and organs, and that doctors decided not to pursue further treatment.
The teenager wrote: "Yes this is the saddest day of our lives yet but I am going to fight the pain and get as many days/weeks/months/years I can get. They can't give me a time scale to how long I have. I am so sorry to give everyone this horrible news but there's no other way to put it.
"I would like to thank all the doctors, nurses and everyone who has helped me over the past six months, they have tried their best for me."
LIKE HUFFPOST UK LIFESTYLE ON FACEBOOK | FOLLOW US ON TWITTER | WE'RE ALSO ON INSTAGRAM
The Facebook page has been flooded with tributes and messages of support to Jak's family since they announced his death.
Sharon Mcmenemy wrote: "May your beautiful boy with the biggest bravest heart now be at peace and free from his pain."
Alan Grant wrote: "This lad was a true example of why life should lived in full and every day should be treated as a gift so sorry for your loss and my thoughts are with you and your family his smile will live on in people's memories."