The parents of a baby suffering from a large growth over his eye that could blind him claim the NHS wait for treatment left them no option but to beg for help abroad.
Seventeen-month-old Colby Ramos-Francis, was born with a small, heart-shaped birthmark over his eyelid but it quickly developed into a benign tumour that has continued to grow throughout his life.
His parents say British doctors have been unable to treat the growth and they faced a long wait to have it surgically removed.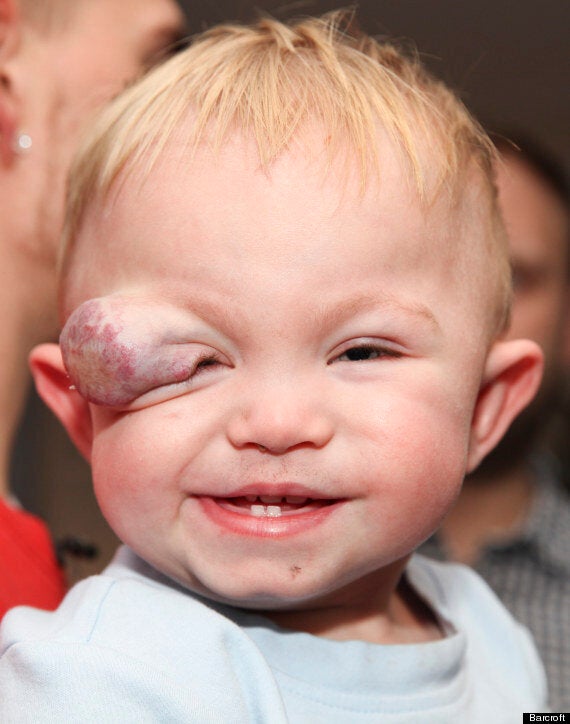 On top of that Colby has been banned from several daycare centres because of the risk of his growth weeping, leaving his mother Aimee Ramos-Price, 18, unable to seek work while she studies English at the Open University.
This week the couple and their son flew to New York City for potentially sight-saving surgery, which has been offered to them free-of-charge thanks to the Little Baby Face Foundation (LBFF).
There are now hopes Colby could gain vision in his right eye as early as February 13, with his family staying in the US to oversee the operation.
Aimee said: "If the tumour isn't removed properly it could result in Colby losing his eyesight and he would be left with a horrific scar.
"Now our son is in the best hands I could possibly have asked for.
"All the doctors we have seen over the last few days have been really reassuring; they really know what they are doing."
The mother-of-one said doctors in Britain used a range of topical medications and pills to try and reduce the swelling - but to no avail.
Aimee added: "In England they seemed to be picking random numbers hoping it would make a difference, hoping it would shrink it, but it didn't make a difference.
"They then offered steroids but I didn't think it would be right giving a baby steroids, I was against it.
"We didn't really have much of an option except the wait-and-see approach, which we knew deep down really wasn't the best thing for Colby."
Colby, who loves drawing and watching animals at the zoo, was born with a condition known as hemangioma, a self-involuting tumour, swelling or growth of the endothelial cells that line blood vessels.
It causes an increased number of normal or abnormal vessels to fill with blood. It is usually benign but can cause great discomfort.
Aimee, who also endured a 46-hour labour, said: "The first time I realised there was something not quite right with Colby's eye was straight after birth.
"He had a small, pink birthmark on the side of his eye and it was in the same shape as a love-heart.
"I wasn't really that concerned about it because a lot of children are born with them.
"After we got home and we'd settled in with Colby we went for a six-week check up. By that time his birthmark had ballooned and it was really bulbous and it wasn't really a nice sight.
"From the six-week check-up to present it has been growing and, personally, I still think it is growing.
"It should have shrunk by from the age of one but it hasn't made any progress."
And it is not just been the stress of getting Colby treated medically that has affected the couple. They say they have also been the victims of abuse and slurs.
Outraged father Jamie Francis, 23, said: , who works in a hardware store, said: "We have very nasty comments about Colby and very nasty comments about ourselves. People have even asked if we are beating him.
"Others say 'why don't you get that disgusting thing removed from his face?' It is difficult and it has been very hurtful at times. We just want Colby to have the best."
Desperate and frustrated with the lack of options in the UK, they turned to the New York-based Little Baby Face Foundation (LBFF), which specialises in treating children born with severe birthmarks and facial deformities.
This week on Tuesday, February 3 they visited Dr Thomas Romo III, co-founder of the charity, for a consultation ahead of a three-hour operation at New York's Lenox Hill Hospital today (Wednesday, February 4)
The operation, consultation fees, flights and accommodation would have set the couple back at least £10,000 without the help of the foundation.
But with the level of expertise on offer, which includes five specialists, plus nurses and assistance, the figure would be 'much, much higher', the couple say.
Mr Francis, who lives with his partner in Corsham, Wiltshire, said: "We are so grateful to everyone from the foundation who has helped us.
"We are feeling both anxious and confident. Anxious because we are not 100 per cent sure about the future. But confident because we know we have the best possible care for Colby."
Aimee added: "All we want in the future is for Colby to go to nursery, start school and interacting with kids properly and stop being alienated from the group.
"He's just a baby who loves animals and people and we want him to be treated like just any other normal boy."
Colby is just one many children to be helped by the LBFF since its founding by Dr Romo III in 2002.
He said: "Treating children with facial birth deformities is the most gratifying surgery I can perform.
"The Little Baby Face Foundation transforms not only the face of a child, but their entire life."