It's here, folks - Blue's video for 'King of the World'.
This is the band's brand new video, ahead of their new album 'Colours' which will be with us on 2 March.
The fifth album from one of Britain's most loved vocal groups is full of soulful harmonies, stripped back melodies and hooks. The first single from the album, 'King of the World ' will be released on the same day, marking the beginning of the next chapter for Blue.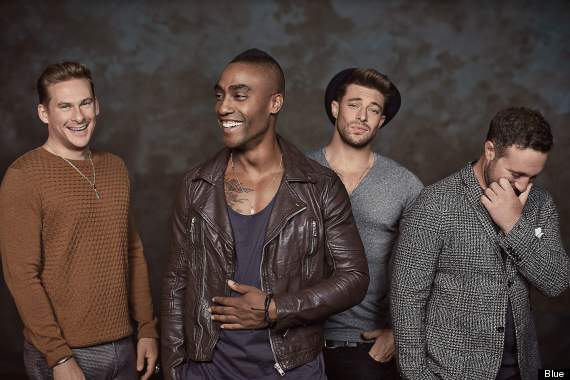 Blue are back, and as committed to their music, and each other, as ever
Written and co-produced by Brian Rawling who has worked with Kylie Minogue, Cheryl Cole, One Direction, David Bowie, Cher and Tina Turner, 'Colours' is the feel-good collection of modern soul pop songs featuring six new originals, including the exuberant new single 'King of the World'. Effortlessly infectious and upbeat, the track features lead vocals from Simon Webbe and the flawless harmonies that can only come from fourteen years of making music together.
Elsewhere on 'You're The Only One' and future hit 'Nothing Like You', Blue provides the perfect Sunday morning soundtrack with intimate lyrics and timeless melodies.
The cover of 'If You Don't Know Me By Now', originally by Harold Melvin and The Blue Notes, is reminiscent of Blue's #1 hit with Elton John: 'Sorry Seems To Be The Hardest Word' while 'Hang On In There Baby' is a vibrant show-stopper set to thrill, as Blue respectfully put their mark on the 1974 Motown hit.
Fourteen years in the industry has meant that Blue has become the generation-friendly band, from childhood to adulthood, the foursome has become a part of British pop culture. Their likeability and infectious personalities have seen them through some good times and bad and they still pride themselves on their unity.
Blue has, to date, sold 16 million records worldwide and clocked up 11 top ten singles, three #1 albums and two Brit Awards. They have collaborated with pop royalty like Sir Elton John and Stevie Wonder and represented the United Kingdom at the 2011 Eurovision Song Contest.
Back in the spotlight and stronger than ever, the four best friends have an exciting year ahead. They follow the single release by embarking on a sixteen-date UK headline tour in March, which kicks off in Portsmouth.
'COLOURS' Track Listing
1. King Of The World
2. You're The Only One
3. Home
4. If You Don't Know Me By Now
5. Nothing Like You
6. Flashback
7. I Don't Want To Talk About It
8. Special
9. Hang On In There Baby
10. Endless Love
Tour Dates
21 Mar 2015 - Portsmouth Guildhall - Portsmouth
22 Mar 2015 - Plymouth Pavilions - Plymouth
23 Mar 2015 - Cardiff St Davids Hall - Cardiff
24 Mar 2015 - Colston Hall - Bristol
26 Mar 2015 - Wolverhampton Civic Hall - Wolverhampton
27 Mar 2015 - Bournemouth International Centre (BIC) - Bournemouth
29 Mar 2015 - Roundhouse - London
30 Mar 2015 - Glasgow - SECC - Clyde Auditorium
31 Mar 2015 - Newcastle City Hall - Newcastle
02 Apr 2015 - Liverpool Philharmonic Hall - Liverpool
03 Apr 2015 - O2 Apollo Manchester - Manchester
04 Apr 2015 - Nottingham Royal Concert Hall - Nottingham
05 Apr 2015 - Sheffield City Hall - Sheffield
07 Apr 2015 - New Theatre Oxford - Oxford
08 Apr 2015 - Ipswich Regent Theatre - Ipswich
09 Apr 2015 - De Montfort Hall - Leicester
Tickets can be purchased from www.livenation.co.uk or www.ticketmaster.co.uk
LIKE US ON FACEBOOK | FOLLOW US ON TWITTER