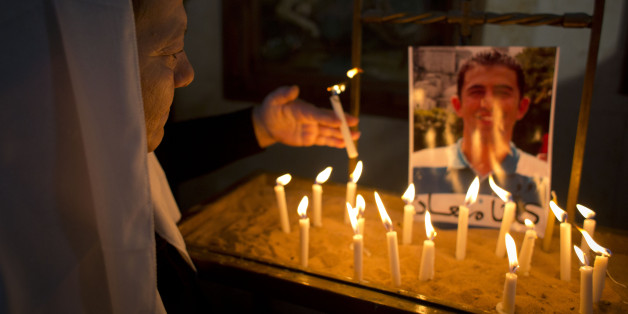 Nasser Nasser/AP
The Islamic State's burning to death of a Jordanian pilot locked in a steel cage, captured in high-definition film, is a show of weakness not strength, analysts have suggested.
Indeed, many Middle East watchers have said the video is likely to be deeply problematic for IS, as the group looks to make gains within Jordan. It is increasingly being seen as a desperate PR move by the group looking for ever more grotesque ways to win the media war, when they are losing the ground war.
"[First Lt. Moaz al-Kasasbeh] is in every bedroom in Jordan now," Jordanian MP Naif al-Amoun told the New York Times. "We are not going to let anyone exploit this issue to turn us against the government." Jordan has since executed two prisoners, including a would-be female suicide bomber from al-Qaeda.
Many say #ISIS is desperate to steal back the spotlight, thus searching for more inhumane, gruesome ways to prove their savagery.

— Paula Slier (@PaulaSlier_RT) February 4, 2015
On the ground, things are going badly for IS, also know as Isis and Isil. No significant territorial gains have been made since summer 2014, the Taliban is fighting any attempt to wrestle any space in Afghanistan, and the NYT reports that the Iraqi armed forces have undergone significant improvements in their organisation and training.
Shep Smith Delivers Chilling Account Of IS Video Showing Death Of Jordanian Pilot
"Increasing pressures on the group may make them more desperate and likely to carry out barbaric acts to keep attention on their message," Joana Cook of the Kings College London War Studies department told the Telegraph. "As long as their messaging and reactions to their grievances find resonance with their audience, this cycle is likely to continue.
"While [IS] may appear to be winning in the short-term, those challenging the group can ensure that their actions do not provide more fuel for the long-term. As with terrorist groups throughout history, increasing violence has never won the day."
Former Egyptian army Maj Gen. Abdul Karim Ahmed told the AINA news agency that IS wanted to project itself as a "giant stone colossus", but it has instead turned out to be a "cardboard monster easy to destroy"
So why are Islamic State getting so desperate?