Piers Morgan has provoked furious debate by telling Muslims the battle against Islamic State is "your war".
The former chat show host was writing in reaction to the horrific video of Jordanian pilot, Muath al-Kasaesbeh, being burned alive.
He describes how making the hard decision to watch the murder of al-Kasaesbeh enabled him to see "exactly what these monsters are capable of" and urged all Muslims to turn against them.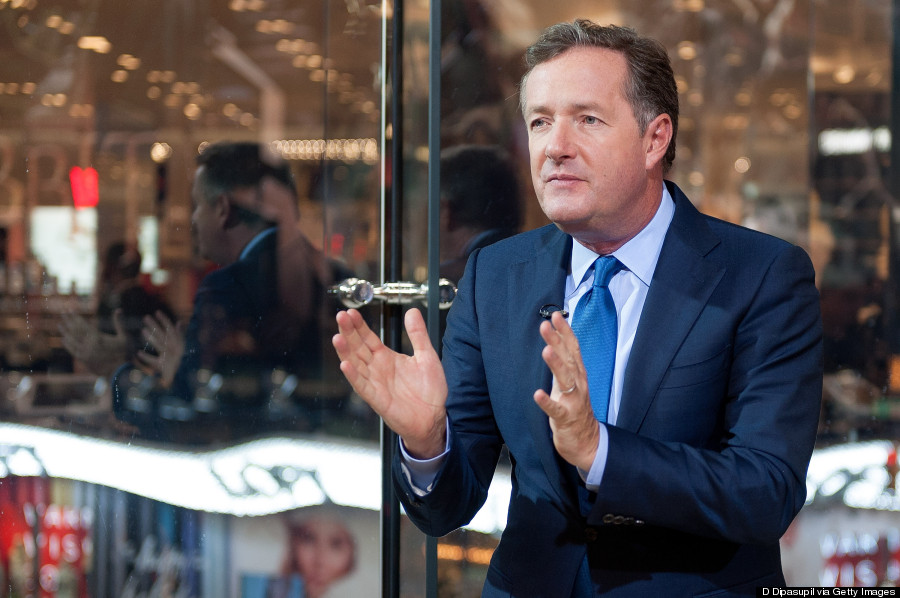 Morgan was writing in the Daily Mail
He writes: "[I'm] glad I know they have no limits, no humanity, no semblance of any kind of soul.
"Glad I saw the undisguised joy in their evil little faces as they perpetrated such a despicable act on a fellow human being.
"Glad they repeatedly switched the camera shot from blow-torch to their victim's face so we can be under no illusion what utter sadists they are."
Later Morgan claims the war against IS will only be won when the Muslim world turns against them.
He writes: "If any Muslim remains in any doubt as to whether this is the right time to stand up and cry 'NOT IN MY NAME OR MY RELIGION!' then I suggest they too watch the video of Lieutenant al-Kasabeh being burned alive.
"He could be YOU.
"This is YOUR war."
Although Morgan warns against "tarring a whole religion with the same poisonous brush of terrorism", many have questioned the wording used in the article.
@piersmorgan Why say YOUR WAR? Why should all Muslims feel the wrath because of minority? UK Muslims said categorically not in my name.

— Akhlaq Hanif (@Akhlaq1386) February 4, 2015
Sigh. @piersmorgan does a Murdoch and tells all of the world's Muslims that the war against ISIS is "YOUR war":

February 4, 2015
'This is YOUR war' says @piersmorgan - wrong again Piers, these guys aren't true Muslims, they're extremists. pic.twitter.com/oYxxGKrC9k

— AdeLAD (@AdotIdotspace) February 4, 2015
The enormously talented @piersmorgan writes objectively about ISIS and suggest solutions to eradicate it. Well-said.

February 4, 2015
4/4 @piersmorgan ends article with "This is your war". Foolish ending to a piece littered with hypocrisy.140 charac limit prevents my rant

— Ahmed Asif (@Ahmed_Asif1) February 4, 2015
Many however tweeted in support of Morgan...
@piersmorgan as a Muslim & a Jordanian woman, I thank you for your article. It is our war & we all need to unite against ISIS.

— Jansait Qoughondoqa (@Jansait) February 3, 2015
@piersmorgan Thank you. As a Muslim Brit,I get trolls because people think I support ISIS.Your article means alot to the muslim community.

— Nadira Mahamoud (@NadiraMahamoud) February 3, 2015
As a Muslim American woman, my respect for you, @piersmorgan, just went through the roof. Thank you for that article.

— Sana - ADW (@sanaalovee) February 3, 2015
@mehdirhasan I agree with@piersmorgan that they aren't real Muslims & they've hijacked the faith. But it's an emotionally reactive piece

— Oblak (@qalandarum) February 4, 2015
All of Islam needs to renounce ISIS after burning video @piersmorgan says. "He could be YOU. This is YOUR war." http://t.co/oBPc3zDYCz

— Jonathan Wald (@jonathanwald) February 4, 2015
As a Jordanian, I'd like to thank @piersmorgan for his excellent piece on the late Moath Al-Kasasbeh. Spot on: http://t.co/8DHEMyxIZm

— Waleed Abu Nada (@waleedabunada) February 4, 2015
The video shows al-Kasaesbeh, who was seized after his F-16 jet crash-landed near the Syrian city of Raqqa in December, dressed in an orange jumpsuit stood inside a metal cage.
Armed militants surround the area. The cage and the pilot have been doused with fuel. One of the militants lights the cage from a distance. Al-Kasaesbeh is shown holding his head and screaming as the flames engulf him. The video also threatened other Jordanian pilots.
The "sickening murder" of Jordanian pilot Lt Muath al-Kasaesbeh by Islamic State will only "strengthen resolve" to defeat them, Prime Minister David Cameron said.
READ MORE

Jordan Executes Female 'Would-Be' Bomber In Revenge For Pilot Burning

Islamic State Release Video Showing Jordanian Pilot Burned Alive