Tristram Hunt has been forced to apologise after questioning the quality of nuns' teaching on BBC Question Time.
On Thursday night's programme, Labour's shadow education secretary took issue with journalist Christina Odone, former editor of the Catholic Herald, when she spoke about her "inspiring" teaching at a religious school.
"You know what, they taught values, not British values, they taught real values," she said.
Hunt butted in to ask if the teachers were nuns, which Odone confirmed, leading him to respond: "I know about your religious schooling, and there's a difference, I think, between having a state education system having qualified teachers in the classroom."
See more on General Election 2015
Odone shot back: "Sorry, I think I know about my schooling better than you Tristram."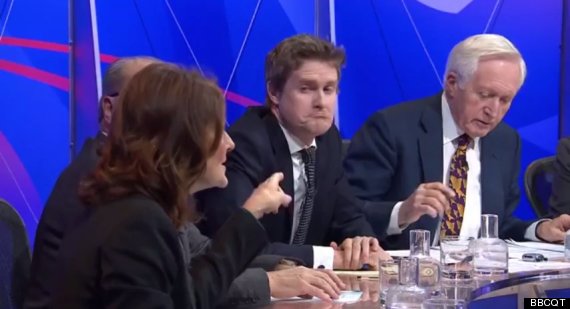 Tristram Hunt looks on as Christina Odone speaks on Question Time
Hunt later apologised on Twitter, insisting he "obviously meant no offence to nuns" and was trying to make a "generalised point about the use of unqualified teachers in schools".
On BBC QT I was trying to make a generalised point about the use of unqualified teachers in schools. I obviously meant no offence to nuns.

— Tristram Hunt (@TristramHuntMP) February 6, 2015
His remarks on the show provoked outrage, with Hunt being accused of "sneering" at faith schools. Marcus Jones, Tory MP for Nuneaton, told the Huffington Post UK that nuns from his constituency would be "unimpressed".
"As a former Roman Catholic school pupil," he added, "[I] don't think he will get too many christmas cards from Roman Catholic schools."
@asabenn Nuns of Eaton would be unimpressed. As a former RC school pupil, don't think he will get too many Christmas cards from RC schools!

— Marcus Jones MP (@MarcusJonesMP) February 6, 2015
Meanwhile, Damian McBride, Gordon Brown's former chief spin doctor, branded him a "dick".
My partner's Irish and was taught by nuns and received a fantastic education. Gross misjudgement to sneer at faith schools. #bbcqt

— Ruth Davidson MSP (@RuthDavidsonMSP) February 5, 2015
Oh Hunty. My mum spent most of her career teaching in a 'convent school', working alongside nuns. They gave incredible educations, you dick.

— Damian McBride (@DPMcBride) February 6, 2015
Why does Hon Tristram Hunt think it's ok to attack nuns? What've nuns ever done to him? Very strange attacking business now nuns... #BBCQT

— CCHQ Press Office (@CCHQPress) February 5, 2015
So Tristram has joined Emily on the naughty step for revealing the real, sneering values of Lab's ruling metropolitan set! #mosthelpful

— Patrick O'Flynn (@oflynnmep) February 6, 2015
Tristram Hunt hides out in the last place anyone would think to look #bbcqt#nungatepic.twitter.com/HaV6Lv4q5U

— General Boles (@GeneralBoles) February 6, 2015
Hunt's Question Time row came on the same episode that Respect MP George Galloway was heckled when panellists discussed the rising tide of anti-semitism. The Labour shadow education secretary was previously accused of being patronising after telling a parent and a teachers' group on Twitter to "stop moaning" and "do some work".
After a parent complained of only being given generalities about Labour policies, Hunt told him, and the anti-coalition protest group "Teacher Roar", to go and "read the speeches", adding: "Your industry will be rewarded".
@curv_org@TeacherROAR Stop moaning. Read the speeches. Do some work. Your industry will be rewarded,

— Tristram Hunt (@TristramHuntMP) February 1, 2015