Britain's biggest bank HSBC helped clients cheat the UK public purse out of millions of pounds in tax by using Swiss bank accounts, according to an explosive treasure trove of leaked accounts.
The revelation piles pressure on Tory peer Lord Green, who headed the bank from 2003-2010 before going on to serve as the coalition's trade minister and as part of David Cameron's Cabinet Committee for Banking Reform, and an adviser to chancellor George Osborne on banking issues.
Public accounts committee chairman Labour MP Margaret Hodge, chair of the influential Public Accounts Committee, said the former trade minister faced "serious questions'.
"If it had been a benefit cheat it would have been up for court years ago. Now we have had only one tax cheat taken before the British courts," she told the BBC Radio 4 Today programme.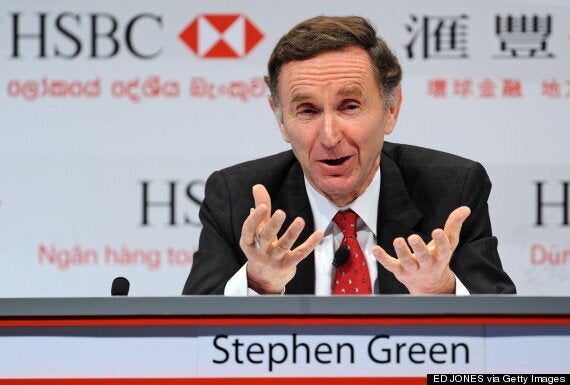 Lord Green ran HSBC before going on to be a Tory peer and the coalition's trade minister
"Either he didn't know and he was asleep at the wheel, or he did know and he was therefore involved in dodgy tax practices," she went on. "Either way he was the man in charge and I think he has got really important questions to answer."
HSBC was forced to issue an apology after a United States Senate committee found that over the last ten years the bank had provided services to some lenders in Saudi Arabia and Bangladesh believed to have helped fund al Qaeda and other terrorist groups.
Now the details of 30,000 accounts holding almost £78 billion of assets are being revealed after they were obtained by a French newspaper and analysed by a team of investigative journalists, with the files reportedly including nearly 7,000 British clients.
The new documents have already sparked criminal probes in several countries and attempts to claw back cash after being stolen by an IT worker in 2007 and passed to French authorities.
They are reported - by BBC's Panorama and the Guardian - to include evidence that the bank colluded with some clients to hide accounts from tax authorities on their home countries.
Among those alleged to have been exposed as having accounts with the Swiss arm of HSBC are said to be politicians, sports stars and celebrities as well as criminals and traffickers.
Shadow financial secretary to the treasury Cathy Jamieson said: "HMRC were made fully aware of these practices back in 2010. There are serious questions for the Chancellor to answer about why just one person out of over a thousand have been prosecuted in five years.
"And why the Government's Swiss tax deal has been such an embarrassing flop, raising a fraction of the amounts initially boasted of by ministers."
"Tax avoidance and evasion harms every taxpayer in Britain, and undermines public services like the NHS."
City Minister David Gauke insisted he "was not aware of any evidence" that Lord Green had been involved in any of the activity.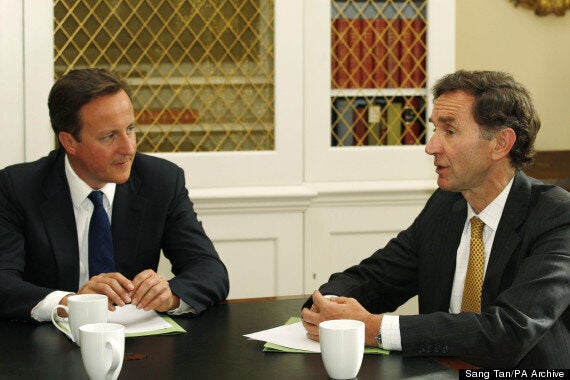 Former HSBC boss Stephen Green and David Cameron
"Clearly HSBC have got questions to answer," he told Today. "In terms of Stephen Green, I don't think there is any suggestion or any evidence that he was involved or engaged in some of the behaviour that occurred in the subsidiary in Switzerland.
"The regulators have not found that was the case. Indeed I think there is a view that Stephen Green was to some extent clearing up a mess."
In a bid to divert attention from former HSBC boss, and Tory peer, Stephen Green, Gauke accused Ed Balls, who served as City minister in the years up to 2007, of having "questions to answer" about what he knew of HSBC"s dealings in Switzerland. Labour sources suggested that the Labour shadow chancellor was unaware of any wrongdoing.
In a statement to the Guardian, HSBC said: "In the past, the Swiss private banking industry operated very differently to the way it does today. Private banks, including HSBC's Swiss private bank, assumed that responsibility for payment of taxes rested with individual clients, rather than the institutions that banked them. Swiss private banks were typically used by wealthy individuals to manage their wealth in a discreet manner.
"HSBC has cooperated and continues to cooperate to the extent that it can with requests for information from governments regarding account holders. However, providing client data to foreign authorities would itself constitute a criminal offence under Swiss law."
Meanwhile, a new poll suggests that big businesses are facing a "crisis of trust", which is perhaps unsuprising given the string of scandals like those involving HSBC.
A ComRes poll of 2,000 people for the Forum of Private Business (FPB) found that more than three-quarters of respondents think big businesses are likely to prioritise profits over high ethical standards.
The study also revealed that 76% agree that the next government should penalise big businesses that act unfairly towards small businesses.
FPB chief executive Phil Orford said: "There must be a balance between the need to attract the world's biggest companies to Britain, ensuring we have the best environment for business, and protecting the interests of the UK's hard-working independent small business people.
"The view of the British public is clear: we are facing a crisis of trust in big business and the UK wants the next government to respond accordingly, safeguarding the UK's small business community.