Russell Brand has taken aim at Prince Charles after he voiced concerns over the "alarming" extent at which young people are becoming radicalised.
The Prince is currently on a six-day tour of Jordan where he is meeting with King Abdullah in a symbolic show of Britain's support in the fight against Islamic State (IS).
Jordanian hostage Lt Muath al-Keaseasbeh was burned to death in a cage by IS militants last week.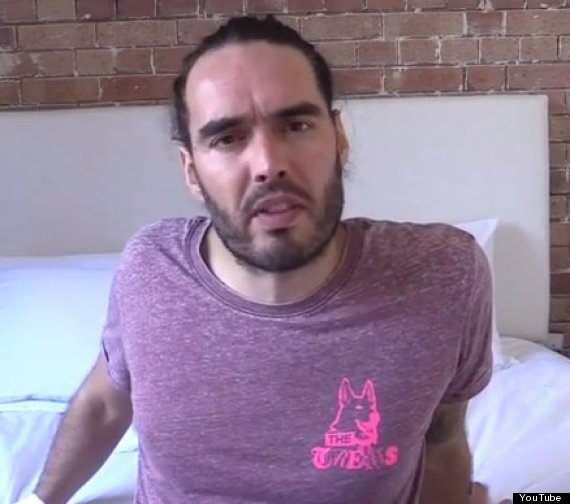 Russell Brand has taken aim at Prince Charles
The visit follows an interview with Radio 2 in which the Prince described the radicalisation of the young as one of the "greatest worries".
Brand interspersed an edition of his online news channel The Trews with excerpts from the interview in which Charles partly blamed the temptation of risk and adventure in growing numbers of people joining extremist organisations.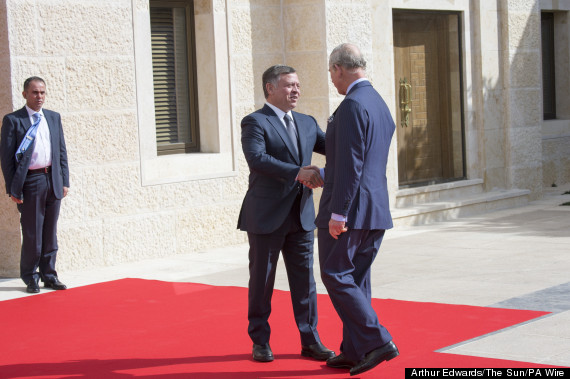 Prince Charles (pictured here meeting King Abdullah) is currently in Jordan pledging support against Islamic State
The Prince said: "The frightening part is that people can be so radicalised either through contact with somebody else or through the internet... I can see I suppose to a certain extent, some aspect of this radicalisation is a search for adventure and excitement at a particular age.
"You'd think people who've come here and are born here, go to school here would imbibe those sort of values and outlooks."
But an incredulous Brand fires back: "Muslims should imbibe! Imbibe what? The toxic air of condemnation where there's programmes like Immigrant Street in production, the constant condemnation in the tabloid newspapers (for which he gives the example of The Sun's controversial Ramadan A Ding-Dong front page), the bombing in countries where people from the same faith and background as them are regularly killed and never represented, the droning …I think they might be imbibing that a little more than stuff that goes on on Facebook."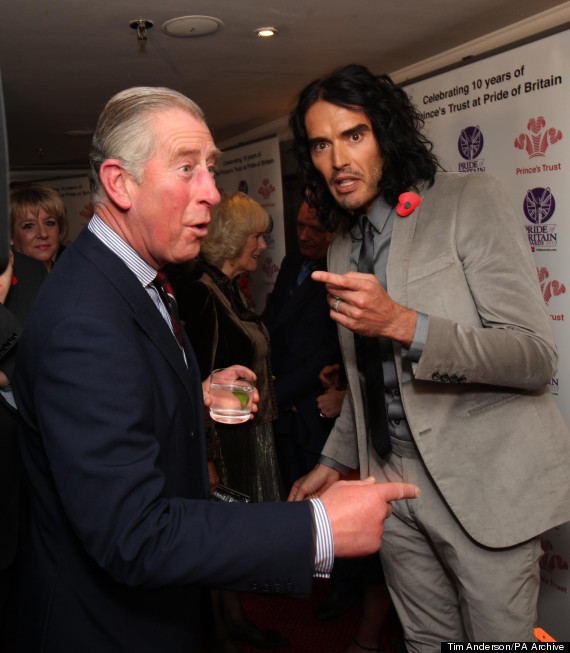 Brand pictured meeting the Prince at the Pride of Britain awards in 2010
Brand cites the report which states Britain is currently engaged in the sale of arms to 23 countries considered dangerous to the Foreign Office to the tune of huge profits. Examples include Saudi Arabia, listed for "human rights concern", for which the government approved the export of £1.6bn of arms in 2013.
Saudi Arabia is the biggest foreign customer, after the US of BAE Systems, Britain's largest arms company and biggest manufacturing employer. Incidentally, it is believed the majority of the IS weapons stocks were stolen from US-backed Iraqi military.
SEE ALSO:
Brand also points out Prince Charles (as well as the Queen) have the power of veto over bills that have already been passed through parliament.
He says: "As I've said before and as I will continue to say, it doesn't matter who you vote for, Britain will continue to sell arms to countries that are violent around the world and then blame young Muslims for the fact that we live in a violent society with the explicit and expressed verbalised support of Prince Charles."
Addressing the Prince directly and referencing his power of veto, he adds: "Tell your government to stop selling weapons to countries on its own human rights abuse list."
Brand signs off: "If Charles or our government or you care about violence stop condemning young powerless people who out of desperation reach out for ways to make themselves heard and instead condemn the powerful profiting from our misery through their industry."