A US teen has finally received a refund from fried chicken giant KFC after finding what he thought was a brain in his lunch.
Manuel Cobarubies, a Stockton High School student, told FOX40: "(It looked) like a brain to me. I mean at that point, red flags were kind of raised.
"I ended up spitting it in the trash can because I get grossed out by that."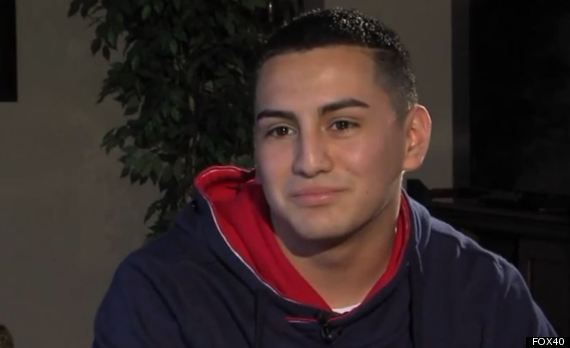 Grossed out: Cobarubies was left with a funny taste in his mouth
Rather than asking for some kind of compensation for the mouthful of organs, Cobarubies just wants his $4 back.
The teen has initially tweeted KFC to ask for an explanation but simply got an apology tweet.
But after a local news channel encouraged their followers to join in, Cobarubies got a call from Richard Ramos, a KFC area consultant, who told him the "brain" was actually a kidney or a gizzard, which is perfectly safe to eat. Even if it is a bit disgusting.
Ramos sent the student his refund and promised to work with cooks at the restaurant to ensure all organs are removed before frying.
But it turns out this is a fairly common problem...
@kfc just found the nastiest thing on my chicken...looks like a brain to me. 😷 #nofilter pic.twitter.com/cYvXOksN4X

— Emma Harnett (@Emma_Harnett) January 3, 2014
Somebody please give me reassurance that this isn't chicken brain in my KFC... pic.twitter.com/MwLP28wfsT

— Ashleigh Bryan (@ashleigh_bryan) October 14, 2013
Oh my god there is brain in KFC chicken 😩😫😫😫😨😫😭😭😭😭😖 pic.twitter.com/epBTzilGQ6

— Rasta Man Chan (@JSivva) March 12, 2013
I found this brain-looking organ in my KFC today. It put me off my lunch pic.twitter.com/ErCC6X1isw

— Jessica Golden (@JessicaAuen) September 3, 2013
Ok so me and my mate just had KFC and I swear I just found chicken brain!!!! #Gag #PutOff pic.twitter.com/d7WRCTr7Vj

— ☺ ßεlieveTheHype ☺ (@b3nji_boi) July 25, 2013
Oh god this is why you don't eat in KFC!! Can't believe my friend found this in his meal!!! pic.twitter.com/baFIeHjP7R

— Hannah Jeremiah (@hannahbanna18) July 16, 2013
@RoloTweets Nothing worse than KFC brain bro.. pic.twitter.com/Q8RgTFfoSP

— Stefan (@Stefan_Garrett) July 14, 2013
KFC who are u giving me a brain in my chicken. This is what I get for being greedy and going for 3 pieces not 2 pic.twitter.com/pYRKFl8XCG

— Charlotte (@charlandrews) July 5, 2013
@kfc_colonel hey colonel, next time I eat at your restaurant I prefer not to eat chicken brains. It is a brain... pic.twitter.com/BwDnOGWQVp

— Derek Lee (@49D_Lee49) June 2, 2013
Becca found a brain in her kfc haha , would be her pic.twitter.com/FleK77vqVi

— taia (@taiarothwell_) May 22, 2013
KFC now serves brain #ewwwww @alexc354 @theofficialsobo pic.twitter.com/jkaDZTB97G

— Steph Craft (@stephcraft_) March 28, 2013
just found this lovely chicken brain in a piece of my chicken from KFC im literally vomiting pic.twitter.com/0JFnCMsZYN

— ~ (@savannadelise) May 1, 2013
Just found my own piece of "brain" in my #kfc #chickenkidney #tastedlikeliver pic.twitter.com/D657ymqSNO

— Francis O'Rourke (@orourke1989) March 25, 2013
KFC muggin @JWiz93 off with this brain in his chicken pic.twitter.com/Q0VzwkgaCH

— Dean (@DeanOverton) March 18, 2013
Omg my friend went and got a bargain bucket from KFC only to find half a brain in it pic.twitter.com/svsAFvvAYb

— claire helliar (@clairehoward32) March 4, 2013
Someone just posted this on facebook of a brain they found in their KFC... This is why I'm a vegetarian pic.twitter.com/7i9DdSLckp

— Zoey Ware (@zoey_ware) February 28, 2013
@kfc_colonel my cousin just found a brain in her chicken box.What the hell are you serving! And who do you employ!!! pic.twitter.com/4el3fv8fuv

— Lukas Hughes. (@Lukashughes94) February 28, 2013
THERES A CHICKEN BRAIN IN MY FRIENDS CHICKEN FROM KFC. IM GONNA PUKE GUYS. pic.twitter.com/VZ37kD3iBu

— kayla (@twerkin4nouis) February 28, 2013
#KFC #Brain #disgusting pic.twitter.com/Plcw7et3aL

— Kerri Annett (@KerriAnnett) February 24, 2013
@LeeBambino CHICKEN BRAIN I FOUND IN MY KFC pic.twitter.com/IQEyFae1"

— gary whiteside (@garyww84) February 18, 2013
MARE ST KFC GAVE ME CHICKEN BRAIN!! Gfddfgrjk pic.twitter.com/suJuTjwA

— Liquid Gold (@Antxinee) February 1, 2013
Umm not my idea of brain food. Organ found in KFC meal. pic.twitter.com/UpPkTiTO

— FOX 13 Traffic (@Fox13Traffic) January 24, 2013
Piece of brain in my KFC chicken.... I am not eating for awhile X_X pic.twitter.com/YOlHqo7f

— karissa renee (@karissababy01) January 22, 2013
When you eat kfc for the first time in forever and find a brain in it 😷😷😷😷 never again @kfc pic.twitter.com/M5qPa3U4r8

— Kyla Way (@kylawayxo) January 8, 2015
@kfc TELL ME WHY MY FRIEND JUST FOUND THIS BRAIN ON HER KFC BUCKET! This is messed up...this isn't even a joke. pic.twitter.com/fQG9IyAQL6

— DR. D@V!D (@Itsperroski) December 2, 2014
Just a little chicken brain in my 5 dollar box @kfc #nobigdeal pic.twitter.com/wDZD538aFg

— Rev (@EvanRentmeester) November 27, 2014
@kfc just letting you no I found what looked like a chicken brain in my original piece. Won't eat at KFC ever again! pic.twitter.com/5r78QEwq8l

— Michael Carney (@mike__carney) November 25, 2014
@kfc Just found a piece of brain in my original piece chicken. Safe to say I won't put a foot in KFC ever again! pic.twitter.com/n3y4lURyp3

— Jade Adele Cunnah (@Jadecunnah) November 22, 2014
Lia just found a brain in her KFC hahaha pic.twitter.com/j43JGK3Fiq

— ryan sussman (@ryansussman8) July 20, 2014
Hey @kfc can you tell me what this kidney and/or brain is doing in my chicken? #somuchformyappetite #gross #kfc pic.twitter.com/c2sony4Dcr

— Sean Hopper (@Hopdaddy27) July 14, 2014
@Z1035Toronto Weirdest thing I've ever found in my food: chicken spinal column with brain still attached #kfc pic.twitter.com/vWQ79dCSuJ

— Christine Angerman (@cangerman) June 30, 2014
@kfc this was found in my kfc meal at the Milford, Massachusetts USA location. LOOKS LIKE BRAIN MATTER!!!! pic.twitter.com/Dfxb5ckNKW

— PintoBeansss (@Pinto_beansss) February 23, 2014
My KFC chicken still had it's spine and Manga Forman (brain). pic.twitter.com/SpUnoXmL4l

— Katie Wilson☀️ (@Katie_1Dlove) February 9, 2014
I found a brain in my polish KFC 😷😷😷😷😷😷😷😷😷😷 pic.twitter.com/gPfE1f4CPb

— Tash (@spxnce) January 23, 2014
Still, at least they've allegedly got something in place to stop it happening...
KFC have been approached for comment about the validity of this picture.
SEE ALSO: