Harrowing pictures have emerged which appear to show captured Kurdish fighters paraded in cages by Islamic State militants through the streets of Kirkuk, Iraq, in images eerily similar to what was seen when Jordanian pilot Lieutenant Muath al-Kaseasbeh was burnt alive.
The new images, first reported in the Daily Mail, come as it was reported that Islamic State have made their first strategic gain in months, capturing the town of al-Baghdadi, near an Iraqi army base where US soldiers are training troops.
The captives in the video, who it is claimed are fighters for the Kurdish peshmerga, appear to be chained inside the cages wearing the ubiquitous orange jumpsuits, as crowds cheer and flags are held aloft.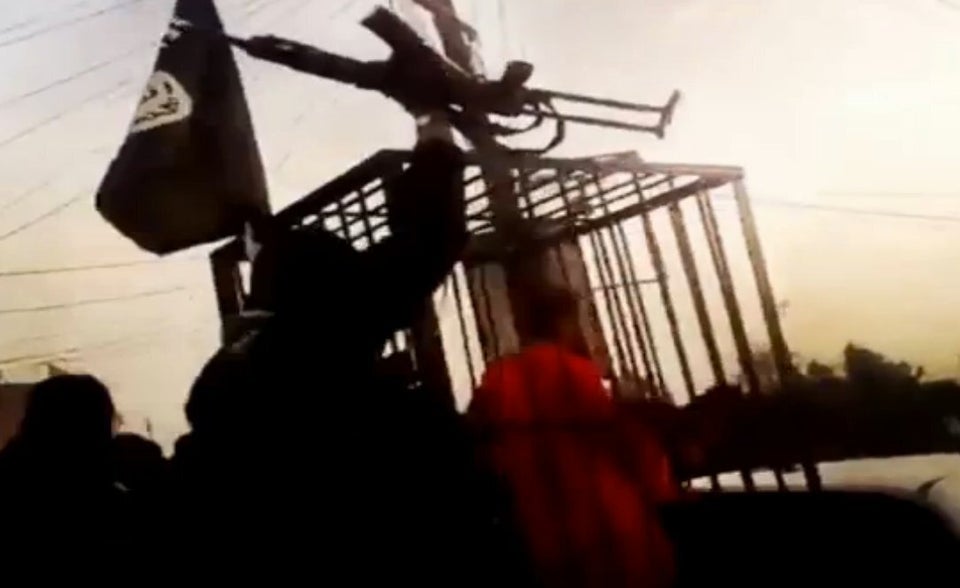 ISIS parade captives
Reports suggested that the procession, where militants waved AK-47s, took place in the Hawija district of the city in northwest Iraq, where Kurdish and Islamic State forces are battling for control. Kurdish forces have also regularly displayed the dead bodies of IS fighters in the streets of the city.
A video released by the group appears to show at least 17 of the captured fighters being led through the crowds in the cages which are a similar style to the one where Lt. al-Kaseasbeh was seen burnt to death in a meticulously-staged and horrifying video.
On Friday it was reported that Islamic State fighters led a suicide attack on an air base where US and coalition troops are training Iraqi forces after taking a nearby town, the first territorial gain by the militant group in months.
Most of the Islamic State fighters died in the attack, killed either by Iraqi government forces or by detonating their suicide vests, said Navy Rear Adm. John Kirby, the Pentagon spokesman.
Kirby said an estimated 20-25 Islamic State militants were involved in the attack on al-Asad air base in Iraq's Anbar province. He said the attack was led by "at least several" suicide bombers, some of whom managed to detonate their bombs and others were killed by Iraqi troops.
"Early indications are that yes, some of them did detonate their vests, detonate themselves," he said. "And then they were followed by roughly something on the order of 15 or so other fighters."
It appeared that most, if not all, of the militants were wearing Iraqi uniforms, Kirby said. No Iraqi or US troops were killed or wounded, Kirby said, and no US troops were involved in the gunfight.
Kirby said Islamic State fighters had taken control of al-Baghdadi, a town near the al-Asad air base. He said this represented "the first (time) in at least a couple of months, if not more, where they have had any success in taking any new ground."
It was not clear whether the attackers at al-Asad managed to penetrate the perimeter of the base, which is a sprawling series of compounds. "Information is still coming in," he said, that may clarify some details.
There are about 400 US troops at the base. Another Pentagon spokesman, Col. Steven Warren, said the US troops were about two miles away, in a different section of the base.
US drones and Army Apache attack helicopters were sent to the scene from Baghdad, but the attack was over before they arrived, so they did not engage in fighting, Warren said.
There are currently nearly 2,600 US forces in Iraq. Of those, about 450 are training Iraqi troops at three bases across the country, including al-Asad. Forces from other coalition countries conduct the training at the fourth site, in the northern city of Irbil.
Popular in the Community